Spanish GP: Lewis Hamilton passes Sebastian Vettel to win thriller
Vettel's title lead cut to six points as Hamilton overtakes Ferrari rival 22 laps from the end after losing lead at start; Bottas, Raikkonen and Verstappen all retire
By James Galloway
Last Updated: 15/05/17 12:30am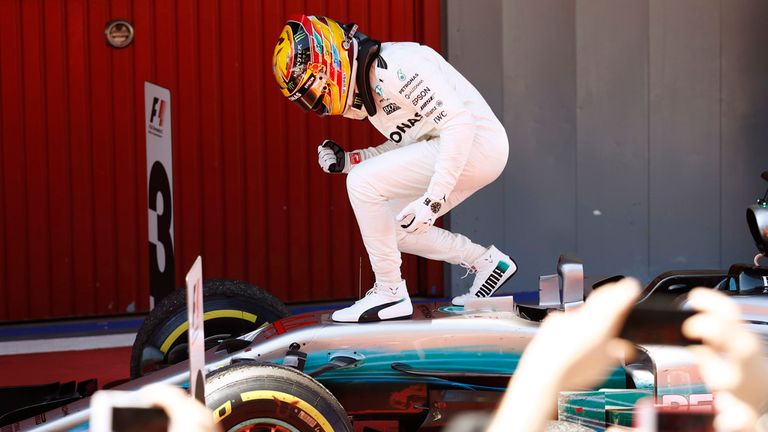 Lewis Hamilton beat championship leader Sebastian Vettel in a direct head-to-head duel as the Spanish Grand Prix delivered a pulsating fight for victory between F1 2017's big two.
Despite losing the lead to his Ferrari rival at the start, Mercedes played Hamilton's strategy cleverly to give the Englishman a chance and he then overtook Vettel on track after the final pit stops to claim the lead.
The pair had earlier come close to contact when Hamilton came out of the pits alongside the oncoming Ferrari, with the Mercedes taking to the run-off area and describing Vettel's defence as "dangerous".
Hamilton cuts Vettel's championship lead to six points with his second win of the season.
The championship favourites totally dominated the race, finishing 75 seconds ahead of Red Bull's Daniel Ricciardo in third, after Valtteri Bottas and Kimi Raikkonen ran into Barcelona trouble within seconds of the lights going out.
The Finnish pair were involved in a three-way collision at the first corner, with the Ferrari and Max Verstappen's Red Bull, who was on the outside of them, making heavy contact and retiring as a result.
Bottas later dropped out when running a distant third with what appeared to be a Mercedes engine failure. The team had been forced to revert to an old unit on Saturday after a water leak.
With Mercedes, Ferrari and Red Bull all losing one car apiece, Force India profited and finished fourth and fifth with Sergio Perez and Esteban Ocon respectively. The team, the only outfit to finish with two cars in the points at every race so far, are now 34 points clear of their midfield rivals in fourth in the Constructors' Championship.
Hamilton v Vettel comes alive
Ten years into their respective F1 careers, Sunday's race provided the most compelling evidence yet that Hamilton and Vettel, winners of seven of the last nine drivers' titles, will go head-to-head for the crown for the first time this year.
"It was a hard race," admitted Hamilton. "My neck is fine, but physically I lost nearly two kilos just in that race. It's draining, fast cars, he (Vettel) drove fantastically well and it's a real privilege to race against such an awesome driver."
After ruing a late error on his final Q3 lap, Vettel got the jump on the polesitter at the start and initially built up a lead of two seconds with Hamilton admitting over team radio he was struggling to keep up with the Ferrari.
Ferrari then pitted Vettel early, on lap 14, for another set of soft tyres, with Mercedes opting to keep Hamilton out for longer - and team-mate Bottas even longer than that.
Once Hamilton was brought into the pit lane, for the more durable medium tyres for a longer second stint, Vettel came up behind Bottas, who managed to frustrate the Ferrari for several laps.
With Hamilton fast catching behind, Vettel brilliantly dummied Bottas down the main straight and, with two wheels on the grass, dived down the Finn into the first corner.
He then opened up a six-second lead over Hamilton to seemingly give himself control of the race but Mercedes' decision to stop Hamilton again under a Virtual Safety Car, a lap earlier than Ferrari, proved the turning point of the race.
Wiping out the Briton's deficit, Hamilton came out into the path of the oncoming Ferrari and, as he attempted to overtake around the outside, Vettel held the line and the Mercedes took to the run-off area.
The pair exchanged a jovial joust on the incident in the post-race press conference:
Hamilton: "I gave you space, otherwise we would have touched."
Vettel: "I thought I gave you space too."
Hamilton: "Not really - you definitely didn't give me much space. But it was close, it was cool."
Vettel: "We're still here!"
Hamilton: "Yeah, just!"
On lap 44, Hamilton was properly ahead, using DRS to overtake Vettel round the outside. He then managed his tyres to the end to claim his 55th career win.
"When I came out [after second stop] I was surprised we were so close," admitted Vettel. "I managed to stay ahead.
"I was doing everything I could to stay ahead but as soon as I was alone he flew past. We did everything we could. It was a nice race."
Midfield teams profit...but stopwatch bites for Red Bull
With Bottas, Raikkonen and Verstappen all dropping out, Ricciardo claimed his first podium of the season but the third-place finish could not hide what was a heavily disappointing race for Red Bull.
Despite a big car upgrade, and optimism that the Circuit de Catalunya would allow them to close the gap to the top two, Ricciardo was nearly lapped with the Australian finishing 73 seconds behind the race winner.
Force India are now just 19 points behind the former world champions, with Perez delivering his 14th consecutive points finish and Ocon his fifth in a row since joining Force India.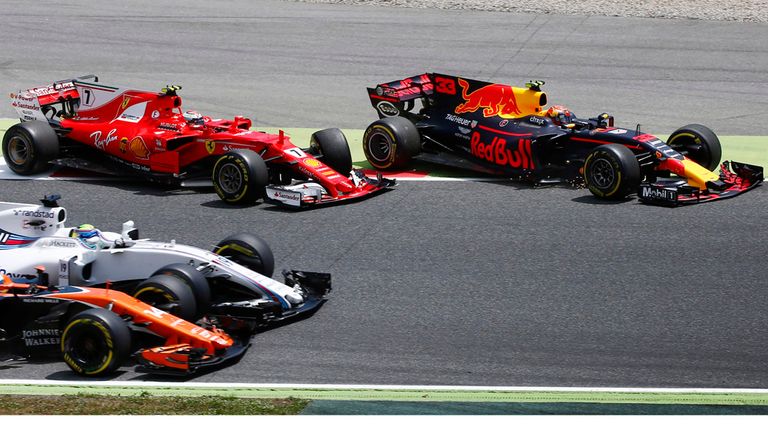 Nico Hulkenberg claimed a fine sixth for fast-improving Renault, with Carlos Sainz seventh at his home race for Toro Rosso. The Spaniard finished eighth on the road but was moved ahead of Pascal Wehrlein's Sauber when the German was handed a five-second time penalty for a pit lane transgression.
However, the penalty could not cloud what was one of the day's stand-out drives from Wehrlein, whose points leave former world champions McLaren as the only team on the grid without a point so far this season.
After Fernando Alonso stunned the paddock by qualifying seventh, race day provided more disappointment for the McLaren-Honda partnership. Alonso dropped down the order after lap-one contact with Felipe Massa sent him across the gravel, while Stoffel Vandoorne then hit the same Williams later in the race at Turn One.
The Belgian, who has already twice taken grid penalties for exceeding engine elements this year, was handed a three-place grid penalty for Monaco by race stewards.
Spanish GP result
1. Lewis Hamilton, Mercedes
2. Sebastian Vettel, Ferrari
3. Daniel Ricciardo, Red Bull
4. Sergio Perez, Force India
5. Esteban Ocon, Force India
6. Nico Hulkenberg, Renault
7. Carlos Sainz, Toro Rosso
8. Pascal Wehrlein, Sauber
9. Daniil Kvyat, Toro Rosso
10. Romain Grosjean, Haas
11. Marcus Ericsson, Sauber
12. Fernando Alonso, McLaren
13. Felipe Massa, Williams
14. Kevin Magnussen, Haas
15. Jolyon Palmer, Renault
16. Lance Stroll, Williams
DNF Valterri Bottas, Mercedes
DNF Kimi Raikonnen, Ferrari
DNF Max Verstappen, Red Bull
DNF Stoffel Vandoorne, McLaren
Have your say! Comment below to get involved in the debate, but please adhere to our House Rules. If you wish to report any comment, simply click on the down arrow next to the offending comment and click 'Report'.