Lewis Hamilton on his 'all-round battle' with Sebastian Vettel
Hamilton says consistency will be rewarded in closely-fought 2017 title battle but rules out mind games; Englishman unsure which team will be ahead in Monaco
By James Galloway in Monaco
Last Updated: 29/05/17 8:31am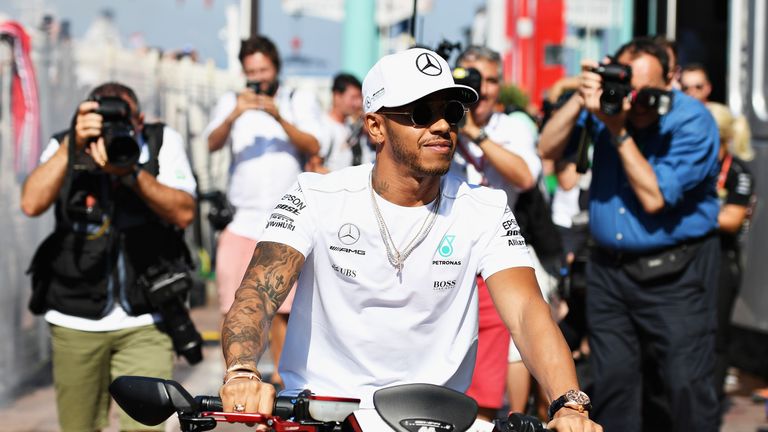 Lewis Hamilton says his duel for F1 2017 supremacy with Sebastian Vettel is an "all-round battle" with the most consistent driver likely to come out on top.
Ahead of F1's showpiece race on the streets of Monte Carlo this weekend, Vettel and Hamilton are separated by just six points in the Drivers' Championship with the winners of seven of the last nine F1 titles already more than a race win clear of their respective team-mates.
Relations between the former champions have proved friendly so far, with what could have been a post-race flashpoint after they nearly banged wheels while battling for victory in Spain instead turning into a jovial exchange of views sitting alongside each other in the press conference.
Vettel said at the last race "I don't do psychological battles" and Hamilton has now said he will not attempt any so-called mind games either.
However, the Englishman admits the close nature of their title battle means all aspects of driver and team are going to be put to the test.
"I take a lot of pride in the fact that I'm very strong mentally and that's something you can admire about someone else you're fighting with, like Sebastian or Fernando [Alonso]," Hamilton told reporters.
"And it'll be interesting to see. He seems solid.
"I want him [Vettel] to be at his best when he gets in the car so I don't have any intention of playing psychological wars outside the car. I want to beat him in a car because when he's at his best and I beat him that says what it needs to say, rather than have him on the back foot.
"But it is definitely part of it for this year for both of us, being it's such a long year - just like it is in golf. Over 18 holes, whoever's the most consistent generally ends up winning. So I'm excited about that.
"It's an all-round battle. Physically, mentally, technically and that's why it's a great battle."
Despite their title protagonists' relationship appearing to have warmed since Vettel moved to Ferrari two years ago, Hamilton says his respect for the four-time world champion was always intact even when he was dominating for Red Bull.
"When we were racing when he was in the Red Bull car, of course I wished my car was a little bit quicker so I could have given a battle like I have this year because maybe it wouldn't have been so easy for him," added Hamilton. "But he could same thing for the last few years.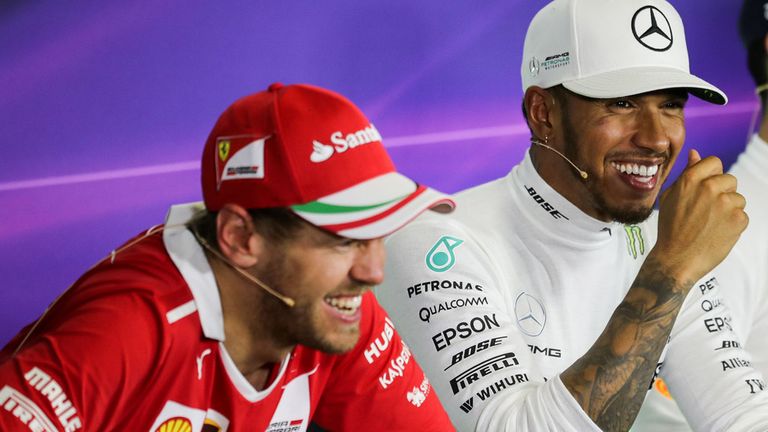 "It doesn't deter from the fact he's an exceptional driver and he continues to show that year on year. What he does in that Ferrari is fantastic."
Will Mercedes or Ferrari be ahead in Monaco?
Mercedes are chasing a fifth Monaco GP win in a row this weekend - just one fewer than McLaren's all-time consequence victory record.
Ferrari, by contrast, last won at the Principality in 2001.
However, with the pendulum having swung between the championship contenders so far, Hamilton is uncertain who will have the upper hand on F1's most famous circuit.
"Right now I'm not leading the championship, so the goal this weekend is to just try to win and, naturally, that would mean being in the lead leaving here," he told Sky Sports News HQ.
"But it's going to be a tough battle all the way to the end so it's really just about consistency. So far we're relatively consistent, except for Sochi, but this weekend's going to be tough.
"We were very good in the last sector of the last race, a slow section, so does that mean we'll be good here being that it's mostly slow sections? Or being that we have a long car, does that mean we'll struggle? Ferrari are generally able to switch their tyres on a little bit easier than us - does that mean we are in trouble this weekend, or not?
"I'll find out tomorrow."
Hamilton's 'unicorn' event
Despite Mercedes' recent Principality supremacy, Hamilton's victory in 2016 was his first in eight years after a string of controversies, disappointments and near-misses at the street circuit.
With just two wins and one pole position from 10 attempts, the 32-year-old uniquely described the event for him as "not the Achilles' heel, but the unicorn of races - that one that always just gets away".
"There's been at least two, and maybe three, that I probably should have had [in addition] but other things came into play," he told SSN HQ.
"But I'm grateful for the ones I have - not many people in the world can say they have a Monaco GP win under their belt.
"Especially how those two wins came about, 2008 and 2016. Sometimes quantity isn't everything, quality is, and those were real quality races that I really earned. So proud of those ones but, of course, I want to have more."
Have your say! Comment below to get involved in the debate, but please adhere to our House Rules. If you wish to report any comment, simply click on the down arrow next to the offending comment and click 'Report'.