Monaco GP Qualifying: Kimi Raikkonen on pole position but Lewis Hamilton in trouble
Raikkonen secures first pole in nine years; Hamilton to start from 13th; Button reaches top ten but will be hit by grid penalty
By Pete Gill
Last Updated: 29/05/17 9:38am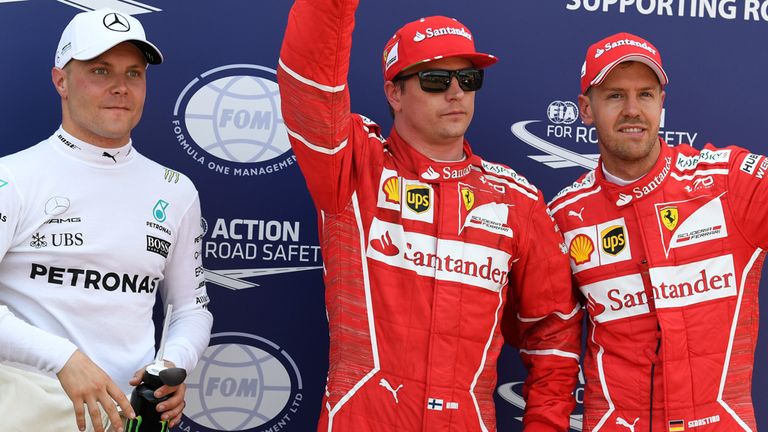 Kimi Raikkonen beat Ferrari team-mate Sebastian Vettel to pole position for the Monaco GP as Lewis Hamilton hit trouble and failed to reach the top ten.
It was Raikkonen's first pole position in 129 races and Ferrari's first in almost a decade at Monte Carlo.
But for Hamilton the session amounted to a disaster with the Mercedes driver eliminated in Q2.
Raikkonen had previously lost out to Vettel in every qualifying session this year but just edged out the championship leader by a tenth of a second around the legendary street circuit.
"It was by no means perfect but it was good enough and l was very happy with the car," said Raikkonen. "I'm happy for the team and happy for myself."
Raikkonen last took pole in F1 at the 2008 French GP and at the ripe young age of 37 years and 7 months became the sport's oldest polesitter for 20 years.
"I am not happy with myself because pole position was up for grabs," said Vettel. " I should have done a better job overall. The car was good, so it was my mistake. I was a bit too greedy in my last run."
Mercedes' Valtteri Bottas was third quickest, missing out on the front row by less than a thousandth of a second.
"Ferrari have had the upper hand, their car is more driveable," said Bottas. "They were quicker today."
But Bottas' close proximity to the Ferraris only added to the mystery of Hamilton's performance with the Spanish GP victor enduring a torrid struggle this weekend ever since Mercedes took a wrong turn on car set-up in Thursday practice.
Hamilton was also nearly a second slower than the Ferraris in Practice Three and briefly appeared to be in danger of being eliminated in the first segment of Qualy as he searched in vain for grip.
Although he qualified 14th in the timesheet, Hamilton is set to start the race from 13th as a result of Jenson Button, ninth quickest on his return to F1, being demoted 15 places due to more problems and changes on his car's Honda engine.
Button's McLaren team-mate Stoffel Vandoorne crashed out at the end of Qualy Two, condemning Hamilton to an early exit and a modest starting position at track where it is notoriously difficult to overtake.
A struggling Hamilton had himself already twice been within a whisker of crashing out in his strangely-uncooperative Mercedes and repeatedly reported "there's something wrong with the car" over team radio.
"I don't know, I can't pinpoint the problem," said Hamilton afterwards. "It's disappointing. It's a little bit unfortunate with the yellow flag at the end. That lap may have got me into the top 10 but I think I'd have struggled to be in the top five. Valtteri's lap shows we're not terrible here so we need to know what happened."
A year on from taking pole at Monaco, Daniel Ricciardo was just fifth for Red Bull, a fraction behind team-mate Max Verstappen. "We're better than fifth," rued the Australian. "We under-achieved and this is the last place to do that. I'm frustrated and not happy at all."
But Ricciardo's irritation must have paled alongside that of Lance Stroll and Jolyon Palmer. For both drivers, 2017 continues to lurch from bad to worse and their failure to escape Q1 will only ratchet up the uncomfortable scrutiny they are already under.
The last word, though, has to go to supersub Button after the former world champion, standing in for Fernando Alonso while the Spaniard competes at the Indianapolis 500, capped a highly impressive comeback weekend by reaching the top-ten shootout.
"I've been driving within myself which is a shame but you have to around Monaco so to be P9 I'm very happy," Button told Sky F1. I've enjoyed the weekend a lot.
"It's my last qualifying session but probably my most enjoyable. The penalty still hurts, it doesn't matter how many races you've done. They told me yesterday and I was like 'Ohhh'. It's a shame but it's never easy. It's Fernando's fault."
He was joking but for Hamilton and Honda their qualifying problems were no laughing matter.
Monaco GP Qualifying Timesheet
Qualifying Three
1. Kimi Raikkonen, Ferrari, 1:12.178
2. Sebastian Vettel, Ferrari, +0.043
3. Valtteri Bottas, Mercedes, +0.045
4. Max Verstappen, Red Bull, +0.318
5. Daniel Ricciardo, Red Bull, +0.820
6. Carlos Sainz, Toro Rosso, +0.984
7. Sergio Perez, Force India, +1.151
8. Romain Grosjean, Haas, +1.171
9. Jenson Button, McLaren, +1.435 *
10. Stoffel Vandoorne, McLaren, no time set *
Knocked out in Q2
11. Daniil Kvyat, Toro Rosso, 1:13.516
12. Nico Hulkenberg, Renault, 1:13.628
13. Kevin Magnussen, Haas, 1:13.959
14. Lewis Hamilton, Mercedes, 1:14.106
15. Felipe Massa, Williams, 1:20.529
Knocked out in Q1
16. Esteban Ocon, Force India, 1:14.101
17. Jolyon Palmer, Renault, 1:14.696
18. Lance Stroll, Williams, 1:14.893
19. Pascal Wehrlein, Sauber, 1:15.159
20. Marcus Ericsson, Sauber, 1:15.276
* Both McLarens will receive grid penalties, with Vandoorne to be demoted three places due to his crash at the Spanish GP and Button 15 as a result of engine penalties.
Have your say! Comment below to get involved in the debate, but please adhere to our House Rules. If you wish to report any comment, simply click on the down arrow next to the offending comment and click 'Report'.