Azerbaijan GP: Daniel Ricciardo triumphs as Lewis Hamilton and Sebastian Vettel clash
Vettel punished for "dangerous driving" after twice hitting Hamilton's Mercedes; Hamilton then loses lead after extra pit stop to fix loose head rest; Ricciardo recovers from 17th for shock victory
By James Galloway
Last Updated: 26/06/17 6:16am
Red Bull's Daniel Ricciardo claimed an unexpected victory in a chaotic and controversial Azerbaijan GP as Lewis Hamilton and Sebastian Vettel's title rivalry ignited with a pair of on-track clashes.
Valtteri Bottas finished second from a lapped last and Williams teenager Lance Stroll third in a Baku race which provided no end of crashes, incidents and overtakes - and a 'dangerous driving' rebuke for championship leader Vettel.
Hamilton and Vettel had been running first and second respectively before the Ferrari driver was punished by race stewards after twice hitting the Mercedes while running behind a Safety Car.
The second clash, when Vettel appeared to take his anger out on Hamilton for what he claimed was a brake test by driving straight into the Mercedes' front wheel, earned the German a 10-second stop-and-go-penalty.
However, in a frustrating twist as far as Hamilton was concerned, the penalised Vettel still finished one place ahead of him with fourth to extend his championship lead to 14 points.
Hamilton was still on course for victory before he had to make an unscheduled pit stop on safety grounds when the head rest in his Mercedes worked its way loose. With the Mercedes repairs taking longer than Vettel's penalty, Hamilton re-emerged onto the track just behind the Ferrari.
The Briton followed Vettel in the closing stages as they both worked their way back up the order, but was unable to get close enough to attempt an overtake and finished fifth.
Race winner Ricciardo had started 10th after a crash in qualifying and had dropped as low as 17th after an early pit stop to clear debris from his car's brake ducts.
Red Bull's win is the first non-Mercedes or Ferrari success of 2017 and their first victory since last October's Malaysia GP.
Esteban Ocon was sixth despite earlier crashing with Force India team-mate Sergio Perez, while Fernando Alonso finally opened McLaren's points account with ninth from 19th on the grid.
The end of F1's friendly rivalry?
In stark contrast to Hamilton's previous all-Mercedes rivalry with Nico Rosberg, his title duel with Vettel had hitherto been conducted on a cordial basis with both multiple champions showering praise on each other all season.
But whether that stays the same after Baku now appears doubtful.
In a scathing post-race rebuke of his championship rival, Hamilton told Sky Sports News HQ: "The fact that that's the only kind of result [the penalty] you could get from such disgusting driving, that means for the whole paddock we can all drive like that and you can still score fourth place and still get away with it.
Curiously, Vettel, who also received three penalty points on his race licence for the incident, refused to discuss the second incident when he hit Hamilton's car.
"He brake-checked me as well, so what do you expect?" said Vettel to Sky F1. "I'm sure he didn't do it on purpose but for sure it was not the right move. If I'm struggling, people at the back struggling even more, so I don't think it was necessary.
"I got damage, he risked damage. He's done something similar in China at the restart a couple of years ago so it's not the way to do it, I think.
"After the incident, we were side by side, I raised my hand and showed him that I wasn't happy with that."
Ricciardo lucks out - and then lucks in
Red Bull's improved form in practice became one of Friday's biggest talking points, but the team were left frustrated to qualify only fifth with Max Verstappen and, courtesy of a clash with the barriers, 10th with Ricciardo.
While Verstappen again dropped out of the race early with mechanical trouble, Ricciardo fell a long way out of the points after running through debris caused by a lap-one collision between Bottas and Kimi Raikkonen.
But, against all expectations, the cards fell in the Australian and Red Bull's favour after an early stop for soft tyres and impressive overtakes after the second Safety Car.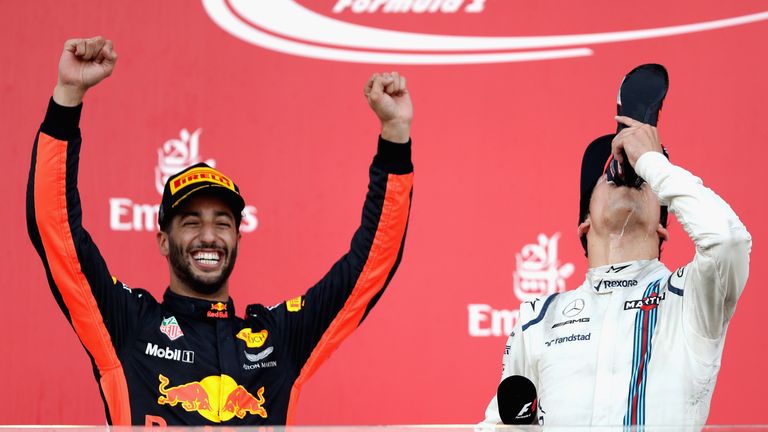 "I can't really believe it. It was a crazy race," said Ricciardo, who is now a five-time race winner. "We knew the podium was a chance after the restart, then we heard of the problems with Lewis and Seb.
"I made an unplanned pitstop at the beginning, and I dropped to 17th place. Did I think I would win today? Not for all my money but this was the race we expected last year all the safety cars and the chaos.
"I said it yesterday we had to stay out of trouble and it certainly pulled off today."
Stroll comes of age
For all the chaos, Stroll delivered a mature drive beyond his 18 years to claim his first podium finish, becoming the youngest rookie driver to do so in Formula 1 history
The Canadian stayed out of trouble and had looked on course to finish second before being pipped right on the line by Bottas.
"It was such a hectic race and I kept my head cool, the team kept me cool over the radio and we took it to the end," he told Sky F1 .
"It was a bit disappointing at the end to lose P2 but all in all an amazing race. You dream of being on an F1 podium, you work towards that and it finally comes true."
Azerbaijan GP Race Result
1. Daniel Ricciardo, Red Bull, 2:03.55.573
2. Valtteri Bottas, Mercedes, +3.9
3. Lance Stroll, Williams, +4.0
4. Sebastian Vettel, Ferrari, +5.9
5. Lewis Hamilton, Mercedes, +6.1
6. Esteban Ocon, Force India, +30.2
7. Kevin Magnussen, Haas, +41.7
8. Carlos Sainz, Toro Rosso, +49.4
9. Fernando Alonso, McLaren, +59.5
10. Pascal Wehrlein, Sauber, +89.0
11. Marcus Ericsson, Sauber, +91.7
12. Stoffel Vandoorne, McLaren, +92.1
13. Romain Grosjean, Haas, +1 lap

DNF Kimi Raikkonen, Ferrari
DNF Sergio Perez, Force India
DNF Felipe Massa, Williams
DNF Nico Hulkenberg, Renault
DNF Max Verstappen, Red Bull
DNF Daniil Kvyat, Toro Rosso
DNF Jolyon Palmer, Renault
Comment below to get involved in the debate, but please adhere to our House Rules. If you wish to report any comment, simply click on the down arrow next to the offending comment and click 'Report'.