Sebastian Vettel admits regret for Baku collision as Lewis Hamilton accepts apology
But Hamilton indicates unhappiness with FIA's decision not to punish title leader and questions absence of FIA boss Jean Todt
By Pete Gill and James Galloway at the Red Bull Ring
Last Updated: 12/07/17 5:24pm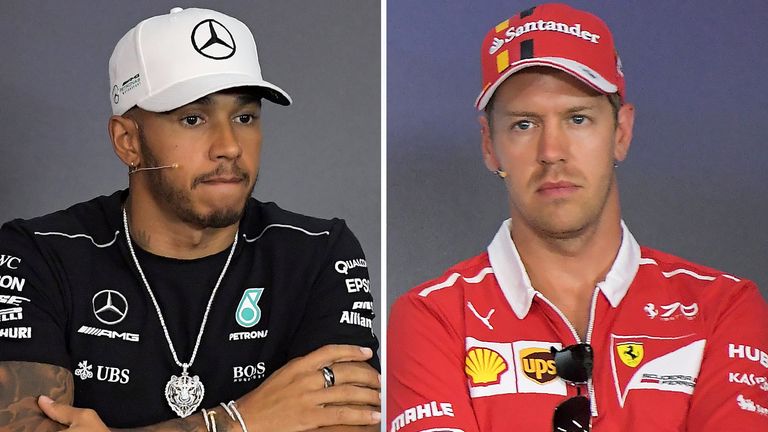 Sebastian Vettel has admitted he regrets swerving into title rival Lewis Hamilton during the Azerbaijan GP and conceded "what l did was wrong".
"Am I proud of the moment? No. Can I take it back? No. Do l regret it? Yes," said Vettel during a press conference ahead of this weekend's Austrian GP.
"Looking back, it was the wrong thing to do. It was dangerous and unnecessary," admitted the four-time world champion.
Hamilton, contacted by the Ferrari driver the day after the race, has accepted Vettel's apology.
"Obviously what l did was wrong and l apologised," said Vettel. "I did a mistake so I can understand if he is upset. But it's nice to hear we can move forward. The respect we have on and off the track helps us in this regard."
But Hamilton, who described Vettel's driving in Baku as "disgraceful" and "disgusting", added in Austria: "I don't feel like I said anything I'd want to take back. I'm still under the same opinion of what happened."
Asked whether the interest generated by the controversy could be good for F1, Hamilton responded: "An intense battle is always good for a sport. But we are supposed to be role models and give a certain message. Collectively, we are supposed to inspire and send the right message. We are in a position of power and how we utilise that is very important."
Hamilton said he was particularly keen for Vettel to publicly make clear that, as race stewards themselves concluded, he did not brake test the Ferrari.
"It felt like Lewis hit the brakes but I don't think he actually brake-tested me," added Vettel.
Questioned by Sky Sports F1's Natalie Pinkham whether he had a problem controlling his temper, Vettel responded: "I don't think so but l can see why you think it's not."
Nonetheless, Vettel now has nine penalty points on his race licence after Baku - two more than any other driver and just three fewer than the number which automatically triggers a race suspension.
Hamilton unhappy with Vettel's let-off?
While not overtly stating as much, Hamilton came close on several occasion during the press conference and his subsequent media briefings to confirming he was unhappy with the FIA's decision this week not to issue further sanctions against Vettel.
On Monday night, Hamilton liked an Instagram post strongly criticising FIA president Jean Todt over his decision to close the investigation into Vettel's actions after the German driver apologised at a hearing in Paris.
Hamilton said he was responding to the outpouring of messages he received on social media in the wake of the FIA's ruling and told Sky Sports News HQ he wanted to let his supporters know "I felt the same feelings they do."
Asked whether F1 should issue red cards in the manner of football, rugby and cycling in the wake of a spate of high-profile exclusions recently, Hamilton responded: "It should be exactly the same. Why it isn't, that's a question which needs to go to the FIA."
The Mercedes driver then added: "Interesting results from the FIA decision but there is nothing I can do about that. We had Kevin [Magnussen] sitting between us in the press conference but it should have been Jean. He is the FIA president and it would have been great to hear his opinion and for you to ask him questions.
"It's the FIA's job to govern the sport. Ultimately, it is up to you and the fans to decide whether they are doing a good job."
Hamilton also revealed he had been invited to attend the hearing into Vettel's driving in Baku at the FIA's headquarters in the French capital but declined the invitation.
"I was invited to go to the FIA and I wrote to Jean that I didn't have anything to add - 'you have seen the data, you know l didn't do what was said - the brake test - and this is solely a situation where you and Sebastian sort it out'," he added.
Comment below to get involved in the debate, but please adhere to our House Rules. If you wish to report any comment, simply click on the down arrow next to the offending comment and click 'Report'.