Carlos Sainz insists he's ready to make step up from Toro Rosso
"No-one has had a fourth consecutive year at Toro Rosso and I'm ready to take a step," Sainz tells Sky F1.
By Jonathan Green
Last Updated: 12/07/17 5:23pm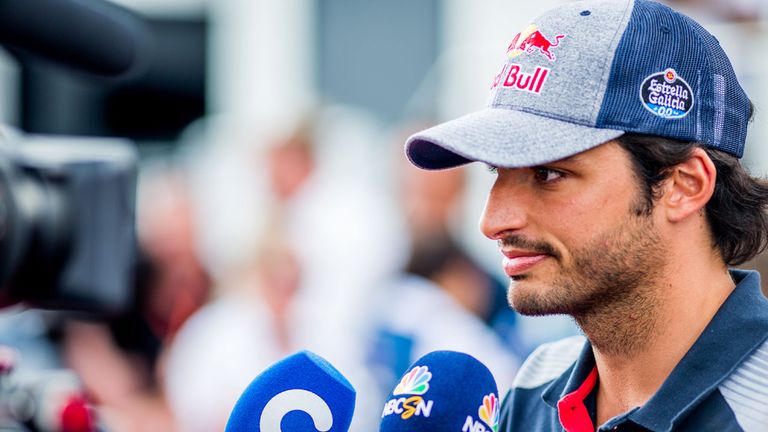 Carlos Sainz maintains he is ready to make a step up from Toro Rosso after Christian Horner insisted the Spaniard would be remaining with the team in 2018.
After Sainz said on Thursday that it was "unlikely" to drive for Toro Rosso for a fourth year, Horner told Sky F1 that Red Bull had exercised their option to extend the Spaniard's contract for 2018 and described the 22-year-old's comments as "disingenuous".
But while respecting what Toro Rosso and Red Bull have done for him, Sainz responded by saying he is ready to drive in a more competitive car.
"No one has had a fourth consecutive year at Toro Rosso and I'm ready to take a step," Sainz - who has been linked with Ferrari, Williams, Renault and McLaren - told Sky F1's Ted Kravitz.
"I appreciate a lot the people working in Toro Rosso, it's a great group of professionals and the Toro Rosso door is open to me.
"It's a nice problem to have [being in demand]. My No 1 target is to be in Red Bull as soon as possible. That has been my dream since I was 15 and they picked me up and that's not going to change. I'm just enjoying my time in 2017 a lot and I'm looking forward to keep going like that."
A seat at Red Bull looks unavailable in 2018 after Horner reaffirmed that current drivers Daniel Ricciardo and Max Verstappen would "100 per cent" be with them next season.
Sainz 'unlikely' to stay at Toro
An opening may emerge in 2019 but Sainz is unsure if he can wait that long for a promotion.
"I don't know [if can wait until 2019]. It's a long year ahead. It's too early to speak about 2019 when we are still in 2017," he said.
"I'm happy for this year and have a very long year ahead. For the rest we will see. I need to speak internally with Red Bull."
After Practice One for the Austrian GP, Horner gave Sainz a public 'slap on the wrist' in response to his comments in Thursday's driver press conference.
"I don't know where he thinks he'll be then," the Red Bull chief told Sky Sports F1. "Contracts are clear.
"Carlos Sainz is under contract. We've exercised his option so he's under contract and we have an option on him for next year and the year after. He'll be in a Toro Rosso again next year."
He continued: "You have to remember, he only got a chance in Formula 1 because of Red Bull investing in him in the junior years.
"It's a little bit disingenuous to be making comments like that."
Red Bull's motorsport advisor Dr Helmut Marko also criticised Sainz's comments as he told Sky F1 on Friday afternoon that the Spaniard should "focus on driving" and "not bite the hand that feeds you".
"The contract is crystal clear. You don't bite the hand that feeds you. It was Mr Mateschitz and I who pushed Sainz into Toro Rosso, nobody else would give him a chance," Dr Marko said.
"We sent him a letter saying that we take the option. As far as I know, and as long as I have been in Red Bull, the driver doesn't decide what they are doing with the contract. It is up to the boss and they make the decisions. I think he should focus on driving.
"I told him that when Ferrari come we can talk. But I met Gino [Rosato] and Maurizio Arrivabene last Saturday and they didn't mention anything about going for Sainz. Maybe it is the father who is dreaming more."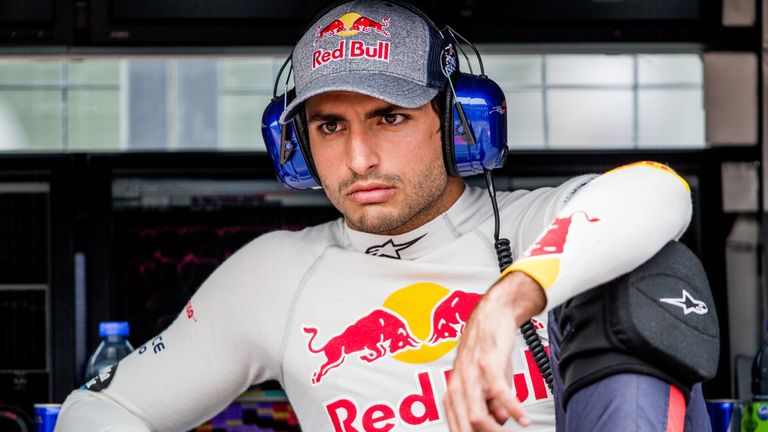 Analysis from Sky F1's Anthony Davidson
"I would be sitting there waiting to see what Max Verstappen is going to do. He seems to be getting more and more annoyed with all these engine failures and things going wrong when he's driving a good race.
"Carlos is hot property and quite a bolshie lad so he could get snapped up somewhere else. But I would be waiting if I was Sainz.
"He knows that he is possibly the equal measure of [Verstappen], at least he was at Toro Rosso. Carlos drove a very strong season against Max and Max was the lucky one that got promoted into that position when Kvyat got downgraded back to Toro Rosso.
"But it's a gamble. It's the risk you take upsetting the team you are currently with, upsetting the people who have backed you to get you that far, but you've got to be your own man.
"I don't think Red Bull have ever been in this position before where they have such a high calibre of driver sitting there waiting for their turn, worthy of being in the A team."
Comment below to get involved in the debate, but please adhere to our House Rules. If you wish to report any comment, simply click on the down arrow next to the offending comment and click 'Report'.