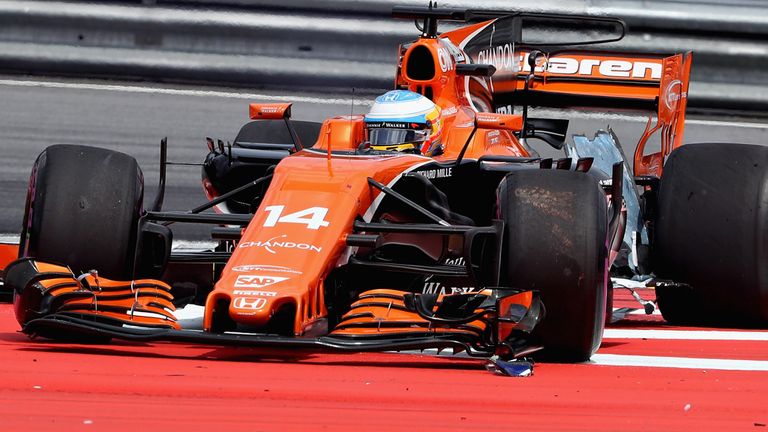 McLaren are believed to be on the brink of divorcing Honda as their engine partners.
Sky Sports understands an announcement confirming McLaren's split from Honda may be imminent and could be made as early as this week.
But it remains to be seen whether any announcement will include details about Honda's replacement.
However, the team have told Sky Sports it is "very likely" Fernando Alonso will remain at McLaren for next season.
Neither Alonso nor Stoffel Vandoorne finished Sunday's Italian GP with the team describing the result as "gut-wrenchingly disappointing".
"We need to get more competitive," McLaren boss Zak Brown told Sky Sports F1 after the race. "This weekend showed we're not making any significant progress."
McLaren held several meetings with Renault during the Italian GP weekend. But the French company, who already supply three teams, are reluctant to take on an additional customer.
A tie-up between Honda and Toro Rosso, who Renault currently supply, would clear that obstacle as well as guarantee Honda remain in F1 beyond this season. But a reputed deadline of Sunday night for an agreement to be reached between Toro Rosso and Honda passed without any official word from either party.
"We don't have alignment amongst all the parties," confirmed Brown. "We want to make sure everything is handled well with Honda and that they stay in the sport either with us or another team."
Brown told reporters on Friday that McLaren were yet to reach an agreement with an engine partner for 2018 and were the team to drop Honda without a replacement in place then it would fall on the FIA and the sport's new bosses at Liberty Media to find a resolution.
A clause was added to the sport's regulations last year that stipulates that were any team to be left without an engine partner then one of the sport's remaining power unit manufacturers would have to provide a supply. However, the timeframe of mid-summer around that clause has already elapsed.
"The engine manufacturers are not geared up for additional teams at this point," said Brown. "Everyone is trying to work together and we anticipate some decisions this week. I think once the main domino falls, everything else will fall into place.
"I don't think that will happen [being left without an engine]. It's not what we will allow to happen. The regulations are in the middle of the year for a fourth team is to be supplied. We've been very close with the FIA and Chase Carey and they're being very helpful to get through this."
Brown had earlier told Sky Sports at Monza he regarded the team's engine dilemma as "one of the biggest decisions McLaren have ever had to make."
Alonso set to stay for 2018?
Having previously warned that he would only seek a 'winning' drive in 2018, Alonso's attitude towards staying at McLaren appears to have softened significantly since the summer break.
"I am extremely happy here and l believe we could have the package to win a championship," he said on Thursday.
"I will start sitting down with the team, what are the prospects for the future, the expectation for next year. We do now have some ingredients to be champions."
And Brown, who had previously said negotiations over a new deal with Alonso were "going very well", now expects the Spaniard to stay.
"I think it's very likely," he told Sky F1. "I seem to have a lot of breakfasts now with Fernando. He wants to be in Formula 1 and wants us to be more competitive."
While a McLaren-Renault deal would heighten expectations that Alonso will re-sign, Brown said he could foresee Alonso staying even if McLaren stick with Honda.
"I wouldn't rule him out if it remains status quo. With the stuff that we are seeing and we will further review this week. I wouldn't say that it's a foregone conclusion that if we do stay with Honda he won't remain with us."