VOTE: How should Formula 1 change its grid penalty system?
Deduct constructors' points? Increase allocation of elements? Scrap penalty system entirely? Have your say on how F1's grid penalties should be changed
By Jonathan Green
Last Updated: 30/09/17 9:14am
Formula 1's grid penalties for engine component and gearbox changes reached farcical levels at the Italian GP - and Sky F1 wants your opinion on how the system should be overhauled.
Nine drivers shared 150 places of grid demotions for last Sunday's race, with only four cars starting where they had originally qualified - and pole-sitter Lewis Hamilton was the only one of those not to have received a penalty.
It meant Kevin Magnussen, initially knocked out in Q1, started ninth while Sergio Perez - himself handed a five-place penalty for an unscheduled gearbox change - actually started a place higher than he had originally qualified after the other penalties were applied (10th as opposed 11th).
It prompted Sky F1 expert Martin Brundle, who had threatened to fly home if it reached the point of half the field being penalised, to ask FIA President Jean Todt if the system could be scrapped for 2018.
"I'm not a magician, it goes through a certain process," Todt replied.
"The reason why we introduced the penalty was to reduce the costs. If we can make the situation then we will definitely do it.
"We are open to any good suggestion. Solutions are not always so obvious so we know there is something to address, let's do it properly."
What do the rules currently say?
For 2017, every driver is limited to just four power units for the entire season, with the power unit defined as being comprised of six elements - the internal combustion engine, the motor generator unit-kinetic (MGU-K), the motor generator unit-heat (MGU-H), the energy store, turbocharger and control electronics.
If any of those elements are used more than four times, a penalty is then imposed. The first time a fifth element is introduced, a 10-place demotion is applied while a five-place penalty is handed out when a fifth of any of the remaining elements is used. The process then repeats as more elements are introduced.
The system could yet have an impact on this year's tight title battle, with both Mercedes' drivers onto their fourth power unit with seven races remaining, while Sebastian Vettel has been using his fourth turbocharger since May's Spanish GP.
The situation is likely to worsen next year if the current regulations remain, with the number of power units permitted decreasing to three while the calendar increases to 21 Grands Prix.
Horner slams engine-penalty rules
Gearboxes, meanwhile, must complete six races before being changed, with drivers receiving a five-place grid drop if it is replaced out of sequence. Over half the grid have received at least one gearbox penalty this season, including Lewis Hamilton and Valtteri Bottas, while Daniel Ricciardo has been affected three times.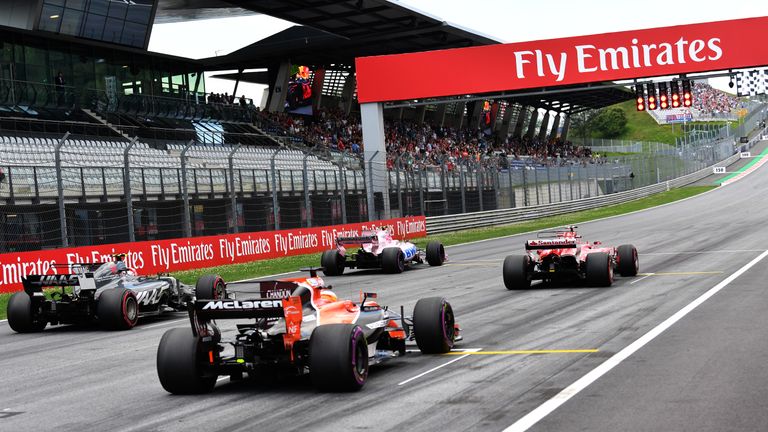 Possible alternatives
While the FIA introduced penalties to try and reduce costs, the argument is that it has little impact on the richer teams as they strategically play the system in order to be more competitive at other circuits.
Red Bull and McLaren-Honda both took penalties at Monza in order to try and gain an advantage at next week's Singapore GP.
"It's got to the point where the richer teams are taking the penalties deliberately and strategically," Sky F1's Marc Priestley said on this week's F1 Report.
"It doesn't control costs because they're all spending more - the teams that can - and for the fans at home it's an absolute joke. We need to get rid of it as quickly as we can."
So what are the alternatives?
Deduct Constructors' points - The most common suggestion put forwards as an alternative. Deducting Constructors' Championship points would see the teams hit rather than the driver penalised.
However, rather than a set deduction, it may require that a percentage of points already won are docked to avoid teams ending up with minus points and the leading teams exploiting points' advantages to introduce new elements.
Fine teams - Hand out hefty financial penalties to teams which exceed their engine allocation. While this may have little impact on the richest teams, the money gathered could be distributed to the smaller teams to help them close the gap.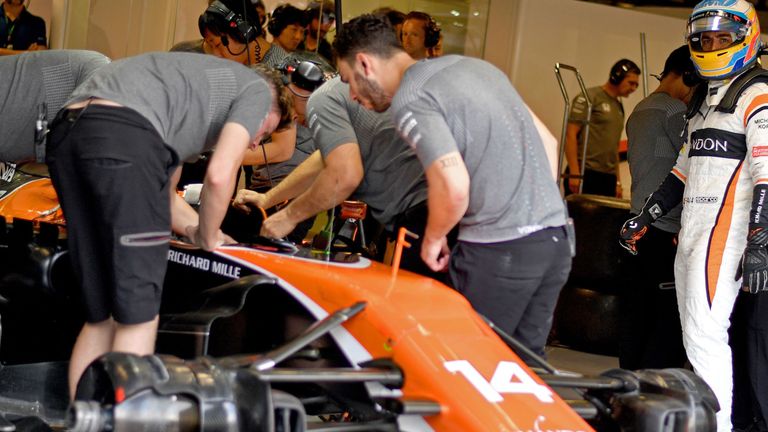 Increase allocation of elements - The compromise between controlling costs and limiting penalties? Increasing the number of power units available to teams should, in theory, lead to fewer penalties while ensuring the smaller teams can still afford to remain in the sport.
Red Bull team principal Christian Horner said in Monza: "Obviously the penalty has to be a significant deterrent because the whole point of this was cost-saving. But we're not saving costs because the engines are going on a world tour anyway. Maybe five engines is the right number rather than four going to three."
So far in 2017, only three drivers - Fernando Alonso, Stoffel Vandoorne and Daniel Ricciardo - have used more than five engine elements.
Less severe grid penalties - Keep the current limits as they are but make it so the penalties have less of an impact on the starting grid, for example a three-place drop for gearbox change and five places for power unit changes. This may also ensure there is more action in Saturday qualifying, rather than having drivers abandon running after Q1 as they know they will start last anyway.
With unserved penalties no longer carried forwards into the next Grand Prix, there appears little point in handing out penalties in excess of 20 places as they will not be taken in full.
Allow unlimited spending - Scrap the penalty system entirely and let the teams spend what they want. Formula 1 is the pinnacle of motorsport - if you can't afford to compete in it, go home.
What do you think should be done? Cast your vote in the poll above and comment below with any other suggestions.