Renault want to stop supplying Red Bull with engines after 2018
McLaren set to join Renault roster with announcement expected this weekend; Will Red Bull turn to Honda in 2019?
By James Galloway and Craig Slater in Singapore
Last Updated: 30/09/17 8:57am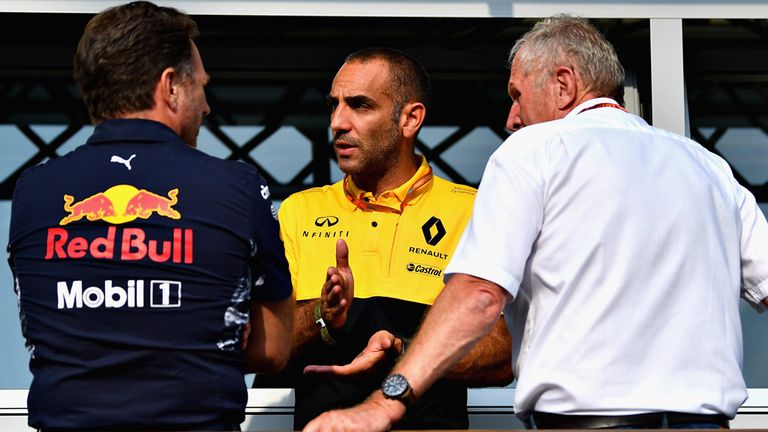 Renault have told Red Bull they want to stop supplying them with engines after the 2018 season, Sky F1 understands.
The move comes as Renault prepare to add McLaren to their customer roster from next year.
If a Red Bull-Renault split materialises, Red Bull would most likely have to turn to Honda for their 2019 engine supply.
As part of a series of interlinked moves, Honda is set to be announced as the new engine supplier for Toro Rosso, Red Bull's junior team, at this weekend's Singapore GP.
However, as it stands, the Renault engine is more competitive than Honda's and Red Bull are already a distant third in the Constructors'' Championship behind Mercedes and Ferrari.
In recent weeks Red Bull have been linked with a link-up with Porsche, but the German manufacturer is not thought to be targeting a return to F1 until 2021 when the sport's engine format changes.
Red Bull-Renault is the longest standing team-engine relationship in F1, spanning 10 years, but their partnership has frequently proved fractious.
The partnership came to the brink of divorce in 2015 after a public war of words before an 11th-hour reconciliation resulted in a near multi-year deal. However, Red Bull no longer carry Renault branding, instead selling naming rights to the engine.
Renault powered Red Bull to all of their consecutive world champions between 2010 and 2013 but felt their role in the success did not receive enough publicity.
As a result, the French manufacturer relaunched their own works team last year.
The announcements to expect at the Singapore GP
McLaren are exiting their Honda works partnership
McLaren are joining Renault's customer roster
Toro Rosso are switching from Renault to Honda power
Carlos Sainz is replacing Jolyon Palmer at Renault in 2018