Carlos Sainz joins Renault for 2018 on loan from Red Bull
Spanish youngster to replace Jolyon Palmer alongside Nico Hulkenberg
By Pete Gill
Last Updated: 02/10/17 2:41pm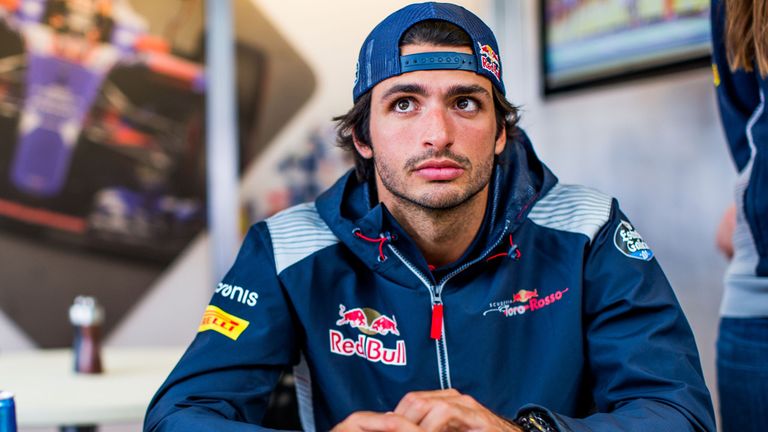 Carlos Sainz will drive for Renault alongside Nico Hulkenberg in 2018 - but only on loan from Red Bull.
The 23-year-old Spaniard will replace Jolyon Palmer whose future in the sport now appears dependent on a potential vacancy at Williams.
The highly-rated Sainz has moved as part of the complex negotiations which have seen McLaren divorce Honda for an engine supply deal with Renault and Toro Rosso give up their deal with Renault to become Honda's new partners.
McLaren officially split from Honda
Toro Rosso to be supplied by Honda
In full: What was said in the announcements
Sainz currently drives for Toro Rosso but is contracted to parent team Red Bull - and will continue to be even when driving for the Renault works outfit next year.
"We are happy to have reached an agreement for Carlos to drive for Renault Sport Formula One Team in 2018," said Red Bull advisor Helmut Marko.
"He is a tremendous talent and he will benefit from working with a manufacturer team alongside a highly experienced driver. This will give Carlos a different challenge and we will be keenly watching his progress there as he remains part of the Red Bull family."
F1 in 2018: Schedule and driver line-ups
The highly-rated Sainz has scored 36 of Toro Rosso's 40 points so far this term and has made no secret of his ambition to move up the grid after three seasons with the team.
"This is the start of a very exciting new chapter in my career. I would like to say thank you to Red Bull for all their confidence and support and for allowing me to take this opportunity," he said.
If Palmer isn't able to reignite his Formula 1 career elsewhere in 2018, it would leave Lewis Hamilton as the solitary British driver in the field next year.