Max Verstappen: Sebastian Vettel to blame for Singapore GP crash
"I don't think it was a racing incident," says Verstappen after seventh DNF of the season; But Vettel avoids punishment
By Matt Morlidge
Last Updated: 17/09/17 5:29pm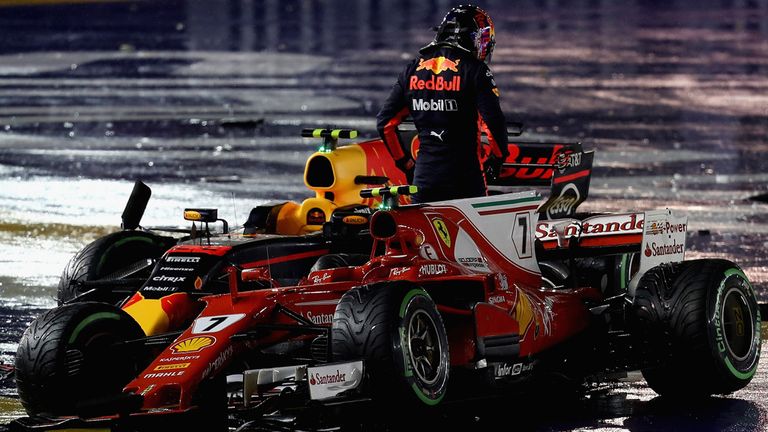 Max Verstappen has laid the blame on Sebastian Vettel for the first-lap crash that ended both of their races at the Singapore GP and says the German "shouldn't take risks".
Race stewards investigated the incident but took no further action and ruled that no driver was 'wholly or predominantly to blame'.
Verstappen started on the front row behind Vettel but was soon involved in a Ferrari sandwich as the pole-sitter moved left to squeeze the Red Bull into Kimi Raikkonen, who had a storming getaway from fourth.
Raikkonen and Verstappen were both immediately forced out of the race after the heavy contact and pulled up at Turn One, while Vettel crashed out soon after.
It was the seventh DNF of the season for Verstappen and he strongly criticised Vettel, whose race retirement gave Lewis Hamilton the chance to build a commanding lead in the drivers' standings.
"I think mainly Sebastian started squeezing me," Verstappen told Sky Sports F1. "Maybe he didn't see Kimi on the left but that's not an excuse.
"If you are fighting for the world championship you shouldn't take those risks squeezing someone that much. You can see what happens. Lewis is leading the race and the three of us are out."
What we tweeted was a factual description of events. No need to speculate on this

— Scuderia Ferrari (@ScuderiaFerrari) September 17, 2017
Hamilton's subsequent victory means the Mercedes driver now leads the title race by 28 points with six rounds to go.
It is the first time Vettel failed to finish a race due to a collision in almost a year, having crashed out of 2016's Malaysia GP, but he was warned about his conduct by the FIA after his Baku antics earlier this season.
"I don't think it was a racing incident," added Verstappen. "They took in total three cars out and I was in the middle doing nothing wrong. We'll see what happens.
"I'm happy not only I retired but all three of us so we all have a bit of pain."
A tweet from the official Ferrari Twitter account claimed Verstappen "took Raikkonen out" of the race - an opinion Red Christian Horner couldn't believe - with the Red Bull boss agreeing that his former starlet Vettel was at fault.
"How on earth you can work that out [Verstappen to blame] from watching that, I have no idea," he told Sky F1.
"You can see that Sebastian comes quite aggressively left, Kimi goes to the right and Max can't disappear. He held a straight line and it's just desperately unlucky for him to be eliminated like that.
"What Seb probably couldn't see was Kimi on the other side of Max. He's been aggressive with Max and Kimi's done the same thing from the other side and the end result is what you see there.
"Anyone who can blame Verstappen out of that needs their eyes tested."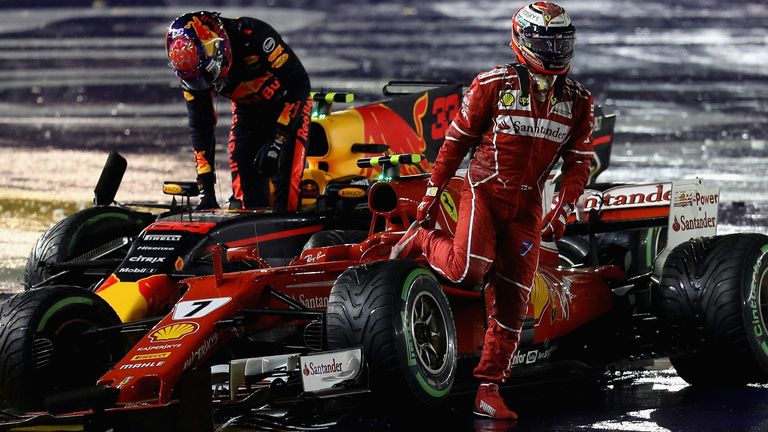 'McLaren could have fought for win'
Fernando Alonso was the 'other' driver caught up in the Turn One collision, blindsided by Verstappen's stricken Red Bull after it was hit by Raikkonen. Alonso enjoyed a superb start from seventh and was in second place when his McLaren was launched into the air - and unfortunately for the Spaniard the damage was terminal.
"I didn't see much unfortunately," Alonso said. "Everything happened in the inside and I was in the wrong place at the wrong time. Unfortunately this race we had a lot of hopes.
"In wet conditions I think we are very strong as well and arguably we could be leading the race. It was an amazing start from the car, the launch was very good today. We missed this opportunity and we need to hope for better luck in Malaysia."
And Alonso even claimed he could have fought Hamilton for the race win without the collision.
"I was 100 per cent sure of a podium," he added. "The question is whether we could have fought for a victory."