Can Lewis Hamilton break Michael Schumacher's F1 race wins record?
Now up to 60 career wins, what chance is there of Hamilton overhauling one of F1's most formidable records in the years ahead?
By James Galloway
Last Updated: 14/01/19 1:35pm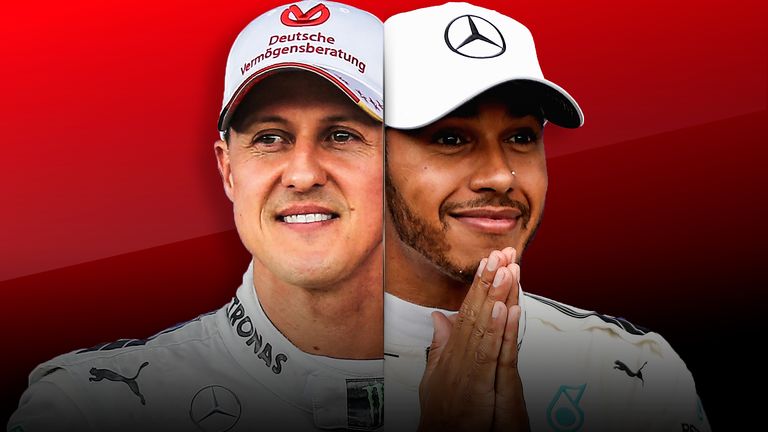 60 down, 31 to go?
Lewis Hamilton became just the second F1 driver in history to achieve 60 Grand Prix wins with victory at the Singapore GP, consolidating his second place in the all-time standings.
The Englishman now has nine more wins than the third-placed driver on the list, Alain Prost, and 14 more than 2017 title rival Sebastian Vettel in fourth.
When's the Malaysia GP on Sky Sports?
But Hamilton remains 31 victories adrift of Michael Schumacher's all-time mark of 91, a record which has already stood for 11 years.
Along with Schumacher's record seven world championship titles, the German's win tally has long been considered the landmark that will stand for longest - and perhaps, forever.
But Hamilton, fresh from surpassing Schumacher's pole-position record earlier this month and on a run of four wins in the last five races, has admitted it is an "exciting" prospect to try and chase down the 91 benchmark.
"Seven championships, I personally don't have a desire to chase that," he said after achieving win number 60 in Singapore.
"I don't know how the other drivers feel about that but the wins feel more exciting to try and chase.
Most F1 race wins
| | |
| --- | --- |
| Michael Schumacher | 91 |
| Lewis Hamilton | 60 |
| Alain Prost | 51 |
| Sebastian Vettel | 46 |
| Ayrton Senna | 41 |
| Fernando Alonso | 32 |
"Records are there to be broken so at some stage someone will break them, whether it's me, I can't tell you."
So just how feasible is a run at F1's all-time wins record for Hamilton?
For the first time, it's a question which is actually being asked in F1 circles.
What next for Hamilton and Mercedes?
As highlighted by Nico Rosberg's sudden retirement last winter, and even Ferrari's unexpected return to form this year, predicting the short-term future in F1 can be fraught with difficulty.
Trying to forecast anything with ultimate accuracy further out than that? It's a mug's game.
But if Hamilton is to challenge Schumacher's record then two things must happen: the Englishman extending his F1 career beyond the end of his current Mercedes deal in 2018 and the world champions continuing to be serial race winners.
On the first count, the signs are that Hamilton, who turns 33 in January, doesn't have any desire to hang up his crash helmet anytime soon.
"l plan to extend with the team, which we will do at some point in the second half of the season or towards the end of the year," he said at the start of September, with Mercedes also confident of agreeing a contract extension with their star driver from 2019.
Such negotiations will probably be made easier by the fact Mercedes have come through one of the biggest aerodynamic rules overhauls in years and are still at the head of the field.
Ferrari's 2017 revival may have ensured the Brackley team aren't as dominant as they once were, but Mercedes remain the grid's leading force and with six races to go this season are on course for a fourth consecutive title double.
Their reign will eventually end, but with the next rules overhaul not currently scheduled until 2021, there's been little sign of the Brackley juggernaut being brought to a grinding halt.
When could Hamilton reach 92 wins?
Hamilton achieved his 60th win at the 202nd attempt, 15 years after Schumacher became the first F1 driver to 60 with victory at the 2002 British GP. That was the German driver's 170th race start.
Approaching the end of his 11th season in the sport, Hamilton has won at a rate of once every 3.4 races.
Using that strike rate, he'd need another 109 races to reach the magical 92 wins.
Schumacher and Hamilton at 202 races
| | | |
| --- | --- | --- |
| Michael Schumacher | | Lewis Hamilton |
| 2004 US GP | 202nd race start | 2017 Singapore GP |
| 78 | Wins | 60 |
| 130 | Podiums | 113 |
| 62 | Fastest laps | 38 |
| 119 | Races led | 109 |
| 60 | Poles | 69 |
| 98 | Front row | 114 |
| 6 | Championships | 3 |
Based on an average calendar length of 21 races, which the 2018 schedule reverts to, he wouldn't theoretically reach that milestone until the end of the 2022 season - by which time he would be 37. It's conceivable he would have retired by then.
Hamilton grateful for Vettel 'weaknesses'
But what about if his race-winning average of recent seasons is used instead?
Since Mercedes' rise to dominance at the start of 2014, Hamilton has won 38 of the last 73 races - an incredible 52 per cent.
That gives him a race-winning strike rate of 1.9.
If he kept winning at that rate, he would need only 61 races to get to 92 wins - a milestone he would reach mid-way through the 2020 season, which should cover his next Mercedes contract.
Hamilton's win % since 2014
| | | |
| --- | --- | --- |
| 2014 | 11 wins from 19 races | 57.9% |
| 2015 | 10 wins from 19 races | 52.6% |
| 2016 | 10 wins from 21 races | 47.6% |
| 2017 | 7 wins from 14 races | 50% |
| Total | 38 wins from 73 races | 52.1% |
Something in between his Mercedes win rate and his all-time win rate and the record could go in 2021.
Of course, with so many potential factors at play in a highly-competitive sport like F1, it's impossible to say with any degree of confidence if and when one of Schumacher's most illustrious records will be broken.
Hamilton and Mercedes are currently in the form to do it - but they will have to sustain that brilliance for a few more years yet if win number 92 is to ever be reached.
Can Sebastian Vettel and Ferrari bounce back from their Singapore nightmare? Watch the Malaysia GP weekend live on Sky Sports F1. The race begins at 8am on Sunday October 1.
If you are using skysports.com you can comment below to get involved in the debate, but please adhere to our House Rules. If you wish to report any comment, simply click on the down arrow next to the offending comment and click 'Report'.