Malaysia GP: Sebastian Vettel suffers engine woe and will start at the back
Turbo failure for Vettel as he fails to set a time in Q1; Huge title advantage for pole-sitting Hamilton as Vettel admits "it's a bad day"
By Matt Morlidge
Last Updated: 10/10/17 12:01pm
Sebastian Vettel suffered a major championship blow at the Malaysia GP after an engine failure ruled him out of qualifying, relegating him to the back of the grid for Sunday's race.
Vettel, 28 points behind Lewis Hamilton in the standings after a DNF in Singapore, will start at the back after failing to set a time in Q1 with his title rival on pole.
"It's part of motor racing," Vettel told Sky F1. "For sure, it's not ideal, it's not what we want, especially on a day where you feel that you've got it in you, you've got it in the car but we won't be able to prove that. It's a pretty bad day."
Qualifying: Lewis on pole, Vettel last...
WATCH: The moment Vettel's engine failed
Ferrari mechanics had worked frantically for two hours to replace Vettel's engine after the power unit suffered a glitch during Practice Three, but the German reported that he "lost turbo" on his first flying lap in qualifying and limped back to the pits.
Ferrari had described Vettel's engine change after P3 as 'precautionary', and the four-time world champion added: "Definitely [I could have stuck with the old engine].
"We need to see now what was the problem but we managed the change successfully in time - the guys pulled off a miracle and worked like crazy. It's a shame that we couldn't get out."
The four-time world champion's woes have handed Hamilton a major advantage as he looks to build on his title lead with six rounds remaining in the season - and there will be 19 places separating them in Sunday's race.
Vettel and Ferrari had looked dominant over the Malaysia GP practice sessions prior to Saturday's shootout.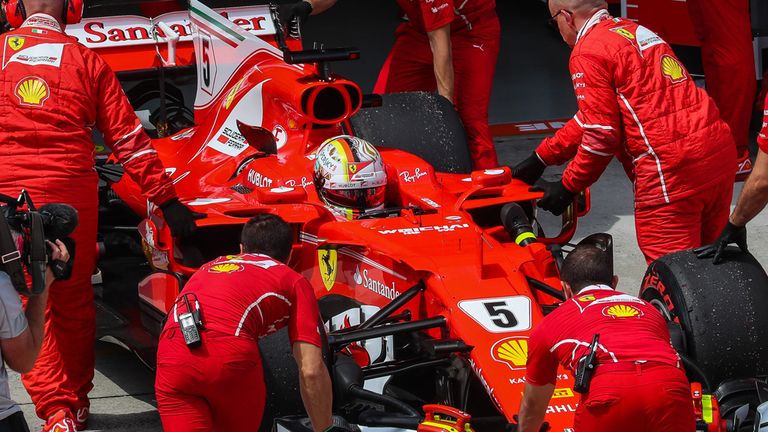 Explaining the problem in further detail, Ferrari chief Maurizio Arrivabene said that the problem was "the airflow connecting the engine to the turbo", while Ferrari spokesman Alberto Antonini added: "It seems when he was out on his preparation lap he didn't feel the right amount of power in the engine.
"The reason for that, we really have to investigate. Unfortunately the time was too tight to do so at the end of the session.
"We have to know exactly whether it was something wrong with the settings, or if a piece in the system didn't work as it was supposed to. Obviously we have nothing to lose if we start at the back of the grid tomorrow."
The new ICE fitted to Vettel's car was his fourth of the year, but Ferrari have decided to install a fifth engine - incurring a now futile further grid penalty - and will start the Grand Prix in 20th.
Another major moment in the title race?
Commentary from Sky F1's Martin Brundle:
"There's another image to add to the Baku bumper cars and Singapore first-corner crash for significant moments of 2017.
"They need a crazy race for Vettel's championship chances."