Lewis Hamilton may 'take a knee' at the US GP as he backs NFL protests
"I think we all do need to stand together," says Hamilton as he follows up social media posts with interview on NFL protests
By Matt Morlidge
Last Updated: 10/10/17 11:59am
Lewis Hamilton has admitted he could consider 'taking a knee' at October's United States GP as protests continue to sweep through the NFL.
Hundreds of NFL players have knelt down during the American national anthem in recent weeks in response to stinging criticism from President Donald Trump with Hamilton publicly supporting their protests on social media.
And when Formula 1 heads to Austin for round 17 of the 2017 season in October, the championship leader says he will have to start thinking about taking a knee himself on the grid when the anthem plays before the race.
"I've not even thought about that race but of course I will have to start to think about it - what would be right for me to do or do I even need to get involved?," Hamilton said in an interview with The Times.
"It's not my national anthem, but the issue that is in the States...well, it's not just in the States, it is a global thing. It's more focused and probably at its worse perhaps in America. I think we all do need to stand together."
Trump has been locked in a feud with NFL players, owners and league officials over the symbolic protests. Last week, he called protesting players "sons of b*****s" who should be fired.
Previously, only a handful of players had taken a knee during the anthem but last week, after Trump's comments, nearly 200 chose to make their point. And Hamilton said he could "identify with a lot of those individuals".
"It's important for everyone to stand up for what they believe in," the Mercedes driver added. "I don't plan on being more political but I do feel we should all stand up and stick by what we believe in."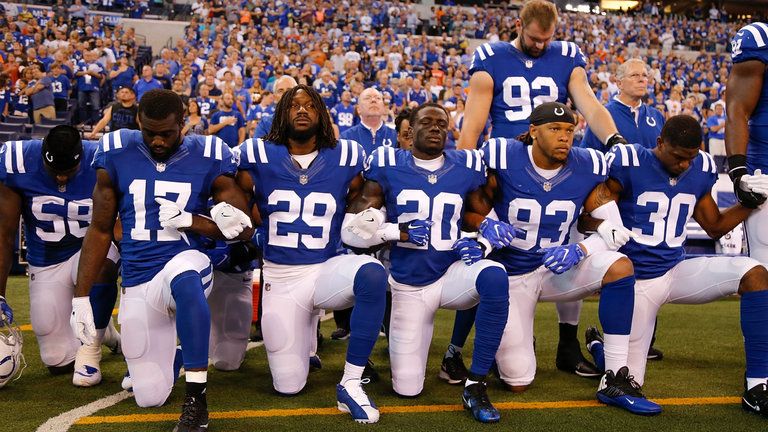 Hamilton's comments follow a series of Instagram posts in which he has referenced the NFL protests and American politics, including a now-deleted video which involved a doll of President Trump.
"It is open for anyone to have freedom of speech and I guess we can all play a role in trying to make a difference in the world," Hamilton said prior to the Malaysia GP. "Particularly if your leader is not helping in that area."
Hamilton has Mercedes 'support'
Hamilton has stated that he "hates politics" but also insisted he had not consulted Mercedes in advance to making comments about the NFL protests or anything else.
"I genuinely have always had support from all of my team," he said. "I have never had any complaints from them."
And speaking to The Telegraph, Mercedes boss Toto Wolff said it would be futile to try and control the three-time world champion when it came to his lifestyle - and has admitted he understands his feelings on human rights.
"The more you try to limit him - put him in a box - the more detrimental it will be for his performance," Wolff said. "The old mentality of 'A racing driver has to be like this or like that' is invalid for Lewis."
Why are NFL players 'taking a knee'?
The practice of not standing for the anthem was started by former San Francisco 49ers quarterback Colin Kaepernick last year as a means of protesting perceived racial injustice and police brutality.
A handful of athletes had followed Kaepernick by kneeling or raising their fist since then, but after President Trump launched a scathing attack earlier this month - calling for club owners to 'fire' those players - the protests have intensified and are growing in number.
Almost 200 players protested during Week 3 of the 2017 NFL season, with several staying in their locker rooms for the US national anthem during their games. But the war of words continues, and so, it seems, will the protests...