Valtteri Bottas suffering 'most difficult time of career' after Malaysia GP struggles
Bottas only fifth in Malaysia; Finn finishes nearly 44 secs behind team-mate Hamilton and 20 secs adrift of Vettel who started last
By Jonathan Green at Sepang
Last Updated: 10/10/17 11:38am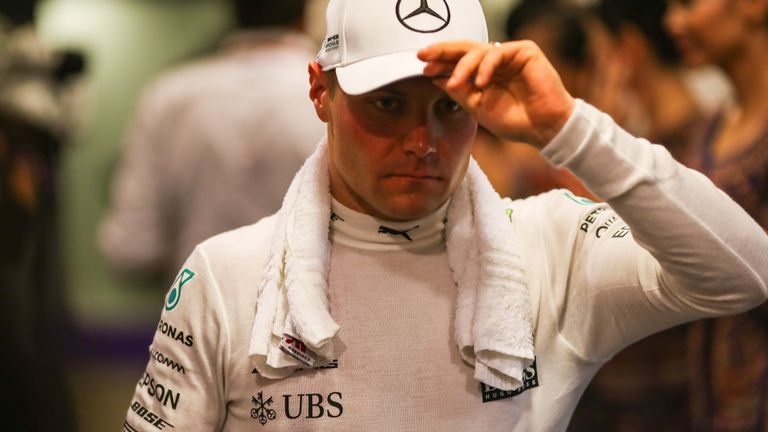 Valtteri Bottas says he is enduring the "most difficult time of his career" after his poor form continued at the Malaysia GP.
The Finn struggled for pace all weekend in Sepang and finished Sunday's race fifth, nearly 44 seconds behind team-mate Lewis Hamilton and almost 20 seconds behind Sebastian Vettel, who had started last.
Bottas has been unable to get near Hamilton since the summer break - being over half a second behind in the four qualifying sessions - and he feels he has never had such a hard time in his five-season F1 career.
"It may be the most difficult time of my career so far, in terms of how it feels every time I go in the car," said Bottas, who signed a new one-year contract with Mercedes before the Singapore GP.
"I just want to perform. I want to be in a good level and I haven't been doing that for some time for various reasons.
Merc 'worried' by Bottas form
Mercedes alarmed by unexpected slump
Hamilton: We've got big problems
"There are many question marks still for me, for the team. So I definitely want to turn it around quickly.
"If I keep doing races like this for long, that is not going to be a good thing for anyone. So, the team needs the points. I need the points, I want the points.
"I want to do much better than this, so definitely I want to turn it around quickly - and we need to do whatever is needed to do it, but like I said - many, many question marks."
Speaking to Sky F1 directly after the race, Bottas said: "As a team, we've been struggling to the car to work in these conditions but I'm definitely not at my best and definitely not at my most confident."
Ahead of the summer break, Bottas was seen to have an outside shot at challenging Hamilton and Sebastian Vettel for the world championship but he has now fallen 59 points behind his title-leading team-mate.
Before Sunday's result, Bottas had finished fifth in Belgium, second at Monza - when Mercedes were utterly dominant - and third in Singapore, a result helped by Vettel, Max Verstappen and Kimi Raikkonen taking each other out at the first corner.
Bottas post-break qualifying struggles
| | | | |
| --- | --- | --- | --- |
| Race | Hamilton | Bottas | Gap |
| Belgium | Pole position | Third | + 0.541 |
| Italy | Pole position | Fourth | + 0.736 |
| Singapore | Fifth | Sixth | + 0.684 |
| Malaysia | Pole position | Fifth | +0.682 |
'Mercedes' concerns bigger than Monaco'
Of concern to Mercedes and Bottas was how badly the 28-year-old struggled for grip and balance with their new aero upgrade, while Hamilton improved after reverting to the previous spec.
Hamilton: We've got big problems
Hamilton stated after Sunday's race that Mercedes had "big problems" with their W08 given their lack of performance at Sepang where they were expected to be close to Ferrari's pace.
Bottas concurred with his team-mate, and feels the team's concerns are even greater now than they were following the Monaco GP, when both cars failed to finish on the podium.
"I think the doubts are even bigger. Monaco is such a unique track, and it is not so easy to get the car right there. Definitely with different type of cars, some cars don't really work well there," he continued.
"But in a track like this, and for us to come here thinking that we should be quite competitive, it has been difficult. So definitely we need to understand very quickly.
"All the next races they are going to be really important. Still for us as a team nothing has been won yet, so hopefully we can understand within a week or two - because otherwise it could be too late."