Japanese GP: Lewis Hamilton wins as Sebastian Vettel's title bid loses power
Vettel forced to retire due to loss of power; Red Bull's Verstappen finishes just one second behind Hamilton; Title can be won at United States GP
By Pete Gill
Last Updated: 17/10/17 5:10pm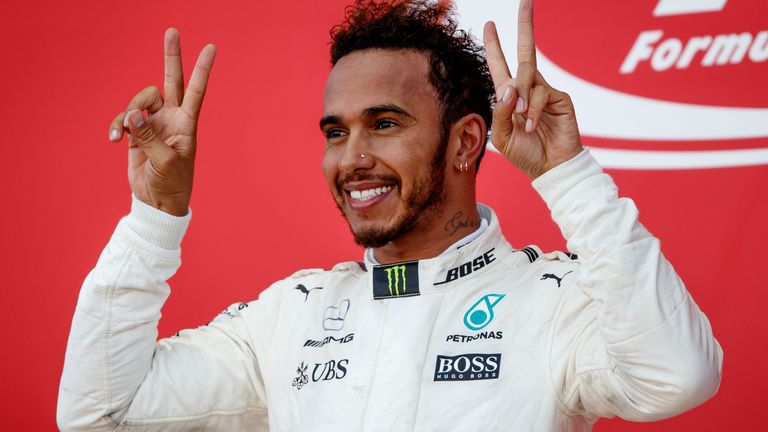 Lewis Hamilton has one hand on the F1 world championship after a dream victory in the Japanese GP on another nightmare afternoon for title rival Sebastian Vettel.
Vettel was forced to retire from the race he had barely started while Hamilton was victorious ahead despite a late scare as Max Verstappen scented his second win in a week to extend his title lead to a near-impregnable 59 points.
Hamilton will secure the world championship as early as the United States GP later this month if he extends his advantage over Vettel by another 16 points and also outscores Valtteri Bottas by three more points.
How Hamilton could win the title in America
"I could only have dreamed of having this kind of gap," said Hamilton. "I was excited to have a good race with Sebastian here but he's been incredibly unfortunate."
Vettel's nightmare run of form since the summer break plunged to a new low when he was forced to park up his broken Ferrari car on the opening laps after it lost power.
The problem was first detected on the grid and although Vettel made it off the line it quickly became apparent that his Ferrari, woefully short of speed along the straights, was fatally handicapped. The team later clarified that a spark plug was a fault.
It had blown - and so too had Vettel's title hopes.
"It's normal to be critical, especially if things go wrong because it's part of our job," Vettel told Sky F1. "But I need to protect them [Ferrari] - they've done an incredible job so far."
Maybe so, but with Ferrari's title drought set to extend towards a full decade, the pressure at Maranello may be suffocating over the coming weeks.
Vettel forced out of the Japanese GP
Vettel's record since the summer break
| Grand Prix | Grid | Finish | Points gap to Hamilton after race |
| --- | --- | --- | --- |
| Belgium | 2 | 2 | +7 |
| Italy | 6 | 3 | -3 |
| Singapore | 1 | DNF - collision | -28 |
| Malaysia | 20 | 4 | -34 |
| Japan | 2 | DNF - engine | - 59 |
Verstappen makes it tough for Hamilton
Driving with precision and poise, Hamilton had been in peerless form all weekend and was barely inconvenienced off the line as Vettel found himself unable to rebuff the advances of Verstappen later round the lap at the hairpin.
The youngster had already overtaken team-mate Daniel Ricciardo at the first turn, hanging on around the first corner with typical bravery and opportunism, before launching a race-long hunt for Hamilton and the lead.
It was a close fight - and too close for Mercedes' comfort with the world champions resorting to deploying Valtteri Bottas as a buffer when Verstappen closed to within a second of Hamilton.
Bottas' team play bought Hamilton a couple of precious seconds but Verstappen was undeterred and briefly closed to within DRS range of Hamilton's tyre-weary Mercedes on the penultimate lap before traffic intervened.
Hamilton reported an engine glitch of his own on the warm-down lap as he celebrated his fourth victory in the last five races. But it will require a serious derailment to halt his title-chasing momentum when Formula 1 heads across the Atlantic.
In his final race for Renault, Jolyon Palmer finished out of the points in 12th. Replaced four months early by Carlos Sainz, the Englishman will be a spectator in two weeks' time when F1 races in America.
Another Englishman, meanwhile, may well leave America at the end of the month as a four-time world champion.
Japanese GP race result
| | | |
| --- | --- | --- |
| Driver | Team | Time |
| 1) Lewis Hamilton | Mercedes | 1:27:31.194 |
| 2) Max Verstappen | Red Bull | + 1.211 |
| 3) Daniel Ricciardo | Red Bull | + 9.679 |
| 4) Valtteri Bottas | Mercedes | + 10.580 |
| 5) Kimi Raikkonen | Ferrari | + 32.622 |
| 6) Esteban Ocon | Force India | + 67.788 |
| 7) Sergio Perez | Force India | + 71.424 |
| 8) Kevin Magnussen | Haas | + 88.953 |
| 9) Romain Grosjean | Haas | + 89.883 |
| 10) Felipe Massa | Williams | + 1 LAP |
| 11) Fernando Alonso | McLaren | + 1 LAP |
| 12) Jolyon Palmer | Renault | + 1 LAP |
| 13) Pierre Gasly | Toro Rosso | + 1 LAP |
| 14) Stoffel Vandoorne | McLaren | + 1 LAP |
| 15) Pascal Wehrlein | Sauber | + 2 LAPS |
| DNF | | |
| Nico Hulkenberg | Renault | |
| Lance Stroll | Williams | |
| Marcus Ericsson | Sauber | |
| Sebastian Vettel | Ferrari | |
| Carlos Sainz | Toro Rosso | |