Martin Brundle: Lewis Hamilton looking invincible as the pressure takes toll at Ferrari
Sky F1's Martin Brundle on Lewis Hamilton's title surge, Nico Rosberg's TV debut, and the big battle still to come in F1...
Last Updated: 10/10/17 6:30pm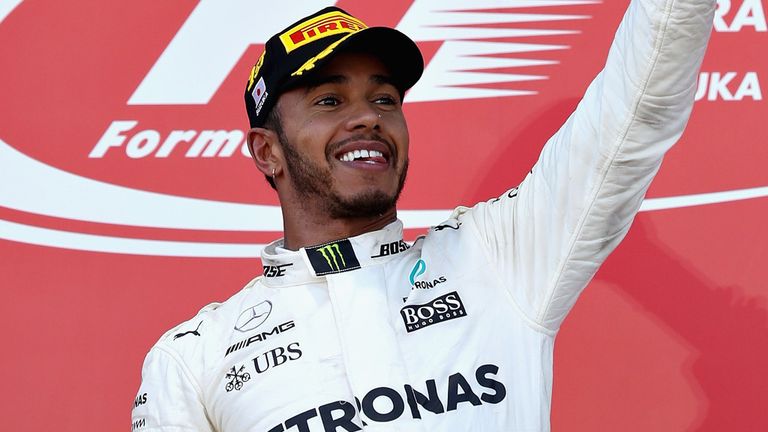 Who can stop Lewis Hamilton now from taking his fourth world championship, especially given the form he's in at the moment?
Two absolutely outstanding laps in Sepang and Suzuka put him on pole position and in charge.
Hearing Lewis at the Skypad describing his pole lap was very revealing. Not just in the detail of what he was doing on any particular kerb, apex or steering wheel dial setting change, but a great reminder of how he is applying experience, knowledge, support and speed to treat every piece of track as a new opportunity.
He's knitting it all together, in and out of the car, making his life easier on race day when the prizes are handed out.
Meanwhile, it seems the pressure of delivering such impressive performances in the season to date is taking its toll on Ferrari and its drivers. It's as if they have had the dial turned up to 11 all season and the pressure cooker is at bursting point, especially when limited to four internal combustion engines and the hugely complex mechanical jewellery which feeds them fuel, air and sparks - before grid penalties loom.
Kimi Raikkonen had a trip into the wall, just as Valtteri Bottas did with his Mercedes. This left the intriguing front row of the two championship contenders closely pursued by the resurgent Red Bull duo who finally sense chances to win races on outright speed.
When I see a car on the grid with its engine cover off with some kind drama and apparent panic my default thought is 'they'll fix it in time'. Sadly not so for Vettel again in Suzuka. He started the race well enough slotting into second before being mugged at the T11 hairpin by Super Kid. But by the pit straight at the end of the first lap it was clear his Prancing Horse was lame.
Just like in the Singapore first corner crash and the Sepang and Suzuka engine woes, my heart sank as I realised the spectacle of epic races and a down-to-the-wire championship were evaporating in front of our excited and hopeful eyes.
Fleet Street: Ferrari have imploded
WATCH: Insider an awkward drivers' briefing
Hamilton fights off age gap to beat Verstappen
Max Verstappen kept Hamilton honest all race long after out-muscling his team-mate Daniel Ricciardo down to and through Turn One before usurping Vettel. He's turned around his dismally unlucky season and is on fire. The two Red Bull boys remain the strongest combo on the grid and no doubt the team will be working super hard to keep them both for 2019 and beyond.
We were cruelly and sadly denied the great Schumacher v Senna era. I really hope Hamilton stays around for a good few seasons because LH v MV will be epic in more equal machinery.
Max's calm maturity continues to amaze me. Whenever I interview him his honest, down to earth and immediate responses almost make you sense that he's reading your mind before you even ask. His quick-fire style usually consist of minimal words too, so you need to be ready with the next question.
Another star in the making is Esteban Ocon. His battles with team-mate Sergio Perez are one of the carbon-crunching highlights of the season. Force India are doing their usual sensational job of making every dollar push the car a little further up the track. Ocon's finishing and points-scoring record is sensational, his last non-finish stretches way back into his single-seater junior racing at Macau in 2014, and so it's not just a lucky F1 roll.
Sergio Perez is very much able to match him, which only underlines that his drive at McLaren came just too early. We need a cost control mechanism urgently so that the likes of Force India can generate a real FA Cup style upset from time to time.
In Austin we will be down to one British driver on the grid with the uncomfortable and clumsy exit from Renault for Jolyon Palmer. As a former British F1 driver that saddens me, especially when I recall fighting Mansell, Coulthard, Warwick, Blundell, Palmer, Herbert, Hill, Irvine, Donnelly, Dumfries and others over 10 seasons.
Thankfully we have some great young Brits around in Oli Rowland, George Russell, Lando Norris, Dan Ticktum and co but there doesn't appear to be any seats available next year unless Paul Di Resta can secure the Williams. From Moss and Hawthorn, through Clark, Hill, Stewart, Hunt and Mansell, to Button and Hamilton and many other British heroes, we've usually had this well covered in F1, along with making the majority of the cars and engines.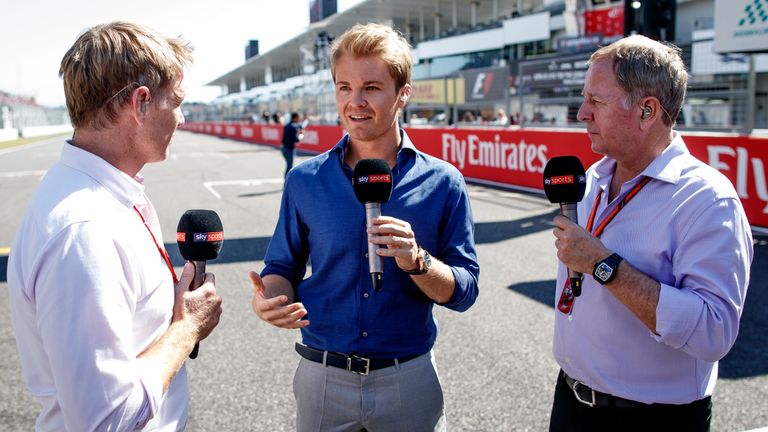 Nico Rosberg joined us on Sky F1 in Suzuka and did a great job. The legendary Mr Murray Walker said to me before our first commentary together in 1997 'just remember one thing Martin, we are here to inform and entertain'. And inform we did in Suzuka because it soon became very clear that Nico was an opinionated open book on pretty much any subject.
I had a few interviews with Nico when he was a driver under pressure for a championship and I often walked away thinking 'what the hell was that all about?'. At the weekend I thought he was fearless and impressive.
When world champions like Rosberg, Hill and Villeneuve, and multiple winners like Coulthard, Webber and Herbert first come into TV I like to observe with interest. How will they cope with the step change of moving from being revered and pampered in the paddock to the distant, cramped, cluttered and empty coffee cup world of the TV compound?
The answer has always been - seamlessly. Formula 1 heroes are hard working team players and largely regular folk who happen to be very good at driving cars really fast. And excited to share their knowledge and passion for our great sport. They could easily afford to stay at home chill out on a paradise island, but they are driven people.
For Austin we have to wait to see if Hamilton's vibration in the closing stages of the Suzuka translates into any problems, and also if Ferrari can resume normal 2017 service. Whatever happens, Hamilton is looking invincible.
MB