Jenson Button admits he lost love of Formula 1 after his father's death
Button also makes case for being a faster driver than Hamilton
By Pete Gill
Last Updated: 16/10/17 9:25am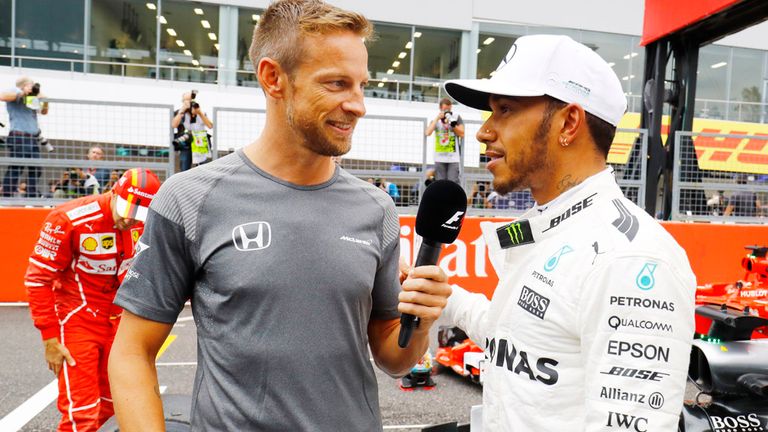 Jenson Button has revealed he lost his love for Formula 1 after the death of his father, John, in 2014.
Button stood down as a full-time race driver for McLaren at the end of last season and, despite holding a contract to return next year, has reiterated he will not drive again in the sport.
"I've still got an option to race next year, but I've done my time in Formula 1," Button told The Sunday Times Magazine ahead of the publication of his autobiography.
"I've been travelling with the circus for 17 years and it's enough for me."
Button senior's death in January 2014 at the age of 70 was widely reported at the time as being the result of a heart attack. But Jenson has now confirmed it was caused by a head injury after his father fell. The 2009 world champion returned to driving duties shortly afterwards but says he no longer felt the same way about F1.
"My love of racing remained but my love of Formula 1 was lacking," Button writes in Life to the Limit. "I found myself treading water, looking for meaning and purpose but failing to find it. Life without him was if laughter had been banned, or music had ceased to exist. All colour had drained away."
Button, who won his one and only title with Brawn a decade ago, also reflects that he did not possess the same insatiable appetite for multiple world championships as Sebastian Vettel and Lewis Hamilton, two of his peers who are currently contesting this year's drivers' championship.
"More and more l looked back at my career and realise l didn't feel the same way as l guess Sebastian and Lewis must feel," Button says. "I didn't have a need to win title after title. I'd reached Formula 1; become world champion. That hunger within me was satisfied."
Was Button a better driver than Hamilton?
Button has also made his case for being considered a better and faster driver than Lewis Hamilton after out-scoring his compatriot during their three years together at McLaren - although Hamilton out-pointed Button in two of those three seasons.
"I scored more points and it's all about scoring points, Formula 1. You look at Ayrton Senna and Alain Prost, you'd say Ayrton was the quicker driver but Alain was 'The Professor'," Button says.
"He knew how to get to the end of the season with the most points. He never wanted a crash - he knew that would lose him the most amount of points - whereas Ayrton was the driver that was extremely fast but he would push it too far. As Alain said, Senna would ridicule him, but in doing so he put himself on the edge and he crashed. So, yes, in Formula 1 it's not just about outright speed; it's about getting from A to B as fast as possible, not just one lap."
Curiously, the magazine declares that a 'feud' existed between Hamilton and Button with Button himself acknowledging the pair were not close.
"I regret that despite our similarities we were never friends," he says. "We'd hang out a bit but there were an awful lot of awkward and uncomfortable silences."
Will Lewis Hamilton clinch his fourth world championship in Austin? Watch the US GP weekend live on Sky Sports F1, the race begins at 8pm on Sunday October 22. Want to watch but not got Sky F1? Buy a NOW TV pass from £6.99!
Comment below to get involved in the debate, but please adhere to our House Rules. If you wish to report any comment, simply click on the down arrow next to the offending comment and click 'Report'.