US GP: Lewis Hamilton takes win but made to wait for title
Vettel fights back for second; Verstappen controversially demoted from third; Fifth place in Mexico on Sunday will be enough for Hamilton to take the title
By Pete Gill
Last Updated: 30/10/17 12:36pm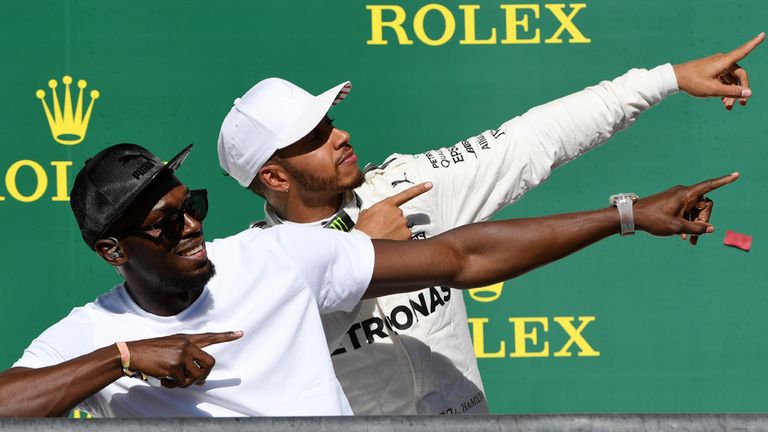 Lewis Hamilton is on the verge of his fourth F1 world championship after a serene victory in the US GP ahead of Sebastian Vettel.
With just three races remaining, and a maximum 75 points left to play for, Hamilton leads nearest title rival Vettel - who finished second after being let through by Ferrari team-mate Kimi Raikkonen in the latter stages - by 66 points.
Fifth position in next week's Mexican GP will be sufficient for Hamilton to become only the fifth driver in F1 history to claim a fourth championship.
Red Bull slam Verstappen penalty
Mercedes win fourth constructors' title
How Hamilton can win title in Mexico
Not that Mercedes were short of reason to celebrate on Sunday night as Hamilton's victory confirmed their fourth successive Constructors' Championship. For his part, Hamilton's celebrated on the podium with Usain Bolt, the world's fastest man. It would be a major surprise if Hamilton isn't crowned as the world's fastest driver in 2017 next Sunday.
Drivers' Championship title permutations in Mexico
| | |
| --- | --- |
| Result | |
| Hamilton fifth or higher | Hamilton is champion |
| Vettel second | Hamilton is champion if he finishes ninth or higher |
| Vettel third or lower | Hamilton is champion |
"It's been an incredible year so far," said Hamilton. "I was not expecting to have the pace on Sebastian we had today but the car felt fantastic.
Hamilton was beaten off the line by a fast-starting Vettel at the Circuit of the Americas but quickly made his superiority count when he passed the Ferrari on lap six.
"Before the race you have to sit and study where you need to save the tyres," Hamilton told Sky F1. "There are corners which are tougher on the tyres than others. At points in the lap he wasn't saving tyres and l was thinking 'he is going to run out of tyres way before me because l am saving there'. And that is what happened."
Hamilton: Vettel blew his lead
Despite then building up a substantial lead over Vettel, the Ferrari very nearly undercut Hamilton at the first round of pit-stops with the Mercedes only just emerging in front.
It was the last uncomfortable moment of the race for Hamilton on a weekend when the Englishman was in peerless form and topped every session. He crossed the line 10 seconds clear - in a league of his own and with one hand on the Drivers' Championship.
But Vettel's afternoon wasn't without its own drama thereafter, however, after Red Bull and Max Verstappen successfully spooked the German into adopting a two-stop strategy when his tyres began to overheat.
On fresh rubber, and being hounded by Verstappen, Vettel pulled off a daring move past the struggling Valtteri Bottas with five laps remaining before an obliging Raikkonen pulled over to let him through.
Raikkonen was then mugged by an opportunistic Verstappen on the final lap, seemingly denying the Finn third place.
But as a jubilant Verstappen, who had started a distant 16th, celebrated with Hamilton and Vettel in the warm-down room, the stewards announced they were meting out a five-second penalty against the Dutchman for gaining an advantage when leaving the track.
Red Bull were livid and a tight-lipped Verstappen stalked off stage with barely a glance at Raikkonen as the Finn arrived to compare notes with Vettel. Verstappen senior, Jos, wasn't quite so circumspect, launching a series of sweary tweets at the FIA, the sport's governing body.
The hard luck story of the afternoon, though, belonged to Fernando Alonso.
Having wrung the neck of his McLaren to manhandle it into a points-paying position, the Spaniard's Honda engine failed when running in seventh, condemning the two-time world champion to an all-too familiar early retirement. It is safe to assume that Alonso is counting down the days until 2018 when McLaren will be powered by Renault.
But for one of his former team-mates, 2017 is just getting better and better - and the best is still to come.
United States GP Race Result
| | | |
| --- | --- | --- |
| Driver | Team | Race time |
| 1) Lewis Hamilton | Mercedes | 1:33:50.993 |
| 2) Sebastian Vettel | Ferrari | + 10.143 |
| 3) Kimi Raikkonen | Ferrari | + 11.768 |
| 4) Max Verstappen | Red Bull | + 15.779 |
| 5) Valtteri Bottas | Mercedes | + 34.967 |
| 6) Esteban Ocon | Force India | + 90.980 |
| 7) Carlos Sainz | Renault | + 92.944 |
| 8) .Sergio Perez | Force India | + 1 LAP |
| 9) Felipe Massa | Williams | + 1 LAP |
| 10) Daniil Kvyat | Toro Rosso | + 1 LAP |
| 11) Lance Stroll | Williams | + 1 LAP |
| 12) Stoffel Vandoorne | McLaren | + 1 LAP |
| 13) Brendon Hartley | Toro Rosso | + 1 LAP |
| 14)Romain Grosjean | Haas | + 1 LAP |
| 15) Marcus Ericsson | Sauber | + 1 LAP |
| 16) Kevin Magnussen | Haas | + 1 LAP |
| | | |
| Did Not Finish | | |
| Daniel Ricciardo | Red Bull | |
| Fernando Alonso | McLaren | |
| Pascal Wehrlein | Sauber | |
| 16. Nico Hulkenberg | Renault | |
| | | |