Sky Sports F1 exclusive: Lewis Hamilton proud to be ranked among Formula 1's greats
Fifth place enough to crown Hamilton champion in Sunday's Mexican GP
By Pete Gill
Last Updated: 30/10/17 12:17pm
Lewis Hamilton has told Sky Sports F1 he is proud to be ranked among F1's most legendary figures with the Mercedes driver poised to claim his fourth world championship in this evening's Mexican GP.
Hamilton, who will line up for the race in third behind pole-sitter Sebastian Vettel and Red Bull's Max Verstappen, only needs to finish fifth to secure the title and become only the fifth driver in F1 history to claim a fourth world championship.
Vettel beats Verstappen and Hamilton to pole
"Lewis is about to break all records that have been set in Formula 1, and it is just a matter of time that people will say he is on track to being the best driver that has ever existed," said Mercedes boss Toto Wolff.
And Williams driver Felipe Massa added: "Lewis is definitely one of the best drivers in the history of Formula 1. You cannot really take him away or in a different level compared to Michael Schumacher and Ayrton Senna. He's there."
But in an exclusive interview with Sky Sports F1, which was broadcast during build-up to the Mexican GP, Hamilton shied away from the comparison.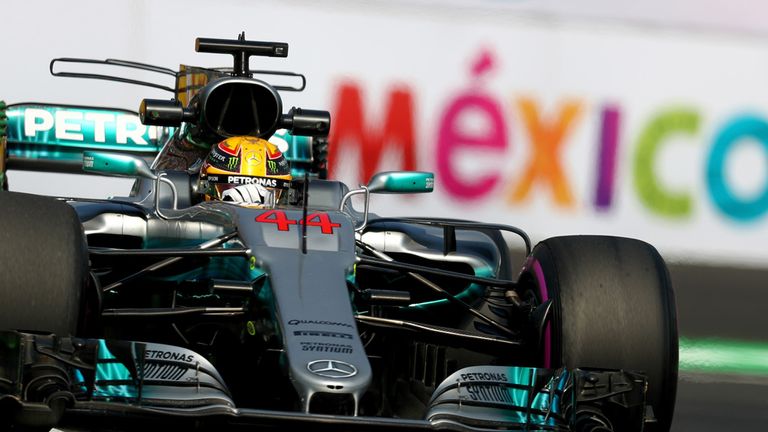 "It is absolutely impossible to compare yourself to someone from decades ago," Hamilton told Sky F1's Martin Brundle.
"It's unfair to do so. Look at Ayrton. Had he had longer to live he would have won more championships and been even more successful - and he would probably have stopped Michael winning at least a couple of championships.
"And look at Juan Manuel Fangio. He was so unique in his own right. Back then was a crazy period of time when death was upon all the drivers right on the limit. Do l wish l could be at the same time with them in a dream racing them all together? That would be amazing. Then you could get to feel where all their strengths and weaknesses were. At the moment l just admire them - and will forever.
"I am just proud to be amongst those greats."
Hamilton on friends and foes
In a fascinating wide-ranging interview, a relaxed and confident Hamilton admitted he believes he has been at the peak of his powers in 2017.
Hamilton has won five of the six races since the summer break, culminating in his defeat of Vettel, his nearest title rival, at the US GP a week ago after overtaking the Ferrari driver in wheel-to-wheel combat.
"It feels amazing," the 32-year-old reflected. "The fear is to never reach your potential and to live in your potential. That's what l have been working towards - making sure l can open that potential and utilising it when l am on track."
Hamilton's perceived career high has coincided with Nico Rosberg's departure from Mercedes after four increasingly fraught years as the Englishman's team-mate.
"It has helped the harmony in the team," Hamilton said of Rosberg's exit. "On my part, it's enabled me to enjoy my job a lot more. But l think that has also come hand-in-hand with fighting another team."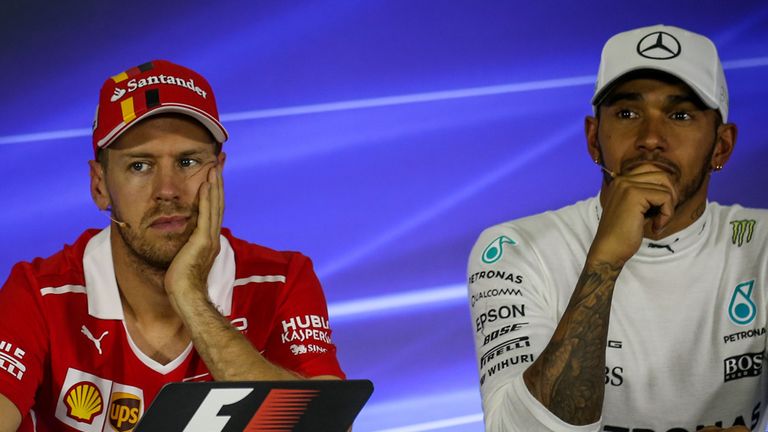 Ferrari's Vettel has replaced Rosberg as Hamilton's principal rival this term and the pair are set to start 2018 with four championships apiece. But should Hamilton have reached the landmark already?
"When you are matching someone within your own era, it doesn't really mean too much because naturally l feel like l should have done that before. There is a feeling inside me that l could have. Had l had the car to fight with him in those four years he won the world championship…
"But he is a fantastic driver and you want to go up against the best. I am enjoying the fight with him. And when l saw he had re-signed with Ferrari l was like 'good luck, guys, because l am going to be here for that period of time to make your life a misery!'"
Drivers' Championship title permutations in Mexico
| | |
| --- | --- |
| Result | |
| Hamilton fifth or higher | Hamilton is champion |
| Vettel second | Hamilton is champion if he finishes ninth or higher |
| Vettel third or lower | Hamilton is champion |