Mexican GP: Daniel Ricciardo and Brendon Hartley penalties change grid
Ricciardo takes new engine elements and is set to drop from seventh to 16th on grid; Hartley also has replacement parts fitted after qualy problems
By James Galloway in Mexico City
Last Updated: 30/10/17 12:17pm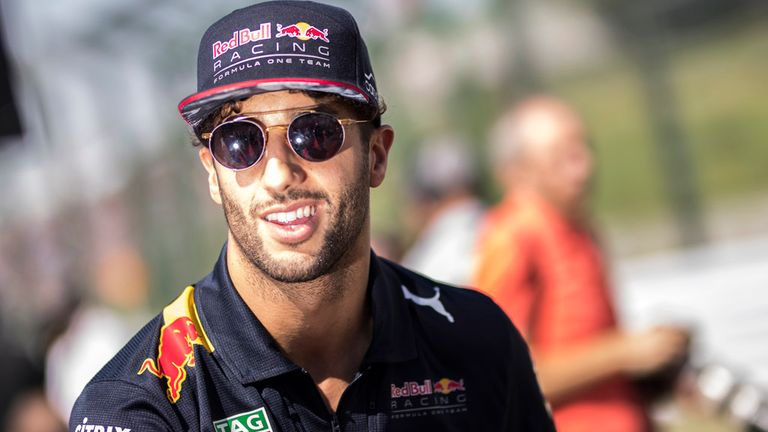 Daniel Ricciardo has dropped down the grid at the Mexican GP from seventh place after Red Bull opted to make engine changes.
Toro Rosso's Brendon Hartley will also take a grid drop after a turbo failure stopped his car in qualifying, meaning five drivers now have grid penalties for Sunday evening's race.
Ricciardo will now start 16th with Hartley 17th.
Ricciardo, who struggled in qualifying, has collected a 20-place penalty for the use of a seventh MGU-H plus sixth main engine and turbocharger. Hartley, who qualified 13th after his car stopped in Q2, also has a 20-place demotion for a seventh engine, sixth turbocharger and seventh MGU-H.
The three other drivers already with penalties, McLaren's Fernando Alonso and Stoffel Vandoorne along with Pierre Gasly in the other Toro Rosso, all remain in the grid's final three positions respectively.
Ricciardo's penalty means Felipe Massa is promoted into the top 10, while the Sauber and Haas cars all gain two places apiece with Hartley also dropping down.
Sebastian Vettel starts on pole position in a race he needs to outscore Lewis Hamilton, who starts third, by 17 points to keep the title race going to Brazil. Hamilton only needs to finish inside the top five to be sure of winning a fourth world title.
Official Mexican GP Starting Grid
1. Sebastian Vettel, Ferrari
2. Max Verstappen, Red Bull
3. Lewis Hamilton, Mercedes
4. Valtteri Bottas, Mercedes
5. Kimi Raikkonen, Ferrari
6. Esteban Ocon, Force India
7. Nico Hulkenberg, Renault
8. Carlos Sainz, Renault
9. Sergio Perez, Force India
10. Felipe Massa, Williams
11. Lance Stroll, Williams
12. Marcus Ericsson, Sauber
13. Pascal Wehrlein, Sauber
14. Kevin Magnussen, Haas
15. Romain Grosjean, Haas
16. Daniel Ricciardo, Red Bull - 20-place penalty
17. Brendon Hartley, Toro Rosso - 20-place penalty
18. Fernando Alonso, McLaren - 20-place penalty
19. Stoffel Vandoorne, McLaren - 35-place penalty
20. Pierre Gasly, Toro Rosso - did not qualify and 20-place penalty