Lewis Hamilton is 'best active British sportsman', say F1 papers
Hamilton lauded in Monday's papers after 'extraordinary' fourth title; Did Vettel deliberately crash into rival in Mexico?
By Matt Morlidge
Last Updated: 16/11/17 12:22pm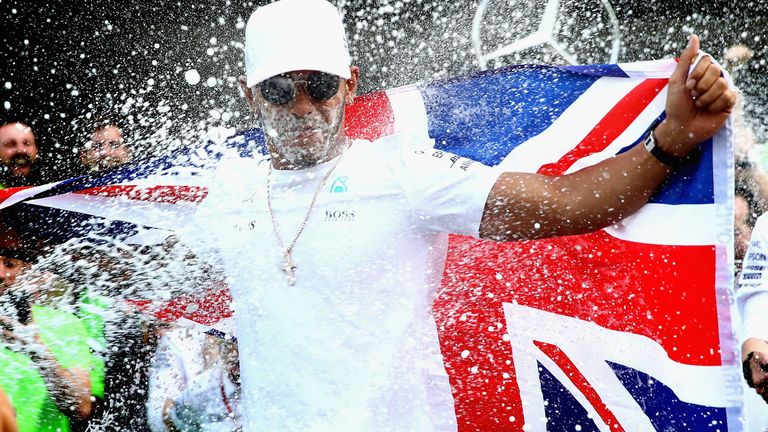 'Extraordinary', 'astonishingly gifted', a 'raw homegrown talent' - just some of the phrases used in Monday's papers to describe Lewis Hamilton after he made British history by becoming a four-time Formula 1 world champion.
Hamilton has endured a mixed relationship with the press since taking his first world title nine years ago, but the praise for Mercedes driver was unequivocal following the Mexican GP.
It may not have been the race Hamilton wanted - his ninth-place finish was his lowest since 2013 - but Sebastian Vettel's failure to claim victory handed the Englishman a place in the record books.
Hamilton proud but not done yet
Vettel: Hamilton deserves title
Max: One of my easiest races
"Somehow, Hamilton overcame a collision, a puncture and a place at the back of the field to become the greatest driver in British motor racing history," wrote Martin Samuel in The Daily Mail.
"Given this country's record in the sport - 10 champions, more than any other nation - that is no empty accolade. And there was something fitting about having to fight his way through the field to claim his prize. There has always been something of the streetfighter in Hamilton.
"Jackie Stewart's three titles are bunched in a five-year spell, Jim Clark's two were won over three years before his career was tragically curtailed. Hamilton now spans a decade, four titles in 10 years, as Schumacher did, seven in 11. He is in that company now, and with a new challenge - Max Verstappen's race win once again giving promise of a great rivalry to come.
"That, for now, is to be anticipated. This morning, Hamilton can drink it in. Britain's greatest driver. Not because he has the best car, but because he is scrappy, and brave, and astonishingly gifted. He deserves every garland and tribute that comes his way."
Hamilton had already been hailed by Oliver Holt in The Mail on Sunday, when compared to other British sporting stars.
"Maybe we feel we can identify more with [Andy] Murray, Rory McIlroy or Anthony Joshua but it really is rather hard to argue against the fact that Hamilton is the best active British sportsman at the moment," added Holt.
Only the legendary Michael Schumacher and Juan Manuel Fangio have won more world championships than Hamilton, who has vowed to push on for a fifth crown after his latest triumph.
"This raw homegrown talent, who grew up idolising Ayrton Senna on the wrong side of the tracks in Stevenage, now finds his name inscribed among the immortals," was the opinion of The Telegraph's Oliver Brown, while The Guardian's Richard Williams claimed the statistics meant Hamilton's standing was in no doubt.
"Hamilton's latest milestone - and he is only 32, so his journey is far from over - marks his arrival at the pinnacle of a line of British heroes that began between the wars with Sir Henry Segrave and Richard Seaman and continued with the holders of the official world title inaugurated in 1950," he claimed.
"Mike Hawthorn, Graham Hill, Jim Clark, John Surtees, Stewart, James Hunt, Nigel Mansell, Damon Hill and Jenson Button. His achievement takes him beyond the arguments even of the romantics who venerate the two great British virtuosos of grand prix history: Clark, a double champion so tragically unlucky to be cut down at the age Hamilton is today, and Sir Stirling Moss, the greatest driver never to win the championship.
"To them that suggestion will represent sacrilege but Hamilton, too, is a virtuoso. The speed, skill, precision and racecraft that have brought him 62 race wins are all the proof he needs, supported by the 72 pole positions that place him first in the all-time list ahead of Ayrton Senna and Michael Schumacher."
Matt Dickinson of The Times, meanwhile, was appreciative of Hamilton and believes F1 would be in a worse place without his momentous achievements.
"He is, truly, among the motor racing greats," he wrote.
"Those records and trophies tell of his sporting stature but perhaps a more immediate, tangible way of appreciating Hamilton - particularly for those who do not naturally warm to him - is to imagine how much weaker the sport would have been without his presence on the grid through this past decade."
Of course, Hamilton's race in Mexico wasn't without its controversy.
Needing a miracle to keep his title hopes alive, Vettel clattered into the back of his rival's Mercedes on the first lap, causing a puncture, with both drivers then having to make their way back through the field. It was their second high-profile collision of the season following Vettel's shunt at the Azerbaijan GP.
"What we can be certain of is that Hamilton deserves acclaim for not having needed to resort to any skulduggery to win his fourth title," wrote Jonathan McEvoy in the Mail. "Through the second half of this season, his driving has been touched by the angels.
"It can only be a hunch but I believe Vettel knew precisely what he was doing. And so add the incident to the dubious title shoot-out collisions that litter the Formula One narrative. The motley cast is led by Ayrton Senna, Alain Prost and Michael Schumacher, all multiple champions whose desperation got the better of them from Jerez to Suzuka.
"If it seems a harsh assumption to think the worst of Vettel, recall Azerbaijan earlier this season when, clearly, he deliberately drove into Hamilton out of sheer despair. Is a human frailty exposing itself?"