Fernando Alonso the 'racing monster' wants to be world's best
McLaren boss on Alonso's racing goals ahead of sportscar debut as Spaniard sets sights on becoming "best driver in the world"
By James Galloway
Last Updated: 16/11/17 12:19pm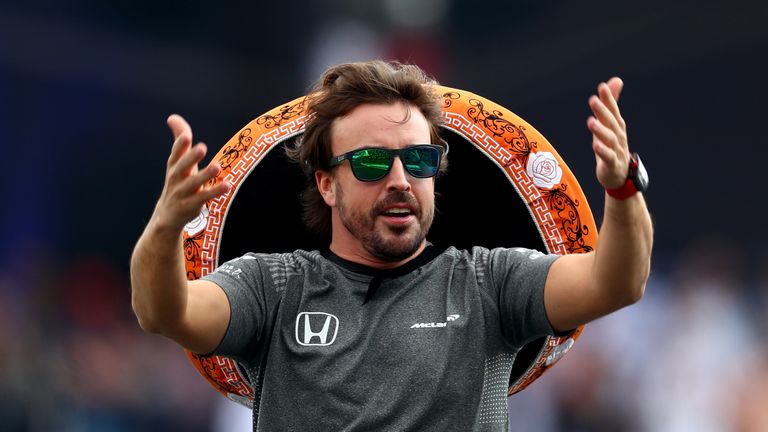 Zak Brown has joked that McLaren have created a "racing monster" in Fernando Alonso ahead of the Spaniard's sportscar debut in the Daytona 24 Hours in January.
In what will be his second non-F1 event in the space of eight months, Alonso has signed up to race for Brown's United Autosports team in the Daytona International Speedway's famous endurance race.
As part of his new McLaren deal from 2018, Alonso can compete in other events provided it does not compromise his F1 programme with the 36-year-old aiming to complete the two outstanding legs of motorsport's 'Triple Crown' over the forthcoming years, the Indianapolis 500 and Le Mans 24 Hours.
Explaining how the Daytona opportunity came about, McLaren chief Brown said: "We'd had some light conversations, we talk about different racing all the time, and I was with Fernando and Luis [Garcia Abad] his manager and he said 'I want to do Daytona'.
"I'm kind of getting used to it after Indy! I turned around to Luis and said 'he's serious isn't he?' And he said 'oh yeah' so I didn't have to ask twice."
Brown added: "We've created a monster - a racing monster!"
Speaking to reporters at the Mexican GP, Alonso said his "plans for motorsport are much greater than anyone can think" and that he ultimately wants to be regarded as racing's best all-round driver.
"I want to be the best driver in the world and to do that you need to win in different series, compete in different cars and sometimes you need to go out of this small world of Formula 1," he said.
"Motorsport is more than Formula 1."
Alonso to race in Daytona 24 Hours
Hamilton wants Alonso back at front
Alonso's Daytona debut is expected to prove a precursor to his first attempt at Le Mans at some point in the next couple of years, although Brown said no deal was yet in place for Alonso to take a potential race-winning seat for 2018. The event takes place on June 16-17 on the weekend between F1's Canadian and French Grands Prix.
"Clearly he has got an interest in Le Mans and wants to go back to Indy," added Brown.
"I was a little surprised in how definitive it was [about Daytona] but the way Fernando works is he thinks things through quite a bit and then he makes a decision and it's clear he had given a lot more thought to it than I anticipated and when he said he wanted to do it he was very definitive."
Hamilton on 'tough cookie' Alonso
Despite his wider motorsport ambitions, Alonso has made clear his top priority is success in F1 with both the Spaniard and his McLaren team confident of returning to podium contention when they take Renault engines from next season.
Alonso, who last finished on the podium in July 2014, is still regarded as one of F1's greatest drivers and 2017 world champion Lewis Hamilton hopes the Spaniard is back at the front next year after enjoying a wheel-to-wheel duel with his old rival in the closing stages of last Sunday's Mexican GP.
"I was like 'this is one… Back and forth, back and forth," said Hamilton of the duel which lasted several corners in the fight for ninth place.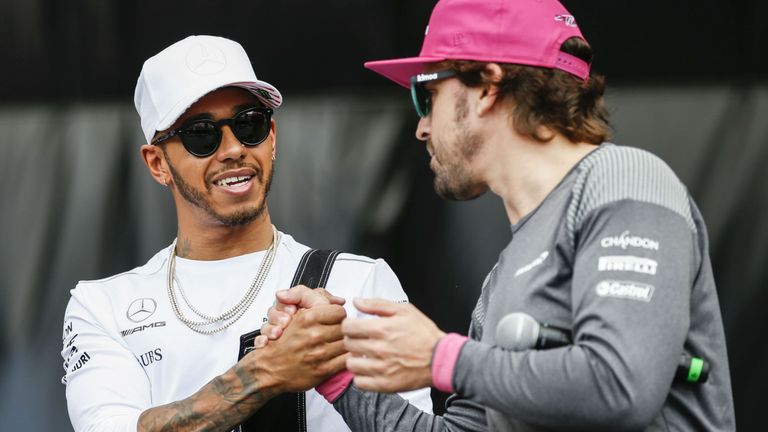 "Just wait until this guy gets a good engine because the car was great through those sections and I really hope for McLaren, who have a special place in my heart, that next year is a better year and they will hopefully have a stronger engine and strong car.
"He's a tough cookie and I enjoyed the little battle with him and I hope we get to have more like that."