Valtteri Bottas says he won't be 'number two' driver to Lewis Hamilton
"I can't put myself in a place of number two otherwise I would rather stay at home," says Finn
Last Updated: 16/11/17 10:50am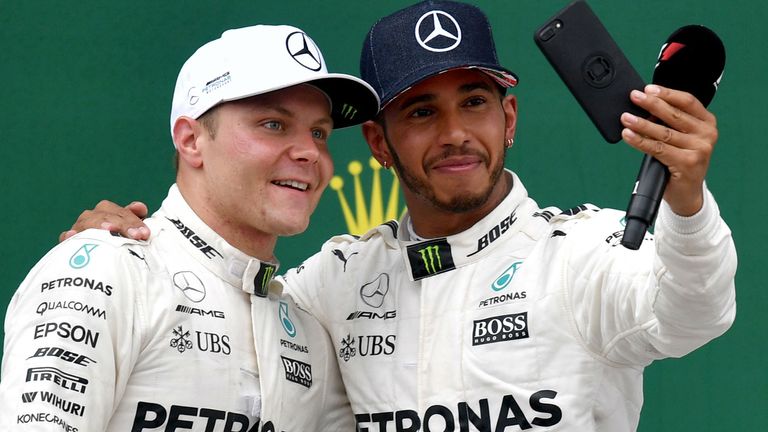 Valtteri Bottas says he has no intention of staying in Lewis Hamilton's shadow at Mercedes, as he sets his sights on a stronger second year at Mercedes.
The Finn has claimed the first race wins and pole positions of his career in 2017 but found the going tougher against Hamilton since the summer break, with the Englishman racing to his fourth world title with two rounds to spare.
Bottas, who delivered an improved weekend in Mexico and ultimately finished second, says he is determined to turn around the trend of recent months.
"In a few occasions, not as many as I would have wanted, I managed to be ahead of him," Bottas told Sky Sports News when asked about racing Hamilton in 2017.
"Even though he is a really, really good driver and very consistent, I also need to believe in myself.
"I can't put myself in a place of number two otherwise I would rather stay at home."
Bottas v Hamilton in 2017
| | | |
| --- | --- | --- |
| | Bottas | Hamilton |
| Qualified ahead | 6 | 13 |
| Ahead in two-car finish | 7 | 11 |
| Average qualifying gap | +0.444s | -0.444s |
| Points | =280 | 345 |
| Wins | 2 | 9 |
| Pole positions | 2 | 11 |
| Podiums | 12 | 12 |
Bottas, who can still finish second to Hamilton in the 2017 standings, only joined Mercedes as Nico Rosberg's replacement in mid-January after Williams negotiated his release.
"This year I have learnt massively and I want to it as kind of a learning year for me with the team.
"Starting next year with the people I know it's going to be quite different and I just need to go for it and learn from all the hard times this year."