Brazilian GP: Renault and Toro Rosso in furious row over engine reliability
Extraordinary row breaks out ahead of Brazilian GP Qualifying; But Renault insist they will keep supplying Toro Rosso at season-ending Abu Dhabi GP
Last Updated: 16/11/17 10:41am
An extraordinary row has broken out between Renault and Toro Rosso at the Brazilian GP over engine reliability.
Renault suggested on Friday night that the multiple failures Toro Rosso have suffered in recent races was down to the set-up of the Italian team's car.
An angry Toro Rosso team responded by releasing a strongly-worded press release which Renault felt called their integrity into question.
Toro Rosso, who will be supplied by Honda in 2018, are sixth in the Constructors' Championship, just one place and five points ahead of Renault with two races remaining.
Toro Rosso chief Franz Tost says the team were incensed by comments from Cyril Abiteboul about the cause of their latest unreliability and has refused to back down.
In the wake of Toro Rosso's thunderous response, Renault chief Abiteboul was spotted engaged in what appeared to be a furious row with Red Bull and Toro Rosso advisor Helmut Marko in the Interlagos paddock ahead of Practice Three.
"Who started with all this nonsense? Cyril yesterday with his stupid interview," Tost later told Sky F1. "Should I say 'Oh fine, good interview from him, we accept it'? No we don't accept it. Therefore we came out with our statement.
"What for should I apologise? We are both upset."
Prost and Marko seek to defuse row
Renault's anger led to suggestions they were considering terminating their deal with Toro Rosso before the season-ending Abu Dhabi GP as the row threatened to escalate even further.
But Tost responded: "We have a contract. I don't see that we have broken [any clause]. We have a contract, they get a lot of money and they have to supply us with engines. I see it quite easily."
And Renault advisor Alain Prost confirmed to Sky F1 ahead of Qualifying that the group would continue to supply Toro Rosso for the remainder of the season.
"We would never play any dirty game to gain one position," Prost said. "They will have an engine in Abu Dhabi, there is no question about that."
And in a statement released by Red Bull, Marko said: "Over the last 10 years, many successful, we have been through every emotion with our current engine supplier. As usual at the end of another long season, emotions are running high but it is a valued relationship and will remain so.
"There has never been any question that we have not been treated fairly and equitably by our engine suppliers. And that is still true today."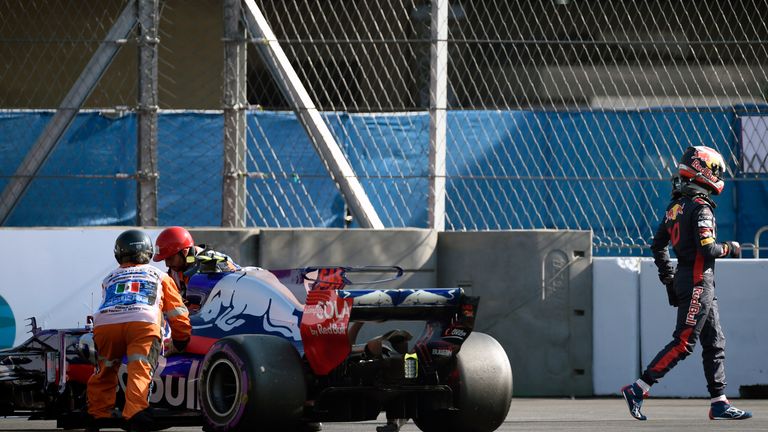 What sparked the row?
Toro Rosso have suffered a series of engine failures in recent races and both of their drivers, Pierre Gasly and Brendon Hartley, are facing hefty grid penalties in Brazil for component changes.
Both suffered fresh issues in first practice, prompting Abiteboul to say the French manufacturer had "a little bit of a concern about the way that our engine is operated in the Toro Rosso car".
"There are never coincidences in this sport," added Abiteboul.
In their angry response, released on Saturday morning, Toro Rosso declared: "We mustn't forget that they are fighting with Toro Rosso for a better position in the Constructors' championship, as suggested by Mr Abiteboul the situation may not be a coincidence, but it is certainly not due to STR's car."
The Saturday morning statement from Toro Rosso in full
'Due to recent accusations made in the media from the team's engine supplier, Toro Rosso wishes to clarify the actual situation regarding the power units.
'It comes as a big surprise to the team that Cyril Abiteboul has suggested to the media that the problems Toro Rosso suffers with the power unit are primarily team related, and the way in which the power unit is operated in the STR12 chassis.
'We would like to clarify that all the MGU-H and Shaft failures Toro Rosso has recently suffered are not associated with how the team is operating or with how the PU is integrated in the chassis.
'Nothing has been changed or altered in this installation during the 2017 season, other than cooling improvements mid-season. Since the summer break Toro Rosso has suffered continuous power unit related failures, and the resulting grid penalties has cost the team points and relative positions in the Constructors' championship.
'One of the primary reasons for the issues we are seeing is the lack of new power unit parts available. In Toro Rosso's case the team is constantly having to change parts from one PU to another during the weekend and, on many occasions, is forced to run old specification assemblies.
'The last race in Mexico saw only two cars out of six finish the race, highlighting the poor reliability.
'We mustn't forget that they are fighting with Toro Rosso for a better position in the Constructors' championship, as suggested by Mr Abiteboul the situation may not be a coincidence, but it is certainly not due to STR's car.'