Brazilian GP: Lewis Hamilton savours comeback drive and proves 'I still have a lot of fire in my heart'
Hamilton finishes 4th after pitlane start; "Hopefully that continues to show everyone that there are still many more races to go."
By Matt Morlidge
Last Updated: 13/11/17 8:25am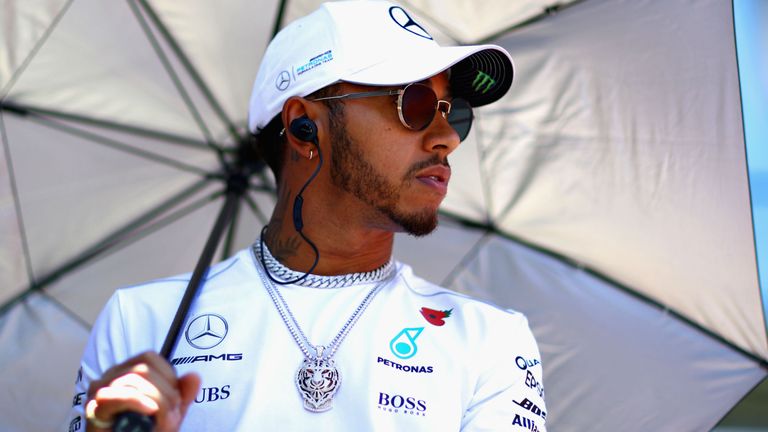 A passionate Lewis Hamilton insists his storming comeback drive at the Brazilian GP was proof that he's as motivated as ever in Formula 1, declaring: "I still have a lot of fire in my heart."
The world champion converted his pitlane start into an impressive fourth-place finish at Interlagos, working his way through the field and executing several overtakes, most notably on Max Verstappen on Lap 59.
Hamilton was then agonisingly close to a podium finish in the closing stages, something he might not have envisaged after slamming his Mercedes into the barriers during qualifying, but just couldn't get close enough to Kimi Raikkonen's Ferrari.
Vettel wins despite Hamilton charge
WATCH: Mayhem on the first lap
Alonso: Speed deficit 'amazing'
However, following his first Grand Prix as a four-time world champion, the 32-year-old was taking the positives from his performance and felt he silenced any doubters of his commitment in the sport.
"Waking up this morning my goal was just to redeem myself after yesterday's mistake, really do the team proud and try to get the points back," Hamilton told Sky F1's Rachel Brookes. "I was trying to get back to third but I just ran out of tyres in the end.
"But I enjoyed the race and I enjoyed the battle. Hopefully that continues to show everyone that I still have a lot of fire in my heart, I'm still young at heart and there are still many, many more races to go."
Hamilton, starting from the pitlane for the first time since 2014, was helped in his cause after a chaotic first lap led to an early Safety Car - with the Mercedes driver quickly up to 14th.
But the Englishman then made light work of his competitors when recovering to fourth and displayed better race pace than team-mate Valtteri Bottas, who finished second behind race-winner Sebastian Vettel.
And Hamilton felt the victory was there for the taking had he not made the costly error on his first flying lap in Q1 - which led to Mercedes fitting a new engine on his W08.
"It was fun," he added. "It felt reminiscent of my karting days when I always started at the back.
"I messed up yesterday and put myself in the worst possible position. I was quick enough to win the race from pole to the flag and I didn't do that so I made the job a lot harder.
"There's no room for mistakes when you're working to be the best, but of course it happens and it's part of the growing process. It's not what you work towards. I've had a very clean year, I've had no crashes and I've managed the car.
"Yesterday is behind me and today was positive. To get back to fourth I have to be very grateful and be happy with that."
And Mercedes boss Toto Wolff agreed with Hamilton, commenting: "Lewis' drive was exceptional. He's really on a roll and ending up five seconds behind the leader after starting in the pitlane is amazing.
"I think on pure pace Lewis was the fastest car today and probably would have deserved to win. But Sebastian managed the pace in the front. I think he had reserves during the race."
Don't miss the F1 Report on Wednesday at 8.30pm on Sky F1 as Williams co-founder Sir Patrick Head joins Marc Priestley and Natalie Pinkham to review the Brazilian GP.