Lewis Hamilton's 'zero concerns' about lack of wins post F1 title
"Next year I will go back to how it was in the second half of the season," says relaxed Hamilton who admits final two races post-Mexico title win have not been the same.
By Pete Gill in Abu Dhabi
Last Updated: 27/11/17 6:27pm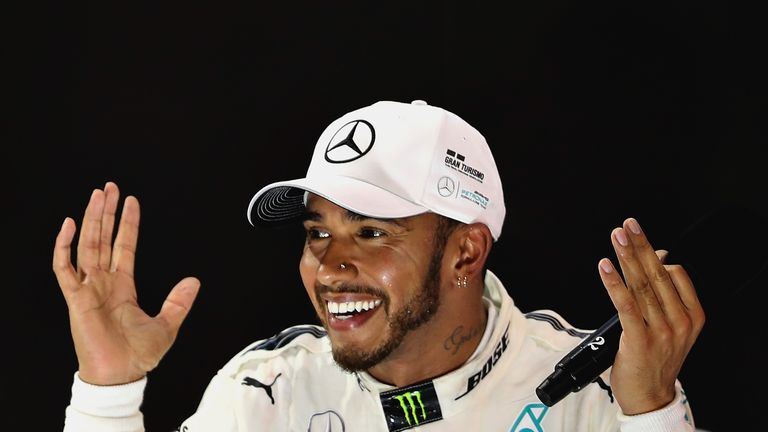 Lewis Hamilton says he has "zero concerns" about failing to win either of the final races of the season.
Hamilton's defeats in Brazil and the campaign-closing Abu Dhabi GP means that the four-time world champion has still to win a race in a season in which he has already been crowned champion. Two years ago, Hamilton was beaten by then-teammate Nico Rosberg in 2015's three final races after securing the title and then lost the championship to Rosberg the following season.
"I have zero concerns," said Hamilton. "It's clear that something happens after you win the championship.
"All l can say is that the week after l won the championship I partied a lot. I celebrated because that's what you do. That definitely wasn't the case before the other races."
Having become a four-time world champion a month ago, Hamilton then crashed out in qualifying at Interlagos and was unable to prevent Valtteri Bottas taking victory in 2017's final act.
"Sleep and energy has definitely been different on these last couple of races. I tried to approach them the same but if you don't prepare the same…
"I'm not worried. Next year I will go back to how it was in the second half of the season."
Race victories
| | |
| --- | --- |
| Driver | Number of wins |
| Lewis Hamilton | 9 |
| Sebastian Vettel | 5 |
| Valtteri Bottas | 3 |
| Max Verstappen | 2 |
| Daniel Ricciardo | 1 |
But while Hamilton may have subconsciously eased off, the Mercedes driver admitted he did his utmost to beat team-mate Bottas to victory in an Abu Dhabi race ultimately decided in qualifying and at the first corner when the pole-sitting Bottas emerged with his lead intact.
"Impossible to pass here," complained Hamilton immediately after the race. "I think they need to change this track."
Bottas beats Hamilton in F1 finale
Hamilton: Impossible to pass Bottas
Vettel: Ferrari given a beating
Hamilton twice closed to within a second of the sister Silver Arrows but then lost performance in the dirty air being churned up by Bottas' car around a circuit where overtaking is notoriously difficult.
"I gave it everything l could and to get as close as l did showed l had good pace. But once you get between 1 and 1.2 seconds it's like you hit a wall and the car starts sliding around. There was a lot of rallying today."
Podium finishes
| | |
| --- | --- |
| Driver | Top-three finishes |
| Lewis Hamilton | 13 |
| Sebastian Vettel | 13 |
| Valtteri Bottas | 13 |
| Daniel Ricciardo | 9 |
| Kimi Raikkonen | 7 |
| Max Verstappen | 4 |
| Lance Stroll | 1 |
Hamilton revealed on Saturday that, having dominated Friday and Saturday practice, he experimented with his car set-up heading into qualifying.
"I made some changes in anticipation of the track cooling and in hindsight it probably wasn't right," he said. "But it was nice to experiment, which l hadn't really done all season long. I experimented and then l struggled a little bit with the balance generally through the laps."
Reflecting on his critical qualifying misjudgement on Sunday night, Hamilton added: "It was a lesson for myself and my engineers. We've been pretty much on point all season and you can't be perfect all the time."
Hamilton's current deal with Mercedes has less than a year to run. Negotiations for a new contract are due to commence imminently - possibly as early as the coming week with Hamilton staying in Abu Dhabi until at least Tuesday night after a final run in the W08 at the Pirelli tyre test.
The 32-year-old says the commitment and faith shown in him has helped make it easier to decide his future.
"I am really excited about continuing my journey with the team and continuing to improve," said Hamilton.
Discussing his year as a whole, Hamilton added: "The biggest positive has been the reassurance of the team's commitment to me and the positive response I have had from the team. That's been fundamental to getting the results we have had."
Comment below to get involved in the debate, but please adhere to our House Rules. If you wish to report any comment, simply click on the down arrow next to the offending comment and click 'Report'.