Valtteri Bottas targets more race wins in 2018 to be a title contender
"With the points system you need to win races to win the title"
By Pete Gill
Last Updated: 05/12/17 10:03am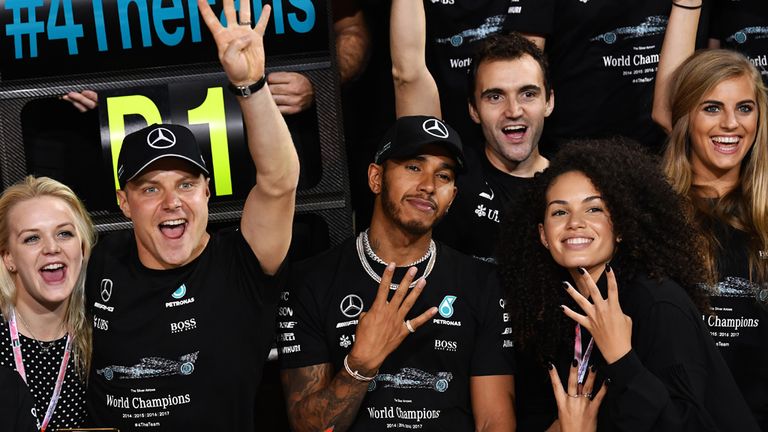 Valtteri Bottas knows he needs more race wins in 2018 if he is to launch a serious challenge for the world championship.
Bottas' victory in the season-ending Abu Dhabi GP resulted in his 13th trip to the podium during his first season at Mercedes.
But Bottas' triumph was only his third victory of the season compared with nine for team-mate and champion Lewis Hamilton.
The Finn's car breakdown in Spain also accounted for Mercedes' only race retirement and failure to finish in the points during the entire year.
"The target next year is to win more. With the points system you need to win races if you are to win the title," said Bottas.
"Of course you need to be consistent and for me the biggest thing was inconsistency through the season. There were times when l performed really well and there were times when l performed not so well.
"That was the main reason Lewis beat me. He was on it all the time."
Race victories in 2017
| | |
| --- | --- |
| Driver | Number of wins |
| Lewis Hamilton | 9 |
| Sebastian Vettel | 5 |
| Valtteri Bottas | 3 |
| Max Verstappen | 2 |
| Daniel Ricciardo | 1 |
Formula 1 2017: Rating the drivers
All of Bottas' 2017 results
Bottas' final flourish to 2017 and impressive start at Mercedes was sandwiched by a sudden mid-season slump which saw the Finn fall out of title contention.
When asked to describe his season in one word, Bottas simply selected "disappointing".
"I always set my targets very high and l knew that this year would be an opportunity for me to win the title," he said. "I knew it could be possible. Winning the title was my target and l failed on that.
"But the most important thing is the amount of things l have learned - with the race team, back at the factory and with Lewis. It will help me a lot next year."
And his ambitions for 2018?
"You can always try to be near perfect. I will work harder than ever this winter and try to be better than ever next year," he added.
Podium finishes in 2017
| | |
| --- | --- |
| Driver | Top-three finishes |
| Lewis Hamilton | 13 |
| Sebastian Vettel | 13 |
| Valtteri Bottas | 13 |
| Daniel Ricciardo | 9 |
| Kimi Raikkonen | 7 |
| Max Verstappen | 4 |
| Lance Stroll | 1 |