Robert Kubica says final step to Williams F1 race seat 'most difficult'
Kubica and Lowe give post-Abu Dhabi test update to Sky Sports
By James Galloway
Last Updated: 04/12/17 3:16pm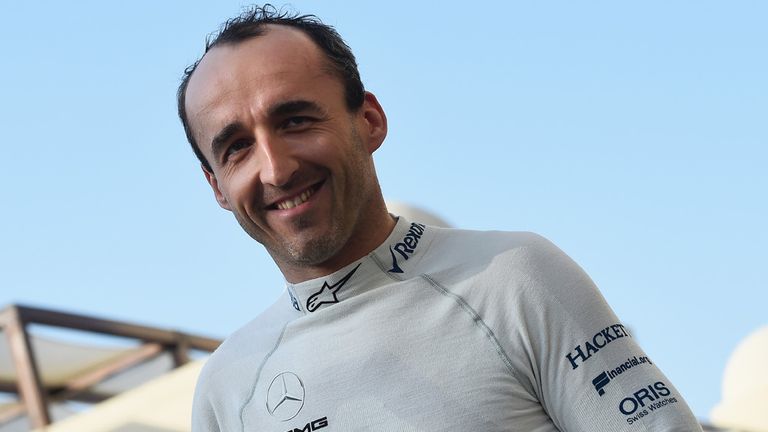 Robert Kubica says landing a 2018 Williams race seat represents the "most difficult" step of his against-the-odds F1 comeback bid, as the team continue to consider their driver options.
Kubica completed his third test for the team, but first in their 2017 car, in Abu Dhabi last week and completed 128 laps in the FW40.
The Pole, who turns 33 on Thursday, had not driven an F1 car for six years before first testing for Renault in the summer but is convinced his series of tests have proved he is fast and physically fit enough to make a full-time race return.
And while his comeback to this point has been remarkable in itself given the arm and injuries he sustained in a 2011 rallying accident, Kubica insists the final step remains the hardest.
"When you feel there's a good chance to be in a position to do properly the job it's a difficult period," he told Sky Sports News' Craig Slater.
"The last step is the most difficult one. I've done many of them to arrive where I am and to achieve what I have achieved this year, but the last one is the toughest one.
"Let's wait and see. It is a challenging way of coming back for me with my limitations, but the progress I have done in all the tests is giving me good confidence that I will be able to do it.
"Whatever the outcome will be, it's been a great 10 months for me and I have worked pretty hard and I'm happy with the results I've seen. But the final decision's not on my side so let's wait and see."
Kubica sets fastest Williams time
F1 in 2018: All the details
After Sauber confirmed their 2018 drivers at the weekend, Williams are now the only team with a seat left open for next season.
Kubica is under consideration alongside a host of drivers - Paul Di Resta, Daniil Kvyat, Pascal Wehrlein and Sergey Sirotkin - and Williams' management insist they will not rush the decision.
"We are not placing any particular timescale to it," technical chief Paddy Lowe told SSN.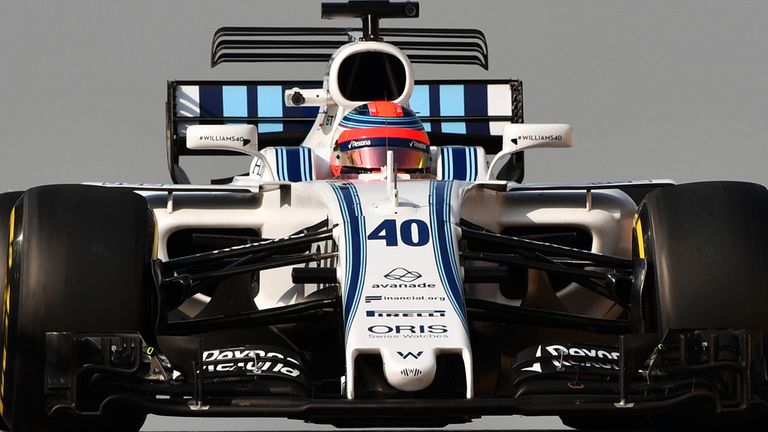 "I know it's getting a lot of attention because it's not the last seat that isn't confirmed for 2018 and Robert is certainly well in there but, as we've said all along, we're open and there are lots of drivers under consideration and we're not giving out any clues at the moment."
Kubica is in no doubt about his readiness for a full-time return.
"If I would not be sure I would not try it," he said. "A lot of people ask why I didn't try earlier, I think the answer is here [points to head]. The brain makes a big difference.
"It will not be easy for sure, but life is not easy and I think the confidence is there, that's the most important thing. I'm pretty sure it would be a good thing for me and a good thing means I would be able to do it - properly."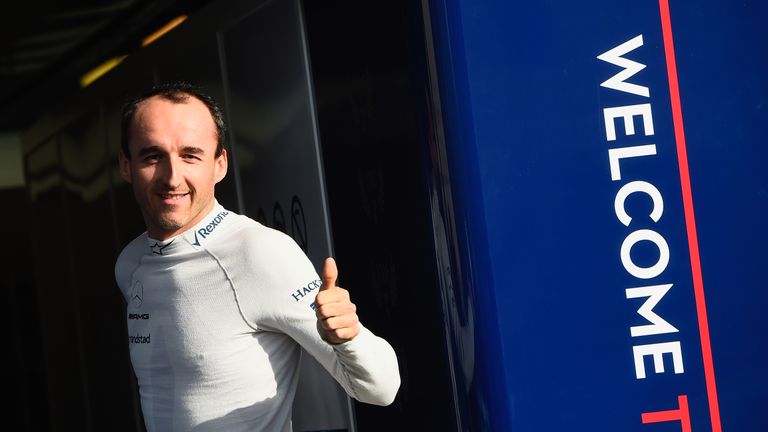 How did Kubica do at the Abu Dhabi test?
Williams have remained tight-lipped about Kubica's performances in testing, with Lowe insisting in Abu Dhabi that nothing should be read into timesheets which can prove "quite misleading".
Kubica was one of three drivers to drive the FW40 across two days at the Yas Marina circuit with the Pole sharing duties with Lance Stroll, Williams' one confirmed race driver, and test driver Sirotkin.
What is known is that it was Kubica who set the team's fastest time of the test on Day Two. The Pole's fastest lap, set on Pirelli's new hypersoft tyre, of 1:39.485 was one tenth faster than Stroll's on the same compound from the opening day.
Williams' best times in Abu Dhabi test
| Driver | Time | Tyre |
| --- | --- | --- |
| Robert Kubica | 1:39.485 | Hypersoft |
| Lance Stroll | 1:39.580 | Hypersoft |
| Sergey Sirotkin | 139.947 | Softs |
But, tyre-corrected, it was probably debutant Sirotkin who posted the team's best time with his 1:39.947 from the morning of Day Two set on the soft tyres, which are three steps harder than the hypersoft and have a performance difference of around two seconds per lap.
Kubica's best time on the softs from Day One was 1:41.296.
However, fuel loads and exact run plans are unknown in all the above instances, with the test aimed at evaluating Pirelli's 2018 compounds rather than outright car performance.
Lowe refused to be drawn on Kubica's specific performance, but was full of admiration for the way the Pole has returned to testing action despite restricted movement in his right hand.
"What we have seen from Robert is incredible, actually, if you consider what he's been through," said Lowe.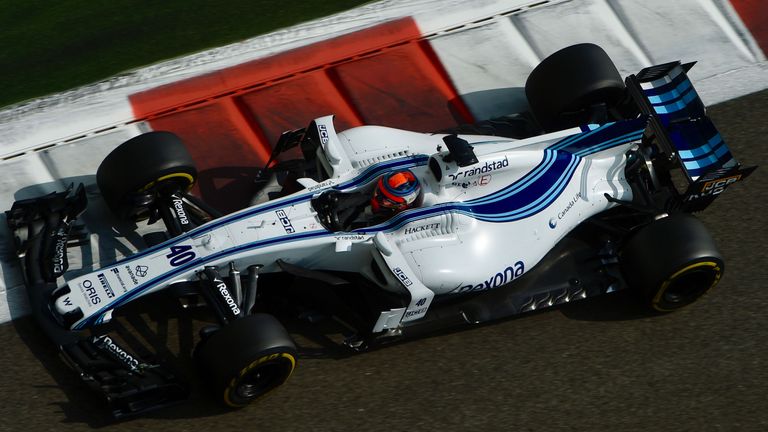 "A driver of fantastic talent but also huge determination to come back from that sort of injury and be driving these cars.
"These are the fastest cars in the history of the sport and he was in there last week driving extremely competitively. Even at that level we've got to give him huge credit for what he has achieved so far."
If you are using skysports.com, you can comment below to get involved in the debate, but please adhere to our House Rules. If you wish to report any comment, simply click on the down arrow next to the offending comment and click 'Report'.