Sky F1 Christmas Special: 'Formula 1 needs a bold future'
F1's big matters of the moment discussed with Brundle, Hill and Di Resta in the Sky F1 Christmas Special
By James Galloway
Last Updated: 02/01/18 12:25pm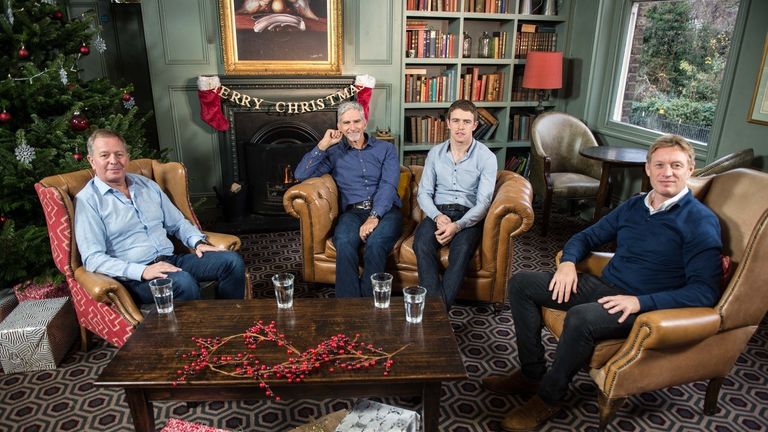 F1's bosses need to be "bold" in the direction they take the sport into the next decade, according to the Sky Sports F1 pundits.
The big topics facing F1 heading into 2018 and beyond are up for debate in the Sky F1 Christmas Special, available to view On Demand.
And it's the delicately balanced discussions over the sport's rules package and identity from 2021 which Martin Brundle, Damon Hill and Paul Di Resta put under the microscope.
"They have got to be bold," says Brundle of Liberty Media, F1's commercial rights owners.
"They have got to say 'this is the future of Formula 1, this is the direction we're going in, join up or depart'. And they've got to be really clear on that."
Ferrari, the sport's most famous team, have already threatened to walk away if they do not agree with the blueprint for the future.
Ferrari warn of F1 'divorce'
What's on Sky F1 this Christmas?
However, Brundle doubts Sergio Marchionne, Ferrari's outspoken president, will follow through on the threat and cut the cord on F1's most long-standing partnership.
"I think they're bluffing," he said.
"For example, where would Ferrari go? Go and get their backsides handed to them on a plate by Mahindra in Formula E? They are already in Le Mans, they won the GT world championship - nobody knows about that.
"They do no advertising around the world, not a penny, because Formula 1 does it for them. So I believe Liberty have to be super tough."
While teams and the sport's rulemakers are in general agreement about the need to reduce costs, the path to get there remains uncertain and fraught with difficulties.
"A lot of people will agree with some of the principles they are trying to achieve with closing up the pack and reducing the unfair advantages that some teams have," said Hill.
"But this is Formula 1 and we've seen this for a very long time. You are dealing with very powerful groups. It's a lot of negotiation to get through.
"I don't doubt that Liberty understand modern-day marketing and business and media, but they need Ross Brawn. Ross has made some suggestions for the way forward and immediately you get a kick back [from the teams] so this is always going to be a stumbling block."
Brundle believes F1 "has to be extreme" in order to maintain and enhance its popularity - but agrees that the sport's owners are entering a political minefield.
"We have to be the fastest, the scariest, the best racing cars with the finest drivers wheel to wheel," he added.
"The objective is very easy, and I actually think getting there is relatively easy, but there's just an awful lot of politics and self-interest in the way. So I don't know where it is going to end up."
Sky Sports F1 is the only place to watch every Formula 1 Grand Prix, qualifying and practice session live in 2018. Get Sky Sports F1.