Fernando Alonso to race in 2018 Le Mans and World Endurance Championship
But McLaren insist that Formula 1 remains "their shared top priority"
By James Galloway
Last Updated: 12/02/18 1:37pm
Fernando Alonso has been cleared to compete in this year's Le Mans 24-hour endurance race with Toyota by McLaren.
As reported by Sky F1 on Monday, the team have also agreed to permit the Spaniard to compete in the other rounds of the World Endurance Championship which begin in May.
Alonso had originally been scheduled to miss the WEC's event at Fuji, Japan on October 21 as it clashed with F1's US GP, but the sportscar series has since moved their event forward by a week.
McLaren and Alonso have stressing that both parties are 'in full agreement that Formula 1 remains their shared top priority'.
"I've never been shy about my aim of winning motorsport's 'Triple Crown' - the Monaco Grand Prix, the Indy 500, and the 24 Hours of Le Mans," said Alonso. "We tried for Indy last year, came close, but just missed out.
"This year, I have the chance thanks to McLaren to race for the win at Le Mans. It is a big challenge - much can go wrong - but I am ready, prepared and looking forward to the fight.
"In no way will this challenge take away from my main target of Formula 1 with McLaren."
The Le Mans 24 Hours takes place on June 16-17 and means Alonso will race on five consecutive weekends from the Canadian GP on June 10 to the British GP on July 8.
Alonso's 2018 racing programme
| | | |
| --- | --- | --- |
| Date | Championship | Race |
| January 27-28 | US SportsCar | Daytona 24 Hours |
| March 25 | Formula 1 | Australian GP |
| April 8 | Formula 1 | Bahrain GP |
| April 15 | Formula 1 | Chinese GP |
| April 29 | Formula 1 | Azerbaijan GP |
| May 5 | World Endurance | 6 Hours of Spa |
| May 13 | Formula 1 | Spanish GP |
| May 27 | Formula 1 | Monaco GP |
| June 10 | Formula 1 | Canadian GP |
| June 16-17 | World Endurance | Le Mans 24 Hours |
| June 24 | Formula 1 | French GP |
| July 1 | Formula 1 | Austrian GP |
| July 8 | Formula 1 | British GP |
| July 22 | Formula 1 | German GP |
| July 29 | Formula 1 | Hungarian GP |
| August 19 | World Endurance | 6 Hours of Silverstone |
| August 26 | Formula 1 | Belgian GP |
| September 2 | Formula 1 | Italian GP |
| September 16 | Formula 1 | Singapore GP |
| September 30 | Formula 1 | Russian GP |
| October 7 | Formula 1 | Japanese GP |
| October 14 | World Endurance | 6 Hours of Fuji |
| October 21 | Formula 1 | United States GP |
| October 28 | Formula 1 | Mexican GP |
| November 11 | Formula 1 | Brazilian GP |
| November 18 | World Endurance | 6 Hours of Shanghai |
| November 25 | Formula 1 | Abu Dhabi GP |
Alonso's extensive 2018 schedule
Confirmation of Alonso's expected sportscar programme comes just days after his debut in endurance racing at the famous Daytona 24 Hours.
Driving for McLaren chief Zak Brown's United Autosports outfit, Alonso and his two team-mates finished only 38th after a succession of technical problems but the Spaniard said he enjoyed the experience and "now I think I can drive prototype cars at a higher level than two weeks ago".
The World Endurance Championship is motorsport's premier endurance series and features prototype sports cars racing in events ranging from six to 24 hours. The forthcoming campaign features eight rounds but is split over two years in a new-style 'super season'.
The season begins with the Six Hours of Spa on May 5, the weekend between the Azerbaijan and Spanish GPs. The prestigious Le Mans 24 Hours then takes place on the weekend of June 16-17, with round three taking place at Silverstone during F1's August summer break.
The season resumes two months later at Fuji, the round Alonso will miss as it clashes with the US GP, with the 2018 part of the extended 'super season' finishing in Shanghai on November 18. The season then breaks for winter before resuming in March 2019 for three further rounds.
Toyota have confirmed Alonso will feature in all rounds of the 2018-19 season which do not clash with F1.
Alonso told Sky F1 last October "I would race every weekend in any car in any country" and, having now signed up to compete in 25 events in the space of 36 weeks from late March, the 36-year-old has committed to one of the most intensive motorsport programmes in recent memory.
His schedule is at its busiest in the spring and early summer, with a run of 11 races in 14 weekends.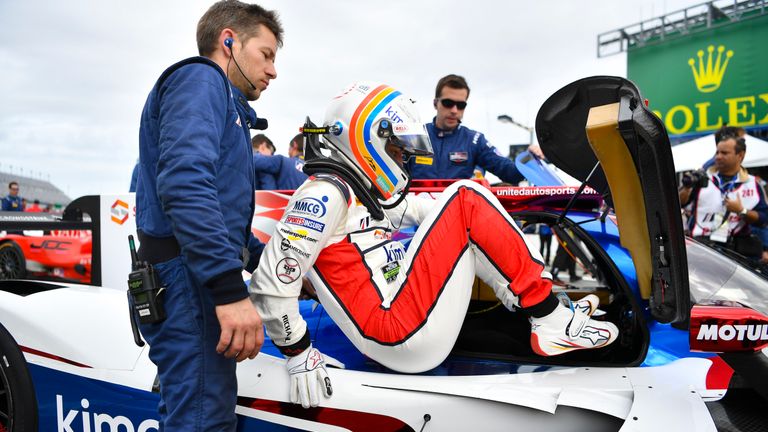 However, McLaren believe the dual racing schedule will not detract from their top priority of returning to the front of the F1 field this year.
"It's no secret that Fernando has wanted to contest the Le Mans 24 Hours," said Brown. "And I think everybody within our organisation appreciates that a motivated, hungry and happy world-class driver such as Fernando is a formidable asset for any team in F1.
"Last year, we came to the joint decision to go racing with Fernando at the Indy 500 rather than at the Monaco Grand Prix. But we've always said that we would consider each opportunity on a case-by-case basis, and we both know that, in 2018, our core priority is success in Formula 1.
"Like Fernando, at McLaren we're racers at heart, and our team is built on a brave heritage of competing and succeeding in different forms of the sport. Equally important is the confidence that nothing detracts from our number one goal of Formula 1. After proper evaluation, we are satisfied that this campaign does not do that, and that McLaren's best interests prevail."
Toyota have confirmed Alonso's team-mates in the number eight car will be former F1 drivers Sebastien Buemi and Kazuki Nakajima, with Sky F1's Anthony Davidson taking on a reserve and development driver role. Davidson and Buemi won the WEC title in 2014, although Toyota are yet to win the prestigious Le Mans event.
However, the Japanese outfit are firm favourites for 2018 following Porsche's withdrawal from the sportscar series.
What is the Triple Crown?
Although an unofficial achievement, the Triple Crown is considered to be achieved if a driver wins three of world motorsport's most historic events - the Monaco GP, the Indianapolis 500 and the Le Mans 24 Hours.
Two-time F1 world champion Graham Hill is the only driver to achieve the hat-trick thanks to wins in Monaco (five), Indianapolis (1966) and Le Mans (1972).
Alonso has already twice won the Monaco GP and decided to skip last year's F1 showpiece in the Principality amid a wretched season with McLaren to make his Indy 500 debut at the famous Brickyard.
Driving a McLaren-branded Andretti-Honda, Alonso qualified fifth and was in contention for a debut victory until a late engine failure ended his challenge.
The Spaniard has already ruled out an immediate return in 2018, with Le Mans taking priority for this year alongside his McLaren F1 commitments.
Sky Sports F1 is the only place to watch every Formula 1 Grand Prix, qualifying and practice session live in 2018. Get Sky Sports F1.