Sebastian Vettel lacks confidence in Ferrari car despite Australian GP win
Vettel describes his Ferrari as "too conscious"; Is Vettel behind Hamilton and Raikkonen's pace despite opening win?; Hamilton was thinking long-term when backing off and predicts close 2018 battle
By Matt Morlidge
Last Updated: 13/12/18 3:03pm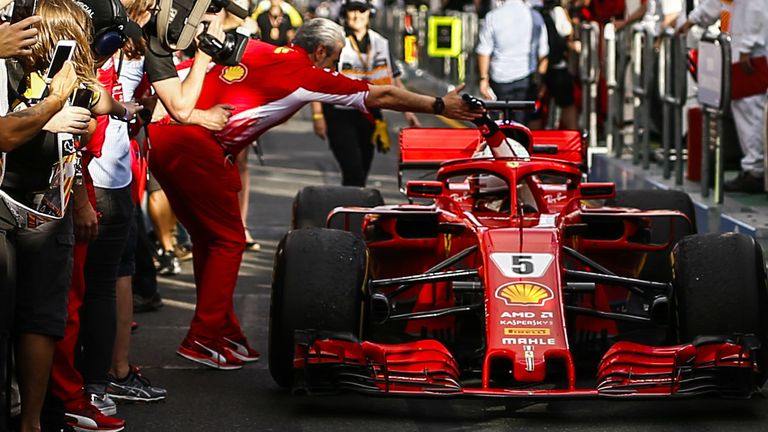 Sebastian Vettel says he still lacks confidence in his Ferrari car despite winning the season-opening Australian GP, admitting he's not "captain on-board".
The race rather fell into the four-time world champion's hands on Sunday as a Virtual Safety Car meant he emerged from his first pit-stop marginally ahead of previous runaway race leader Lewis Hamilton, who was then unable to pass on a tight track.
Ferrari displayed better race pace than indicated in both winter testing and Melbourne practice, with Kimi Raikkonen joining Vettel on the podium.
But Vettel was was not totally convincing - or totally convinced.
"We lack a little bit of pace," said Vettel, who was third before the opening pit-stops and gained more than 10 seconds on Mercedes thanks to the Virtual Safety Car.
"I lack a little bit of confidence in the car so it's not yet where we want to be and there's a lot of work still to do."
Hamilton left in 'disbelief'
What did we learn in Australia?
Vettel qualified more than half a second down on Hamilton on the second row and then struggled with the car's set-up during the race.
"When the balance is changing between stints, I'm not yet completely captain on-board," he admitted to Sky F1.
Mercedes' rivals-in-chief last season, Ferrari, were widely hauled as having a better all-round car than the world champions. Their 2017 challenger was able to compete and flourish at plenty of different circuits, particularly those favouring more downforce.
But as Sky F1 columnist Mark Hughes noted in Motorsport Magazine, the new car as currently configured "is not the flexible, balanced machine that Vettel revelled in last year, and, even though it is faster outright, he is less competitive in it relative both to Mercedes and to team-mate Raikkonen."
"I just didn't like the feel of it," Vettel added. "If I don't feel what I need it's a bit tricky.
"The car doesn't respond the way you like and it's still sliding in places you don't want it to slide. I want the car to be spot on when I hit brakes and turn in, and in that window,
"If I could choose, I would like it a bit different. I think we can live with it but I feel also if we get on top of that then you feel more confident.
"At the moment, it just feels a bit too conscious."
Lewis thinking long-term and predicts close battle
After Mercedes misjudged the Virtual Safety Car gap due to what they described as a software glitch, a fired-up Hamilton would have looked like a giant in Vettel's mirrors as he chased his rival down.
But while the Englishman was in DRS range for almost 30 laps, he gave up on his quest after missing a chicane in the closing stages.
"I backed off," said the reigning world champion, who claimed he needed more than a second-a-lap advantage over Vettel to overtake. "I was struggling with my tyres.
"I was driving at 110% and likely going to crash if I pushed anymore."
Hamilton was also conscious of saving his engine for future races. In a much-critcised new-for-2018 regulation, teams are only allowed to use three engines throughout the season before grid penalties are applied.
"This engine needs to do seven races and I knew that I wasn't going to get by without a miracle which was not going to happen," Hamilton explained.
"I was trying to think long-term."
Mercedes' pace advantage in Melbourne also doesn't mean the Silver Arrows are destined for a fifth straight title, according to Hamilton, who added: "It was no easy race, that's for sure. Ferrari had some good pace.
"I think it's going to be a close battle through the year."