Bahrain GP: Haas up practice and make changes after pit-stop woes
American team acknowledge lack of pre-race practice in Melbourne
By James Galloway in Bahrain
Last Updated: 13/12/18 12:51pm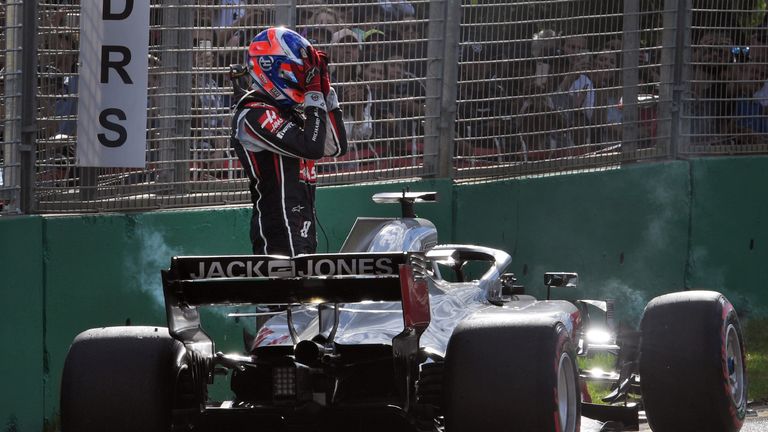 Haas have prioritised increased pit-stop practice ahead of the Bahrain GP in the wake of their race-wrecking double failure at the season-opener in Australia.
The American team lost out on what would have been the best result in their history when cross-threaded wheelnuts stopped Kevin Magnussen and Romain Grosjean's cars when they were running fourth and fifth respectively.
Haas reject 'Ferrari replica' claims
While Haas have made changes to their procedures for this weekend as a result, team boss Guenther Steiner conceded a lack of practice in Melbourne had also played a decisive role.
"I don't blame it on the guys," he said on Thursday in Bahrain. "If you think back now it was clear that we should have done more practice instead of hoping that we can continue where we left it last year.
"We were very good at the end of last season compared to all the other ones and that maybe gave us a bit of over-confidence that we didn't practise in Australia. We made mistakes in our decisions which then ended up in a mistake on the car."
The Haas pit crew were put through their paces when they arrived at the circuit on Wednesday, with the team opting to rotate several positions among the existing line-up rather imposing wholesale changes.
"We tried to do as much as possible until the race," Steiner said. "It's a fine balance because it's also physical and if people are tired they are just not focused and lose their confidence again."
Steiner added: "We swapped a few positions and the main reason is not because of the mistake, it's to get their confidence back. If you keep on doing the same and the guys are not confident, the risk you have of another mistake is high."
Haas have also increased the chances of spotting an error on one of the four wheels before the car is released from its pit box via the automated system.
"We've put another guy in who can override it," explained Steiner. "So if something happens we have got the guy who can do that on the radio with the driver."
Haas brush off rivals' complaints
Although the team ultimately came away from the season-opener empty-handed, the pace of the VF-18 which had put them on course for a team-best result raised fresh complaints from rivals in F1's midfield.
But Steiner says criticism of the team's technical collaboration with Ferrari is misguided.
"Nobody has spoken to me - they have spoken about us, but not to me - so I'm not worried about it," he said.
"That's the only comment I want to make because it's getting old, this story. It's a non-event.
"If somebody has a problem they know where to go to speak to people not about people."