Lewis Hamilton 'can't afford' to lose more ground to Sebastian Vettel
"I am 17 points behind and I can't afford to lose any more points to Sebastian"; Hamilton says Mercedes must improve communication
By Matt Morlidge
Last Updated: 13/12/18 11:48am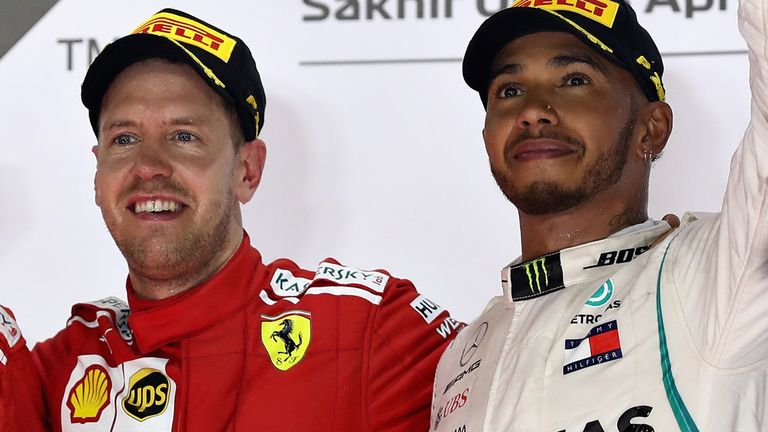 Lewis Hamilton insists he cannot afford to lose any more points to Sebastian Vettel at this weekend's Chinese GP.
Despite only being two weekends into a record-equalling 21-race season, Hamilton claimed his mind was "already on the world championship" after watching Vettel clinch back-to-back wins at the Australian and Bahrain GPs.
The German's perfect start, the first time a Ferrari driver has started a campaign with back-to-back victories since 2004, has seen him build a 17-point buffer to Hamilton in the standings.
Mercedes 'must bring A game'
Vettel defends Hamilton's Max jibe
The title battle continues this weekend in Shanghai, a race Hamilton has won a record five times, and the reigning world champion says he must find a way to halt Vettel's impressive charge.
"It's always been a good track for me," Hamilton told reporters. "So I really hope that I'm able to climb the ladder and get back to where we've been working towards being in the last two races.
"There are good things to come, but I am 17 points behind and I can't afford to lose any more points to Sebastian."
'Mercedes must improve communication'
In his quest to catch Vettel and Ferrari, Hamilton says it is crucial for Mercedes to improve communication on race day after suffering radio problems in Bahrain.
Ferrari followed Mercedes onto a one-stop strategy on Sunday, to race-winning effect, but Hamilton claims he would have known how much to push and how much to save tyres if he was kept informed of Vettel's progress.
"It is very marginal now and so really magnifies the importance of communication and these small little things that can make a difference of seven points or not," explained Hamilton.
"We can't afford to be losing any races to Ferrari and so we need to get ourselves in a place where we are not only strong in our operations in the car, but also we're in the race.
"Strategy was great [in Bahrain], but to make the strategy work, we need to make sure we are on the same understanding about what we have to do."
While he is not confident he could have challenged for victory in Bahrain, Hamilton was denied a race win in Australia after a software glitch gave him false information on the lap times he needed and Vettel took the lead under the Virtual Safety Car.
And the Englishman insists the issue must improve in China, adding: "It's probably so hard to understand what it's like out there because you're sweating, there's so much heat, it's so intense, you're fighting for your life.
"But if you don't know what you're fighting for... it's difficult to drive around.
"We are going to sit down and discuss the last two races. The thing is different drivers like to have different feedback. Some drivers probably like to have more than others. If you listen to my radio over the years, I don't like to have a ton.
"But there are times where you need more."