Chinese GP Qualifying: Sebastian Vettel on pole as Lewis Hamilton struggles to fourth
By Pete Gill
Last Updated: 11/12/18 3:22pm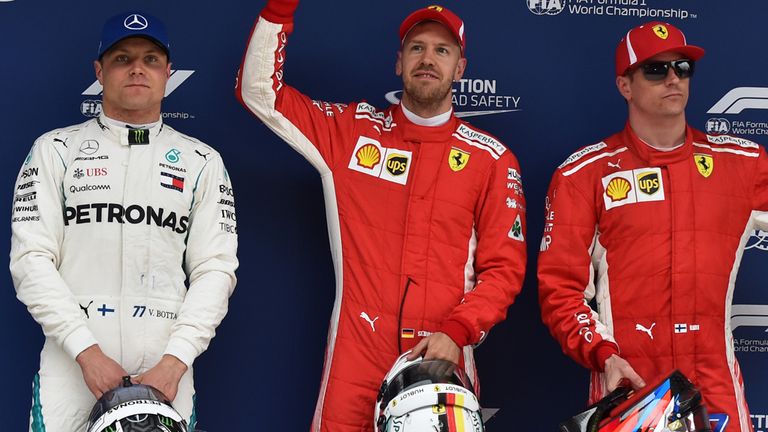 Ferrari and Sebastian Vettel are perfectly placed to claim their third successive win at the start of F1 2018 after the championship leader snatched pole position from Kimi Raikkonen to head another Ferrari front-row lockout.
World champion Lewis Hamilton abandoned his final lap after a mistake at the penultimate corner and will start a distant fourth after losing out to Mercedes team-mate Valtteri Bottas.
On a chastening day for the team which has dominated F1 for the past four years, Mercedes were soundly beaten, the Silver Arrows half a second slower than Ferrari in the top-10 shootout.
Full Chinese GP grid
'Turning point in Ferrari-Merc battle'
Vettel: Ferrari pace 'unbelievable'
"The car was unbelievable and it just got better," said Vettel. "I wouldn't be surprised if tomorrow that gap disappears and it will be a tight race."
But a downbeat Hamilton warned: "I don't know if we can challenge - we were half a second behind today. We were quicker in the last race but they were able to hold on and they will probably do the same tomorrow."
Raikkonen had claimed provisional pole after outpacing Vettel on their opening flying laps at the start of Q3. But in a repeat of the dramatic conclusion to qualifying in Bahrain a week ago, Vettel produced a stellar last-gasp effort to claim pole by less than a tenth of a second.
Red Bull pair Max Verstappen and Daniel Ricciardo were fifth and sixth, while Renault's Nico Hulkenberg will start seventh for the fifth race in a row.
In the third qualifying session of 2018:
* Mercedes had no answer to Ferrari's pace on ultrasofts, prompting Sky F1 pundit Damon Hill to declare: "This is the turning point."
* Bottas beat Hamilton with the top three of Vettel-Raikkonen-Bottas a repeat of the outcome in Bahrain qualifying a week ago.
* Ferrari and Mercedes set their Q2 fastest laps on soft tyres. So Raikkonen, Vettel, Hamilton and Bottas will start Sunday's race on the softs, with the rest of the top 10 on ultrasofts.
* Ricciardo emerged with just two minutes left of Q1 after another Renault engine failure on the Australian's car during Practice Three.

* Both Williams cars were eliminated in Q1 for the second successive race.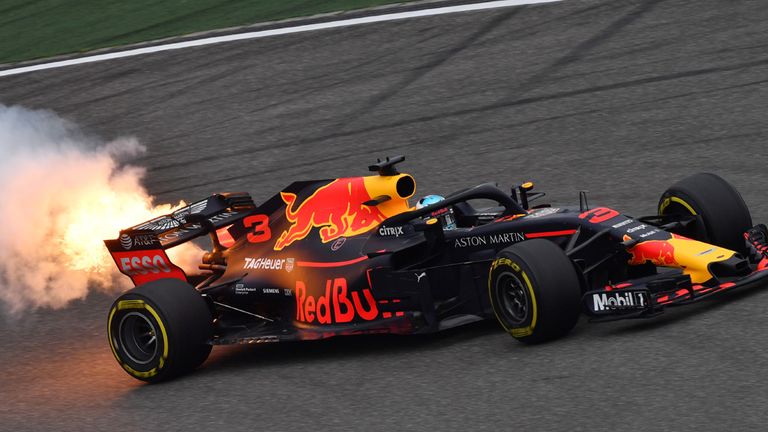 Where has Mercedes' pace gone?
Since Hamilton took pole position for the season-opening Australian GP, Ferrari have held a clear single-lap pace advantage over the world champions.
Only when Mercedes turned up their engines for the finale of Q2 to guarantee Hamilton and Bottas progressed on the slower more durable soft tyres - which all of the top four will start the race on - did the W09 appear a match for the Ferrari.
But on ultrasofts, Ferrari possessed a distinct advantage with Vettel and Raikkonen seemingly able to 'switch on' the faster tyres in a way which Bottas and an out-of-sorts Hamilton couldn't.
"We really have something to think about," accepted Mercedes boss Toto Wolff.
A forlorn Hamilton added: "The car felt OK but I don't really have the answer for it."
Where has Mercedes' pace gone?
Red Bull were content with locking out the third row of the grid, especially as Ricciardo was within two minutes of sitting out the entirety of qualifying following an engine blow-out in Practice Three that forced his crew into a two-hour race against time which they ultimately won with just seconds to spare.
"What they have achieved today is miraculous, getting the engine turned around, dressed and onto the car," team boss Christian Horner told Sky F1. "It was Herculean.
"Fifth and sixth and we were pretty close to Mercedes. Ferrari have tremendous pace here this weekend. We will be starting the race on a different tyre and strategically that could be quite interesting."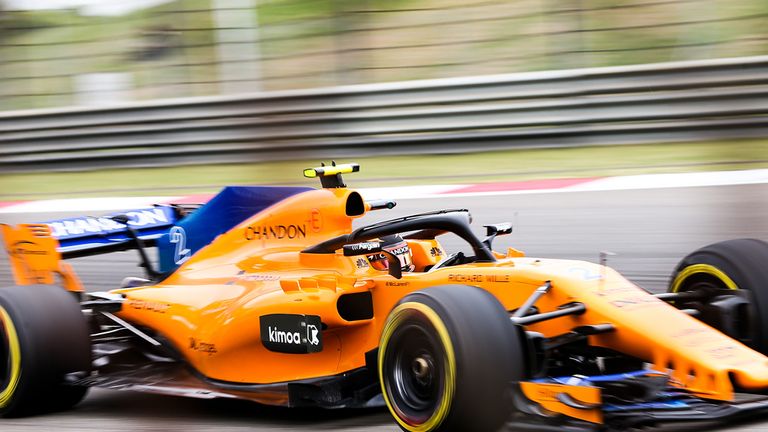 Williams' struggles continue, McLaren still not in top 10
Despite being given a tow by McLaren team-mate Stoffel Vandoorne, Fernando Alonso failed to reach the top 10. A McLaren car is still yet to reach Q3 in 2018, although the team's race pace has tended to be better.
"It was not enough today. I'm quite happy still with the position, P11 in Australia, P13 in Bahrain and P13 again here," Alonso told Sky F1.
"After three races we have identified some of our problems. We seem to be a little slow on the straights compared to our main competitors."
The acute struggles of the beleaguered Williams outfit continued as both Sergey Sirotkin and Lance Stroll fell at the first hurdle for the second successive race while both Pierre Gasly and Marcus Ericsson, point scorers in Bahrain just a week ago, also suffered an early exit as they failed to progress beyond Q1.
Chinese GP Qualifying Timesheet
| | | |
| --- | --- | --- |
| Driver | Team | Time |
| 1) Sebastian Vettel | Ferrari | 1:31.095 |
| 2) Kimi Raikkonen | Ferrari | + 0.087 |
| 3) Valtteri Bottas | Mercedes | + 0.530 |
| 4) Lewis Hamilton | Mercedes | + 0.580 |
| 5) Max Verstappen | Red Bull | + 0.701 |
| 6) Daniel Ricciardo | Red Bull | + 0.853 |
| 7) Nico Hulkenberg | Renault | + 1.437 |
| 8) Sergio Perez | Force India | + 1.663 |
| 9) Carlos Sainz | Renault | + 1.724 |
| 10) Romain Grosjean | Haas | + 1.760 |
| | | |
| Out in Q2 | | |
| 11) Kevin Magnussen | Haas | 1:32.986 |
| 12) Esteban Ocon | Force India | 1:33.057 |
| 13) Fernando Alonso | McLaren | 1:33.232 |
| 14) Stoffel Vandoorne | McLaren | 1:33.505 |
| 15) Brendon Hartley | Toro Rosso | 1:33.795 |
| | | |
| Out in Q1 | | |
| 16) Sergey Sirotkin | Williams | 1:34.062 |
| 17 ) Pierre Gasly | Toro Rosso | 1:34.101 |
| 18) Lance Stroll | Williams | 1:34.285 |
| 19) Charles Leclerc | Sauber | 1:34.454 |
| 20) Marcus Ericsson | Sauber | 1:34.914 |