Chinese GP: How the race unfolded as Daniel Ricciardo takes victory
Spins, controversies, Safety Car and incredible overtakes. The Shanghai race had it all - here's how it happened...
By
Last Updated: 11/12/18 3:17pm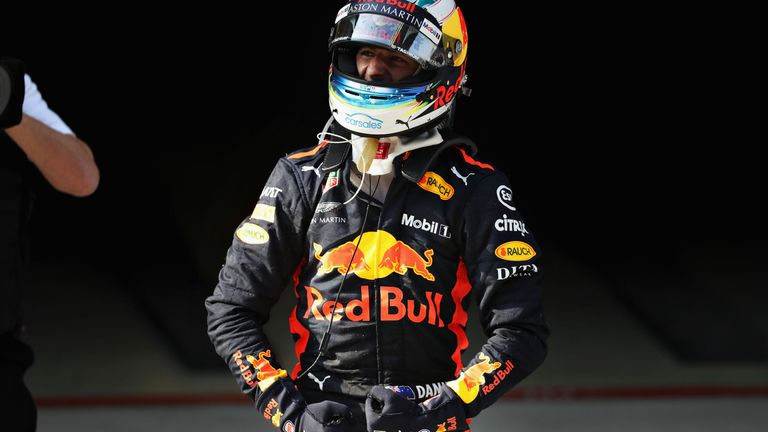 Lap 1: Vettel leads off the line while Hamilton and Raikkonen lose out after starting out on the dirty side of the grid with Bottas up to second and Verstappen passing Hamilton and then Raikkonen at Turn Six for third.
Lap 10: Vettel seemingly control of the race with a lead of two seconds from Bottas. Hamilton, in fourth, is ten seconds behind Vettel.
Lap 14: Hulkenberg pits from seventh for medium tyres.
Lap 17: Both Red Bulls pits with Verstappen and Ricciardo switching to medium tyres.
Charging Ricciardo wins thriller
WATCH: Verstappen and Vettel collide
Lap 18: Hamilton pits for medium tyres and emerges fractionally ahead of Ricciardo after the Red Bull loses time behind Magnussen's Haas.
Lap 19: Bottas is called in to cover off Verstappen's surge on his fresh tyres.
Lap 20: Vettel pits…but emerges two seconds behind Bottas.
Lap 27: Raikkonen is passed by Bottas as the Mercedes takes the lead of the race into Turn Two. But Bottas loses time behind Raikkonen, enabling Vettle to close within a second of the lead W09.
Lap 28: Raikkonen finally pits and returns in sixth place, 13 seconds behind the fifth-placed Ricciardo.
Lap 30: The Safety Car is deployed after a collision between the two Toro Rossos leaves debris strewn across the track. Only Red Bull among the frontrunners pit as Verstappen and Ricciardo put on softs.
Lap 35: The full race resumes. Bottas keeps the lead from Vettel and Hamilton but the Red Bulls are poised to attack on fresh tyres.
Lap 37: Ricciardo overtakes Raikkonen with a late move into the hairpin for fifth. Vettel, Hamilton and Verstappen are split by just over one second.
Lap 39: Verstappen runs wide as he tries to pass Hamilton but comes back on track ahead of Raikkonen.
Lap 40: Ricciardo out-brakes Hamilton into the chicane for third place.
Lap 42: Ricciardo charges past Vettel as Hamilton criticises Mercedes' tyre strategy over team radio.
Lap 43: Verstappen and Vettel collide. Raikkonen overtakes Hamilton as Mercedes takes evasive action to avoid the spinning Ferrari and Red Bull cars.
Lap 45: Ricciardo sneaks past Bottas for the lead of the race. The Red Bull has charged from sixth to first in ten laps.
Lap 47: Race stewards find Verstappen guilty of causing the collision with Vettel. A ten-second penalty will be applied to the Red Bull's race time.
Lap 48: Verstappen passes Hamilton for the second time in seven laps.
Lap 53: Raikkonen catches Bottas with Verstappen just behind.
Lap 55: Fernando Alonso passes Vettel for seventh position. Vettel accuses Alonso of intentionally driving him off track.
Lap 56: Ricciardo crosses the line for victory. Bottas holds on for second ahead of Raikkonen. Hamilton crosses the line within ten seconds of Verstappen to take fourth. Vettel maintains eighth place just in front of Sainz.