Lewis Hamilton says it will be 'very tough' to win F1 2018 title
"My goal is still the same," admits Hamilton as he chases fifth title. "If it continues the way it is going it is going to be very tough to win."
By Matt Morlidge
Last Updated: 11/12/18 3:12pm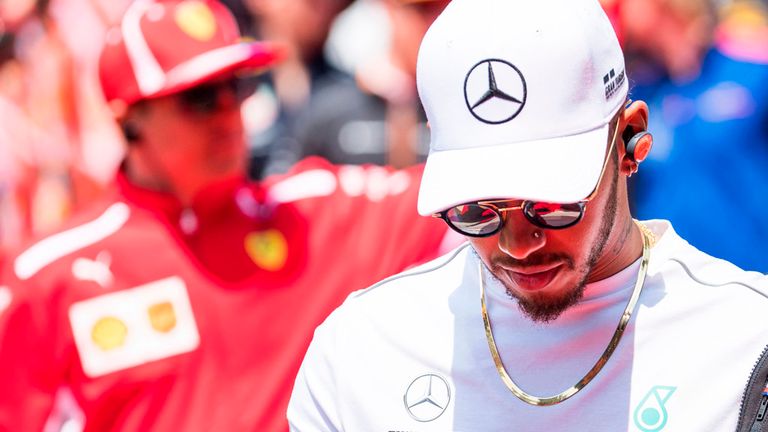 Lewis Hamilton has admitted it will be extremely difficult to win a fifth F1 world championship this season after conceding Mercedes are currently the "second or third-fastest team" on the grid.
After a promising start in Australia, only missing out on victory due to a Virtual Safety Car, Hamilton has been well off the pace at the following two races and described his China weekend as a "disaster".
What now for F1 2018 after China?
Hamilton: That was a disaster
With Ferrari and Red Bull showing improved pace in 2018, it is the first time Mercedes, double title-winners for the last four years, have failed to win any of the season's first three races since the hybrid era began.
And although Hamilton cut Sebastian Vettel's championship lead to nine points in Shanghai, he believes the tricky start has proved this season is going to be his and the team's hardest test yet.
"Who knows what the season holds?" the reigning world champion told reporters. "If it continues the way it is it is going to be very tough to win,
"But if there is an opportunity and we were to finish on top it would mean even more as it's an even tougher season than before."
Hamilton claimed he was in "no man's land" and "racing a different race" after labouring to fourth at the Chinese GP, with Daniel Ricciardo taking a stunning come-from-behind victory for Red Bull.
Hamilton's Sunday struggles followed a huge qualifying deficit to Ferrari, finishing more than half a second off Vettel's pole-setting pace.
But has the weekend changed Hamilton's thinking when it comes to targeting a fifth title?
"My goal is still the same," said the Mercedes driver. "But it is clear from this weekend we are not the quickest.
"We have lost performance since Melbourne and even more so this weekend. We are the second or third-fastest team at the moment so we've got improving to do, but that's not impossible.
"What this team has shown over the years we are great at staying united and continue to barrel on and keep working."
Silver Arrows chief Toto Wolff insisted Mercedes had to "get our act together" following another race in which their pace and strategy calls have been questioned.
But the Mercedes team boss also believes Hamilton, who now trails team-mate Valtteri Bottas 2-1 in qualifying and races, wasn't on top form.
"Like the car, he was maybe not in the best place this weekend," added Wolff.
"He's the best driver, in my opinion, but also the best ones have days where it's just not 100 per cent."