Chinese GP: Fernando Alonso satisfied with Sebastian Vettel move
McLaren fourth in Constructors' Championship after Alonso's seventh place
By
Last Updated: 13/12/18 11:46am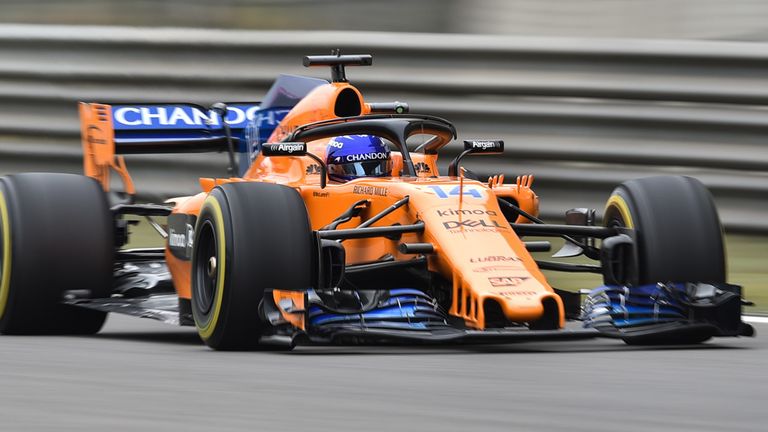 Fernando Alonso has brushed aside criticism of his overtake on Sebastian Vettel in the Chinese GP, but called upon McLaren to improve their car.
Vettel and Alonso clashed on the penultimate lap in Shanghai with the Ferrari running wide on to the grass as the McLaren snuck through.
In the heat of the moment, Vettel angrily denounced the move, accusing the Spaniard over Ferrari team radio of deliberately running him off the road.
Ricciardo wins thriller in China
Verstappen: Vettel crash my fault
Ricciardo: Just give me title shot
But Vettel made no complaints after the race and Alonso had no doubts it was a clean pass.
"It wasn't a fair fight because he had damage on his car," Alonso reflected. "Seb had damage on his car and he was going wide at the corners. At the first opportunity, l went for it. At one point, the track finished and he kept going until he went on to the grass."
Although McLaren find themselves fourth in the Constructors' Championships after the opening three rounds of F1 2018, the lofty position arguably flatters the team. McLaren are yet to qualify in the top ten this season and Alonso has repeated his now-familiar refrain that the team must increase the pace of their car - a plea which had extra resonance on Sunday in Shanghai after fellow Renault customers Red Bull won the race.
"That gives us good motivation and shows us the potential of their power unit," said Alonso. "On the chassis side we are not quite there and need to work harder.
"We have to improve, no doubts, but at the same time we are doing our job on Sundays. It was a well-executed race but we cannot forget the pace wasn't there for the whole weekend so we need to keep pushing."