Daniel Ricciardo should resist Ferrari and Mercedes to stay at Red Bull, insists Christian Horner
Ricciardo best placed at Red Bull for title shot, says Horner; Join the debate as Brundle and Rosberg have their say on Australian's future
By Matt Morlidge
Last Updated: 11/12/18 3:08pm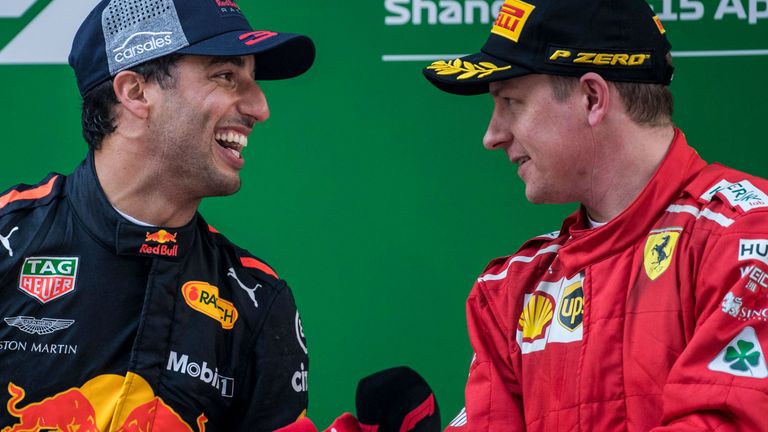 Christian Horner insists Daniel Ricciardo can fulfil his title-challenging ambitions at Red Bull and has urged the in-demand driver to resist potential advances from Mercedes and Ferrari.
Ricciardo put on another overtaking masterclass as he won a stunning Chinese GP on Sunday and, out of contract at the end of the season, has been linked with Red Bull's two main rivals.
Brundle on Ricciardo and Shanghai thriller
Chinese GP driver ratings
Ricciardo: Just give me title shot
Mercedes and Ferrari are both likely to be monitoring the 2019 driver market and the Australian, while keeping his options open, is desperate to fight for a first F1 world championship and admitted the Shanghai win "wouldn't hurt" his position at the negotiating table.
Horner, however, felt Ricciardo and the team's performance was proof that he is in the right place.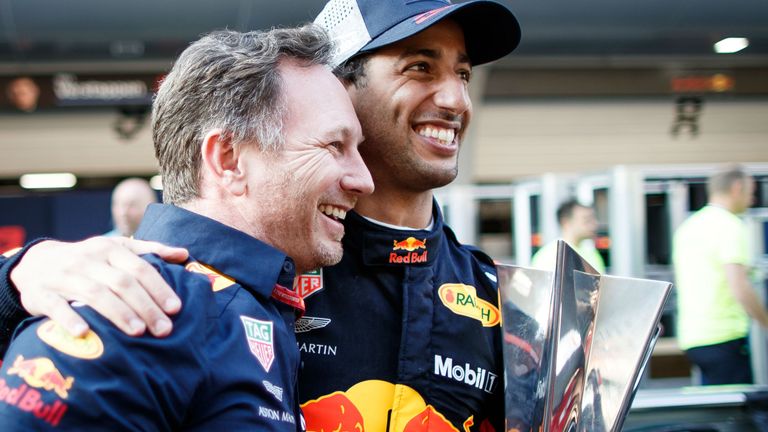 "If we can give him a car like we did today, why would he want to be anywhere else?" said the Red Bull team principal.
Horner also pointed to the fact Ferrari appeared to favour Sebastian Vettel when it came to race strategy last weekend, with Kimi Raikkonen kept out of the pits in a bid to help his team-mate's battle for the lead.
"If you look at Kimi's race, I didn't understand that strategy," added Horner. "I think Daniel's happy in the environment."
Ricciardo was hailed as F1's "master conjurer" after his sensational China comeback, storming from sixth to the lead in less than 10 laps with memorable overtakes on Raikkonen, Lewis Hamilton and Valtteri Bottas, who are also all out contract in 2018.
His perfectly-timed charge was in stark contrast to team-mate Max Verstappen's end to the race, as the Dutchman was penalised and criticised for his shunt into Vettel.
And Horner believes the 28-year-old is now at the peak of his powers.
"He's a very rounded driver now," the Red Bull boss insisted. "He's absolutely at the top of his game and I think he has been for the last couple of years.
"He's hit that balance of experience and pace. He's one of the best overtakers in the business and his judgement is impeccable in terms of judging a gap, getting the car stopped and getting it rotated.
"I feel he's in a different part of his career to where Max is at the moment, who is still very young and fresh and going through that experience."
What next for Ricciardo?
Martin Brundle: "It's a tough call for Ricciardo, assuming the two seats are actually available to him. Might Red Bull eventually be a more comfortable and faster home to remain at than Mercedes or Ferrari, or have they invested their future primarily into Verstappen?
"If Mercedes is an opportunity, where would he sit within the all-powerful sphere of Lewis Hamilton?
"Let me throw this outrageous curveball. Hamilton doesn't seem particularly happy at the moment, and I can imagine he will be super expensive to hire for his next Merc contract too. If that isn't already signed, would Mercedes go for the four-and-a-half-year younger Ricciardo instead?"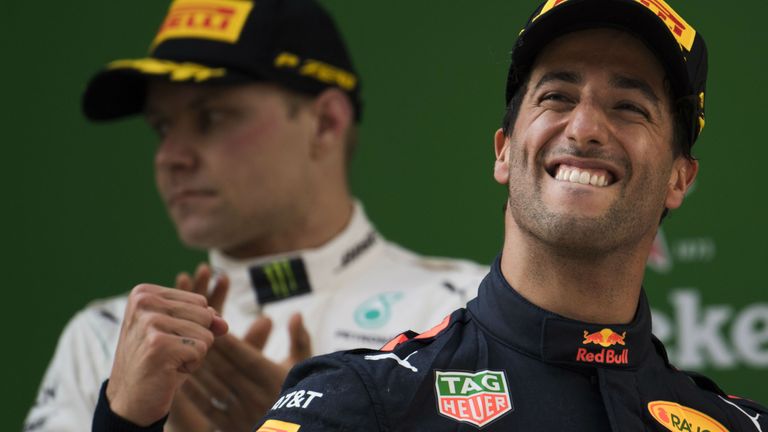 Nico Rosberg: "Where would I drive if I was Daniel Ricciardo?
"I would go to Ferrari because he knows he can beat Vettel, and they have the best car at the moment."