Red Bull hand Daniel Ricciardo summer deadline for 2019 decision
Ricciardo must give Red Bull contract decision by summer break, says Horner; Has Australian signed 2019 option with Ferrari?
By Matt Morlidge
Last Updated: 11/12/18 3:02pm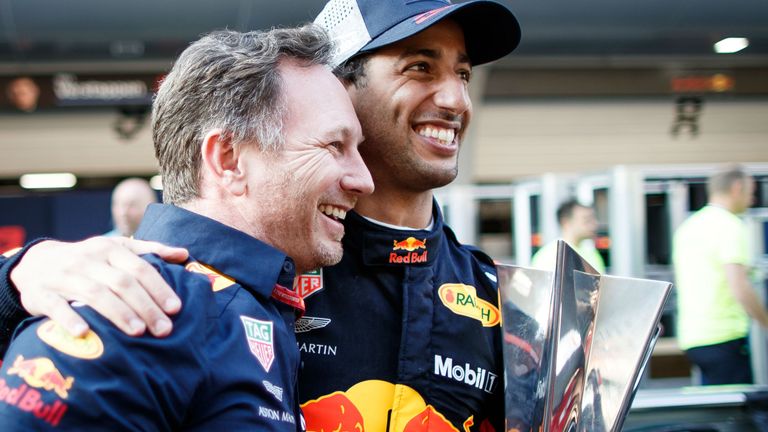 Red Bull have issued Daniel Ricciardo an August contract deadline before they start looking elsewhere for a 2019 driver, with Christian Horner admitting Carlos Sainz would be leading the queue.
Ricciardo, out of contract at the end of the season, has yet to commit his future to Red Bull and, amid links with Ferrari and Mercedes, said his Chinese GP win would not be enough in isolation to convince him to stay.
Ricciardo sends Red Bull warning
The Australian wants to keep his options open for as long as possible as he waits to see which car will give him the best title-winning opportunity, but Red Bull say they need to know his plans sooner rather than later.
"There should be a decision by the summer break at the latest," team principal Horner told Auto Motor und Sport. "We do not want to wait forever."
While the mass talent production from the Red Bull junior programme seems to have slowed in recent years, the team still have many options to replace Ricciardo - that is, if they wish to stick to their usual internal policy.
Sainz, who impressed next to Ricciardo's team-mate Max Verstappen at Toro Rosso, is on a one-year loan at Renault while Pierre Gasly has started the season in impressive form at the junior team.
"Our priority is to continue working with Daniel," added Horner. "If that does not work, we'll go for the other options.
"The most obvious is Carlos Sainz. He is under contract with us. And then there are a few young drivers."
While Mercedes have two drivers whose contracts are expiring in 2018 in Lewis Hamilton and Valtteri Bottas, it is Ferrari who are reportedly leading the early chase to sign Ricciardo.
Even before his stunning Shanghai victory, charging through from sixth in an overtaking masterclass, there were rumours that Ricciardo had agreed an option with the Scuderia.
And Sky F1 analyst Mark Hughes insists that "those privy to such matters at Red Bull are adamant that he has definitely signed something, somewhere but it's not with them and it's not with Mercedes".
Reporting that Ricciardo and Ferrari are locked into an exclusive negotiating period, Hughes wrote in Motor Sport magazine: "There are many different types of contractual options, but this one is said to be on both sides up to a defined date (believed to be June 30). Up until that time, neither party can officially negotiate with another.
"Because the driver is effectively locking himself out of the market for that time, discussions for his post-2018 services are contractually 'owned' by the team (in this case Ferrari)."