Azerbaijan GP, Practice Two: Daniel Ricciardo on top for Red Bull
Super session for Red Bull with Ricciardo on form but Raikkonen finishes just 0.069s behind leader; But Ferrari team-mate Vettel struggles; Mercedes off the pace; Alonso impresses for McLaren
By Matt Morlidge
Last Updated: 11/12/18 2:52pm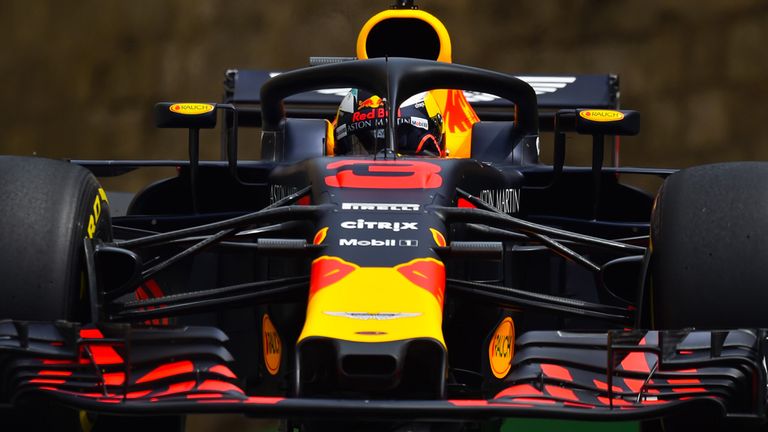 Red Bull's Daniel Ricciardo continued his impressive start to the Azerbaijan GP weekend by setting the fastest time in Practice Two, as Mercedes and Sebastian Vettel struggled.
After being edged out by Valtteri Bottas earlier in the day, Ricciardo posted a 1:42.795 in P2 - an ultrasoft-tyre marker which, at the time, looked like it would only be challenged by team-mate Max Verstappen with Red Bull enjoying the narrow street circuit.
But while Verstappen only finished a tenth of a second behind Ricciardo, it was Kimi Raikkonen who eventually pushed the Australian closest, with the Ferrari driver just 0.069s off the leading benchmark.
Bernie: Hamilton not the racer he was
Raikkonen's time may have been aided by a tow down the straight, but it was still encouraging after a disrupted Friday, with little track action in P1, and when considering team-mate Sebastian Vettel's struggles.
The championship leader span three times and failed to hook up a qualifying-style lap on ultrasofts, finishing 11th and more than a second off the pace.
Mercedes also couldn't get close to battling Ricicardo. The world champions, who have surprisingly not yet won a race in 2018, had Bottas some seven tenths adrift in fourth, with Lewis Hamilton just behind.
The longest straight on the F1 calendar was expected to favour Mercedes, as it has done in recent years, but it is the Red Bulls who have adapted quicker to the cool, windy Baku conditions.
"Ricciardo is the one to beat at the moment," noted Sky F1's Anthony Davidson, while Paul di Resta added: "Red Bull have the pace this weekend.
"We're in a similar situation to Mexico last year where they were really strong, dominant, and I don't think the others can react at the moment."
Red Bull also seemed to have the most consistent race pace, while Ricciardo was leading the field on the supersoft tyres even when most of his rivals were posting their times on the supposedly quicker ultrasofts. The little difference in compounds could lead teams to consider running the supersofts in the second part of Saturday's qualifying session.
The one hiccup from a stellar session for Red Bull was an engine issue for Verstappen at the tail-end of P2, which team boss Christian Horner hopes was a sensor problem rather than anything more serious.
There was a glimmer of a breakthrough at McLaren, meanwhile, after a below-par start to life with Renault power, with Fernando Alonso sixth and within a second of Ricciardo's time.
The Woking team have worked hard to find solutions to their straight-line speed deficit, and Alonso out-paced Force India's Estaban Ocon and Renault's Carlos Sainz by just over a tenth.
Kevin Magnussen was ninth as Haas returned to form, while Nico Hulkenberg completed the top 10.
Much like the opening session of a much-anticipated weekend, many drivers were struggling for grip. On top of Vettel's three spins, an off-form Stoffel Vandoorne brushed the wall while Lance Stroll reported that his Williams was "undriveable".
Stroll was 14th at the end of P2, with team-mate Sergey Sirotkin 17th and ahead of Brendon Hartley, Vandoorne and Marcus Ericsson.
The field is tightly packed, and it's all set up for a fascinating final practice session and qualifying, which begins at 2pm on Saturday on Sky Sports F1.
Azerbaijan GP, Practice Two Timesheet
| | | | |
| --- | --- | --- | --- |
| Driver | Team | Time | Tyres |
| Daniel Ricciardo | Red Bull | 1:42.795 | Ultrasofts |
| Kimi Raikkonen | Ferrari | + 0.069 | Ultrasofts |
| Max Verstappen | Red Bull | + 0.116 | Ultrasofts |
| Valtteri Bottas | Mercedes | + 0.775 | Ultrasofts |
| Lewis Hamilton | Mercedes | + 0.808 | Ultrasofts |
| Fernando Alonso | McLaren | + 0.905 | Ultrasofts |
| Esteban Ocon | Force India | + 0.1019 | Ultrasofts |
| Carlos Sainz | Renault | + 1.039 | Ultrasofts |
| Kevin Magnussen | Haas | + 1.182 | Ultrasofts |
| Nico Hulkenberg | Renault | + 1.296 | Ultrasofts |
| Sebastian Vettel | Ferrari | + 1.332 | Ultrasofts |
| Sergio Perez | Force India | +. 1.347 | Ultrasofts |
| Romain Grosjean | Haas | + 1.630 | Ultrasofts |
| Lance Stroll | Williams | + 1.664 | Ultrasofts |
| Pierre Gasly | Toro Rosso | + 1.917 | Ultrasofts |
| Charles Leclerc | Sauber | + 2.145 | Ultrasofts |
| Sergey Sirotkin | Williams | + 2.212 | Ultrasofts |
| Brendon Hartley | Toro Rosso | + 2.256 | Ultrasofts |
| Stoffel Vandoorne | McLaren | + 2.493 | Ultrasofts |
| Marcus Ericsson | Sauber | + 3.247 | Ultrasofts |