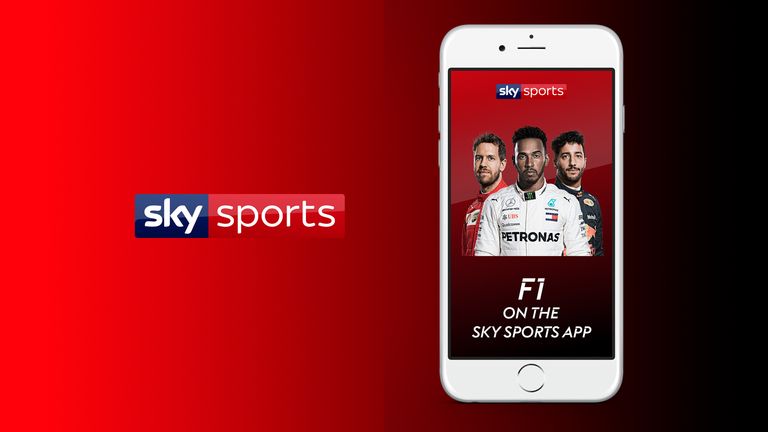 Enjoy the latest F1 news, features and brilliant videos on the go by using the Sky Sports mobile app.
But you willl need to login to get the full personalised experience - and make sure you have upgraded your app to the latest version!
The Formula 1 page
The Formula 1 page on the Sky Sports app can be accessed without signing in, and it's where you will find the latest insight and news from the world of F1.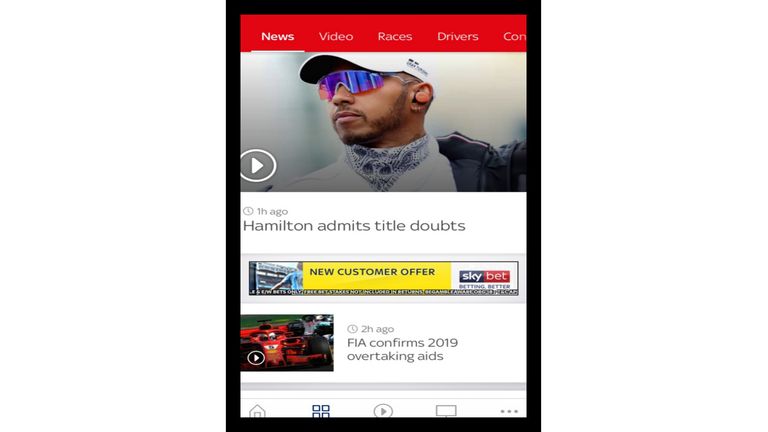 And as well as reading stories on the 'news' page, you can also...
* Watch cutting-edge footage from races, the F1 Report, features from our shows plus analysis from pundits in the 'video' section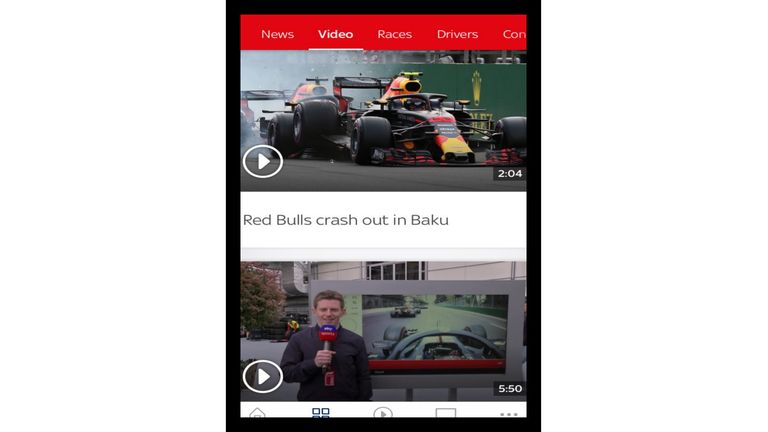 * Check out the full F1 schedule and recap race results by selecting 'races'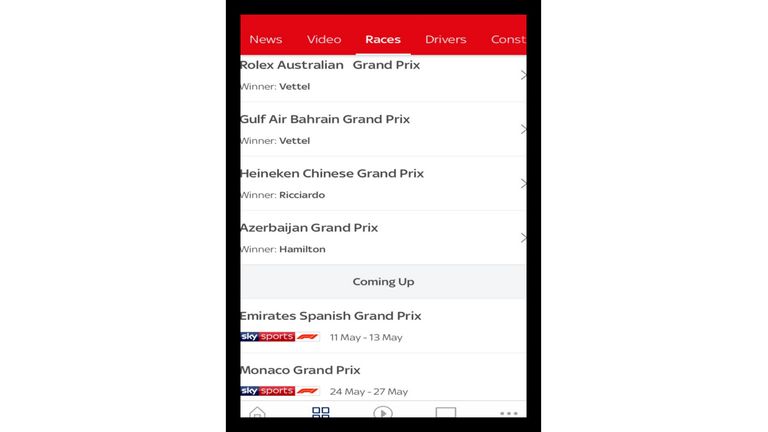 * Keep track of the drivers' and constructors' standings, as well as viewing the DHL Fastest Laps and Fastest Pitstops.
My Sky Sports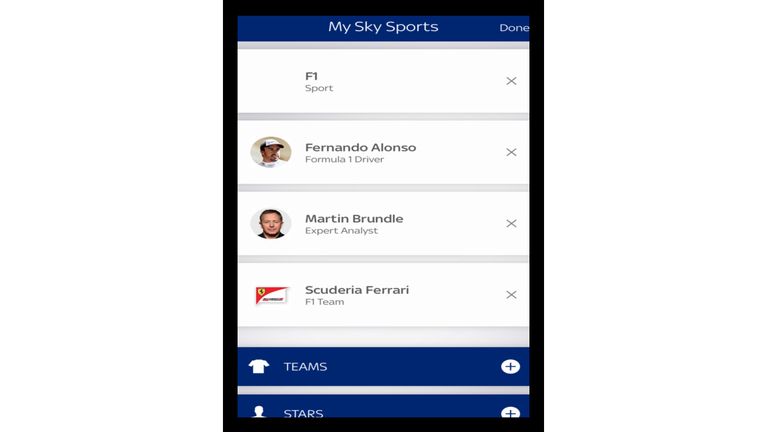 Sign in on the Sky Sports app to make the most of Sky F1. Logging in with a free Sky iD is really simple.
Once signed in, you can use our improved 'My Sky Sports' section to create your own unique home page, featuring your favourite sports, teams, sports stars and, of course, Sky Sports' peerless roster of experts.
You can choose your favourite players, athletes and experts from a range of sports, with more than 300 options in total!
And to personalise your F1 experience...
* What's going on at your favourite F1 team? Find out via the 'Teams' menu by choosing any of the 10 current F1 outfits - or all of them if you want - and this will give you specific news and features related to them
* Access the latest news from your favourite driver, such as Lewis Hamilton or Fernando Alonso, by selecting their name from the 'Stars' drop-down menu
* Watch Ted's Notebook, read Martin Brundle's latest column, keep up to date with Rachel Brookes' diary and much more by adding a Sky F1 pundit to your home page via the 'Experts' section
Watch and record live TV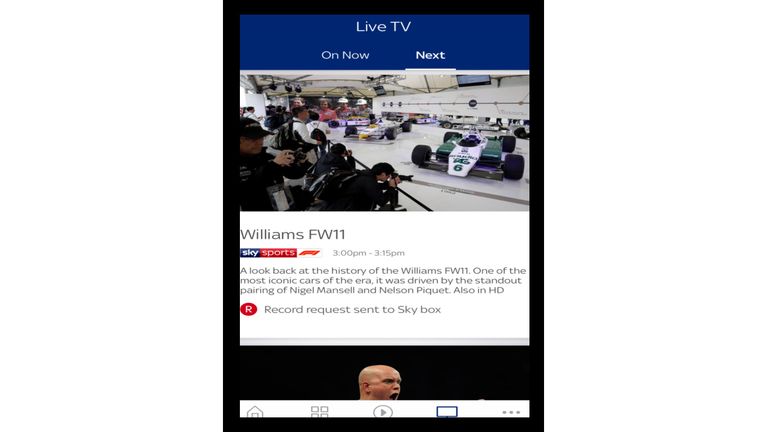 Not only can you watch what's on all of Sky Sports' channels via the 'Live TV' section at the bottom of the app by signing in, but you can also see what's on next and record it to your own Sky box!
Simply press 'Record to my Sky box' and a request will be sent, meaning you never have to miss any of your favourite shows and content!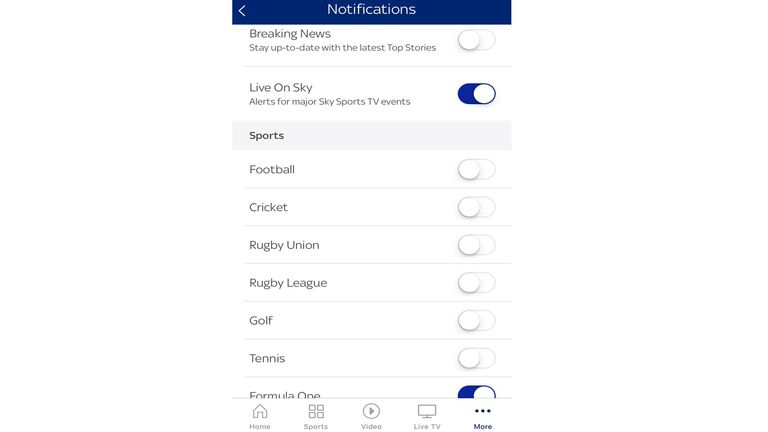 Sign up for push notifications
And don't forget to sign up for Sky Sports push notifications to filter the notifications to suit your needs.
On iOS, you can set your notifications by clicking on 'Notifications' button within the 'More' section in the bottom right corner of the home screen.
On Android, you can do the same by tapping on the 3 dots in the top-right and going into 'Preferences'.
Then simply tap on 'Formula One' and we will send you a notification whenever a big story in the paddock breaks.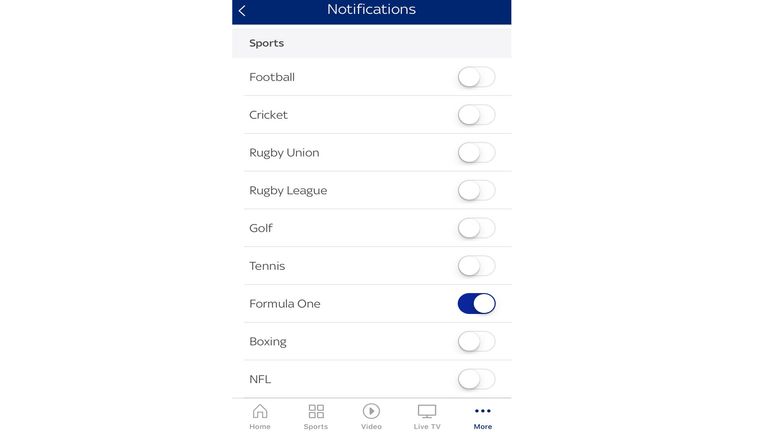 To get dedicated news alerts from the world of F1 but also when a big sports story breaks, you can tap on Formula One along with 'Breaking News'. This way, you'll be notified of a big story without having to subscribe to another sport.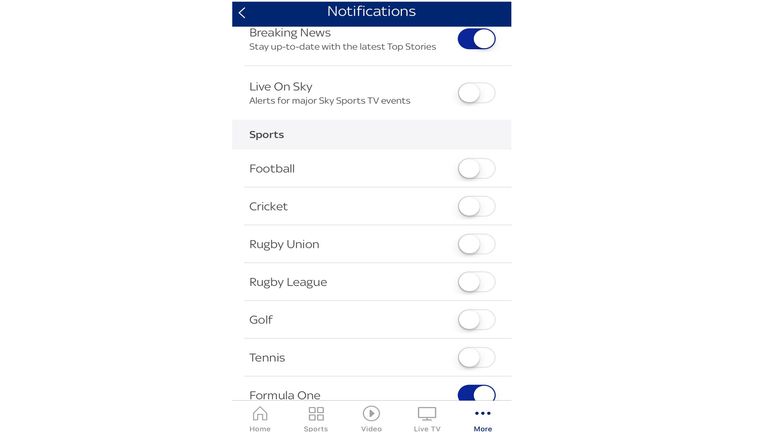 You can also subscribe to more than one sport so choose from Football, Cricket, Rugby Union, Rugby League, Golf, Tennis, Formula One, Boxing, NFL, WWE and Darts and we'll send you a notification when a story comes in.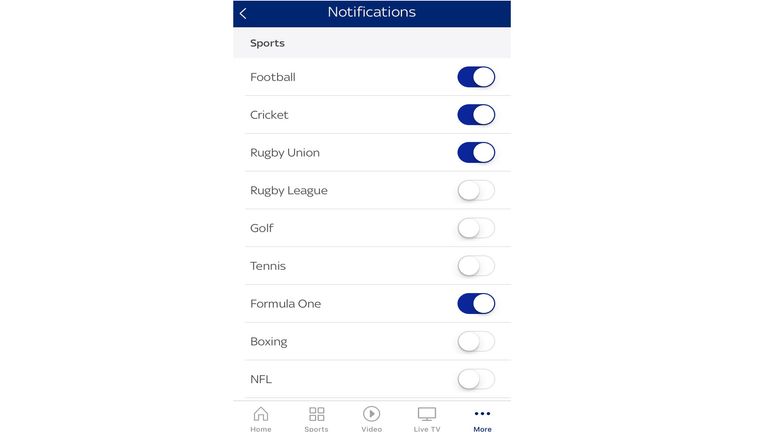 What's more, there's a 'Live on Sky' selection if you want to receive alerts on the best live action on our dedicated channels!
Sky Sports F1 is the only place to watch every Formula 1 Grand Prix, qualifying and practice session live in 2018. Get Sky Sports F1.