McLaren determined to keep Fernando Alonso for F1 2019
Team boss prepared to wait before gauging Alonso's 2019 plans
By Pete Gill at Barcelona
Last Updated: 11/12/18 1:50pm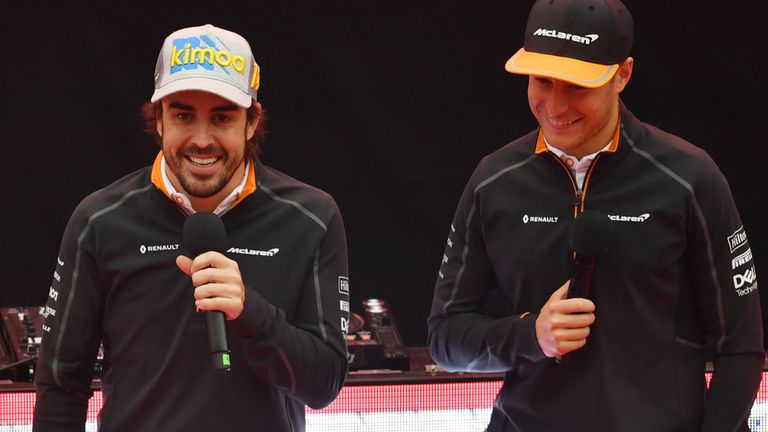 McLaren will shelve consideration of their 2019 driver line-up until mid-season with the team determined to keep Fernando Alonso if they can
Team boss Zak Brown says Alonso has never been happier with an F1 team but has yet to persuade the Spaniard to commit his long-term future to F1 - and McLaren.
Alonso pleased with progress after McLaren upgrades
Alonso is competing in the World Endurance Championship this year having missed the Monaco GP last season to drive in the Indy 500 and cast doubt on his future in F1 after complaining the sport had become too predictable.
But Brown told Sky Sports News: "We will look at the driver line-up in the middle of the year. We'll see what Fernando wants to do.
"I think Formula 1 is his passion, but he has been doing it a long time so we have got to see what he wants to do. But hopefully he will be with McLaren for a long time."
Speaking to Sky F1 ahead of the Spanish GP, Brown added: "He loves the McLaren environment, I don't think he has ever been happier driving for a racing team.
"I think his heart is definitely still in Formula 1 but he wants to win. He's going to wait and see how these developments come along - we have more developments coming - so in the middle of the year we will sit down and make a decision.
"But I expect to see Fernando racing something and I hope it has a McLaren badge on it."
Although still considered to be one of the strongest drivers in the sport, five years have passed since Alonso last won an F1 race. But in the week before the Spanish GP, Alonso won the Six Hours of Spa race on his WEC debut, his first motorsport victory since the 2013 Spanish GP.
Brown has also given his backing to Stoffel Vandoorne despite a difficult start to 2018 for the Belgian in which he has failed to out-qualify Alonso for any of the five races.
"Stoffel's coming along really well," said the McLaren chief.
"Both Stoffel and Fernando are doing a great job. Stoffel is up against the best guy in the world, as I think we all know, or certainly one of the top three and he has done a great job. Last year was a tricky year for him as a rookie, which actually I think will make him a better driver long-term dealing with that type of adversity."
Alonso to start eighth at home race
Alonso has expressed he is happy with the performance improvement generated by the car upgrades McLaren have brought to Spain.
For the first time this year, Alonso reached the top-ten shootout in the revamped MCL33 before qualifying in eighth.
"Being ahead of a Haas and one Renault was a very nice surprise," said Alonso. "I'm happy with the performance of the car, it is better and quicker. P8 is definitely a step forward."
On his prospects for Sunday's race, Alonso commented: "On the long runs we are usually more competitive, and we manage the tyres well, so Sundays tend to be stronger than Saturdays for us.
"We will be the only car in the top ten to start on supersofts. Let's see if that it is good or bad."