Spanish GP: Lewis Hamilton wants to deliver 'ultimate performance'
Hamilton starts the Spanish GP on pole ahead of Bottas and Vettel, who predicts "exciting race"; Watch live on Sky Sports F1 at 2.10pm
By Matt Morlidge
Last Updated: 11/12/18 1:52pm
Lewis Hamilton says he wants to deliver the "ultimate performance" and win the Spanish GP in style.
Hamilton will start on pole after out-pacing Mercedes team-mate Valtteri Bottas and Ferrari's Sebastian Vettel in a fascinating qualifying, and comes into the race with a slender championship lead after taking his first victory of the season at the last event in Baku.
Hamilton storms to pole
'Poles feel even sweeter'
But the reigning world champion admitted his Azerbaijan GP triumph did not feel as sweet due to the circumstances - Bottas suffered a puncture and Vettel locked up - and Hamilton is determined to win in a different manner on Sunday.
"Of course I want to come here and deliver the ultimate performance and get the win," Hamilton told Sky F1's Natalie Pinkham after taking his 74th career pole.
"Not through having other circumstances collide, enabling it to happen."
But Hamilton also believes he could have been too harsh on himself following the last race, questioning Vettel's "mistake" when his title rival attempted an overtake.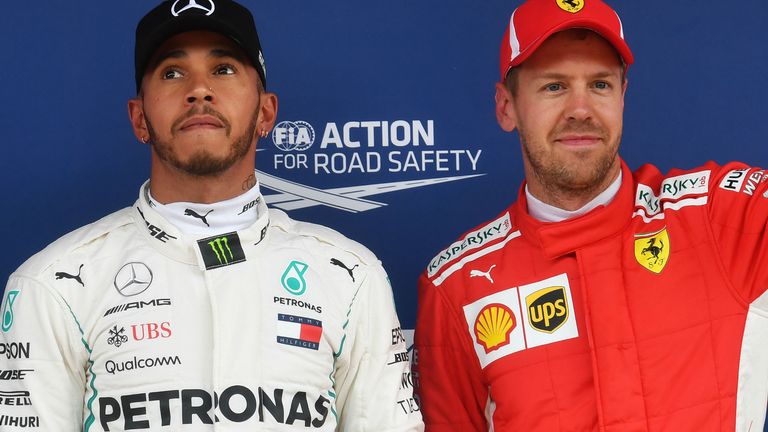 "A lot of people said I was quite harsh on myself," he added. "I didn't think that way but when I got back to the factory and they showed me the race traces, I actually had really good pace through the race. I thought it was a lot worse than it was.
"Ultimately you have to be in it to win it. I put myself in the position, I hadn't made the mistakes that, for example, Sebastian made."
Mercedes sealed their first front-row lockout of the season in Barcelona qualifying, with an in-form Bottas just four hundredths of a second adrift of his team-mate.
But while their pole streak was ended, Ferrari still appeared to have impressive pace with Vettel just a tenth back from the front row despite setting his fastest lap on the supposedly slower soft tyre.
Hamilton insisted the Scuderia had been sandbagging through the weekend but that he was "enjoying the battle" of a "very tough" 2018 F1 season.
Vettel, meanwhile, four points behind Hamilton in the drivers' standings, said: "We will try to put on a lot of pressure.
"We tried everything but they were just a bit quicker. Obviously overtaking here is difficult but nevertheless, I think it could be an exciting race."
He also insisted Red Bull's Max Verstappen and Daniel Ricciardo - starting on the third row - will be a "big threat" come lights out.
"In terms of race pace we should all be the same," he explained "I don't think you can make out a favourite.
"Hopefully after the race we are faster than the others. But that's the exciting bit going into the race, I know that we will be quick but I know that the others will be quick too."
How to follow the Spanish GP on Sky F1
| | | | | |
| --- | --- | --- | --- | --- |
| Sunday May 13 | Sky F1 digital live blog | 12.30am: Pit Lane LIVE! | 1.30pm: On the Grid LIVE! | 2.10pm: The Spanish GP LIVE! |