Spanish GP: Supreme Lewis Hamilton wins to increase title lead
Dominant Hamilton pulls 17 points clear of Vettel as Mercedes hit back in title race; Vettel drops from second to fourth after costly second stop for tyres; Verstappen claims first podium of year
By James Galloway
Last Updated: 11/12/18 12:49pm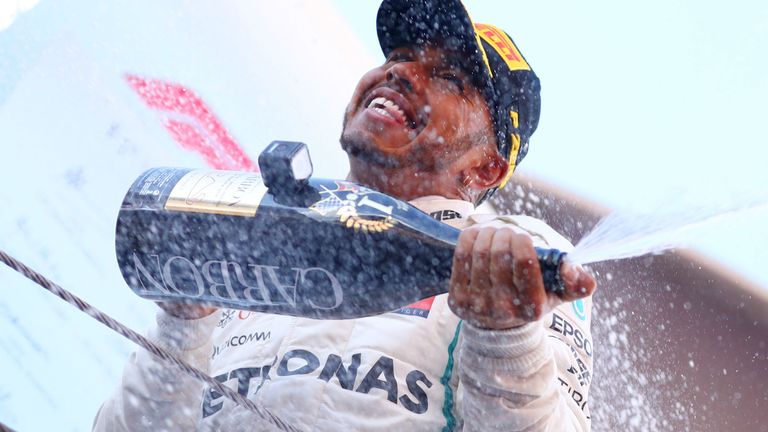 Lewis Hamilton confirmed his return to top form with an impressively dominant victory in the Spanish GP to increase his championship lead in a Mercedes one-two, as Ferrari's hopes unravelled.
Hamilton opened up a 17-point advantage over Ferrari rival Sebastian Vettel and Mercedes reclaimed lead of the Constructors' Championship after an unexpectedly one-sided Barcelona race in which the reigning champion relentlessly pulled away from his chief title rival at the start and then expertly controlled the race.
"This is more like it, let's keep this up," said a delighted Hamilton after coming home 20 seconds ahead of team-mate Valtteri Bottas.
Vettel, having jumped Bottas off the line, was running second as late as lap 41 of 66 but dropped to fourth when a second stop for fresh tyres behind a Virtual Safety Car backfired.
A slow five-second service dropped the German behind not only the second Mercedes, but the lead Red Bull too. But Vettel defended the strategy call by saying it was "not an option for us to stay out" due to excessive tyre wear, adding that he overshot his pit box.
With the other Ferrari of Kimi Raikkonen already sidelined by its second engine problem of the weekend, Max Verstappen profited from Vettel's delayed stop to claim his first podium of 2018.
Hamilton: Win can be a turning point
Updated championship standings
The Dutchman then held on to third ahead of Vettel despite driving the final 20 laps with a damaged front wing after a bizarre incident when he clipped the back of Lance Stroll's lapped Williams under the VSC.
Daniel Ricciardo was a low-key fifth and spun under the controlled speed of the VSC, although rallied thereafter to set a succession of track lap records late on.
Kevin Magnussen, one of the top midfield performers of the season so far, capped a fine weekend for Haas to deliver the team their best result since Bahrain with a comfortable sixth.
Carlos Sainz was the lead Spaniard in seventh for Renault, with Fernando Alonso finishing where he qualified in eighth after losing ground on the opening lap avoiding a big incident triggered by a spinning Romain Grosjean which also wiped out Nico Hulkenberg and Pierre Gasly.
Sergio Perez claimed two points for Force India, finishing ahead of Charles Leclerc who hung on to the final point after again showcasing his burgeoning talent for Sauber.
Hamilton at his untouchable best
Hamilton claimed his first win of the season and leadership of the Drivers' Championship a fortnight ago after a manic race in Baku, but had been quick to deliver a solemn verdict on his form up to that point in 2018 - admitting "l am punching below my weight".
But the Barcelona weekend, and on a circuit Mercedes had impressed at in pre-season testing, Hamilton delivered what Sky F1's Martin Brundle remarked was probably one of the most comfortable victories of the four-time world champion's career.
A first pole position since March on Saturday was followed by a peerless show of front-running from the Englishman on Sunday, particularly in the opening stint when Hamilton pulled away from Vettel by in excess of half-a-second per lap.
Hamilton was only headed at the front when Red Bull extended Verstappen's opening stint.
"Today the car and myself, I felt that synergy which I hadn't been feeling for the whole year," said Hamilton as he celebrated his 64th career win.
"It's a good feeling. This is when we're going to start trying to continue to apply the pressure. A one-two for the team. I hope we can continue."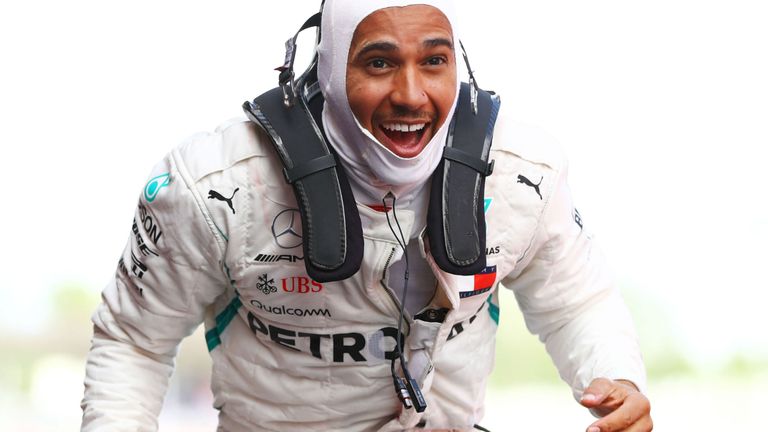 What happened to Ferrari?
Ferrari will certainly hope Mercedes' return to the kind of form more associated with previous seasons will prove to be track specific.
A strong start to the race saw Vettel move ahead of Bottas from third place but the German was 8.1 seconds behind Hamilton by the time he made his first pit stop on lap 17.
With the in-the-groove Hamilton having the luxury of not having to pit for fresh tyres for another eight laps, the lead Mercedes was always going to have a significant tyre advantage over the Ferrari provided the leaders did not need to pit for fresh tyres again.
But Ferrari did pit again when the VSC was implemented after Esteban Ocon's Force India pulled to the side of the track. At the time it appeared a gamble in an attempt to come back at the Mercedes' on fresh medium tyres - but Vettel later insisted it had been a move of necessity.
"For us it was not an option to stay out," he told Sky F1. "We were going through the tyres quicker than the others today. It looks different and it looks wrong, but from the inside I think it was the right thing to do."
A faster stop would have almost certainly only cost Vettel three points instead of six, but the delay in changing the wheels played into Verstappen's hands - despite the later damage to the Red Bull.
Mercedes rubbish 'Pirelli help' claims
Red Bull chief Christian Horner told Sky F1: "I think we did everything we could strategically. We went longer in the first stint and then Max did a great job in fending off Sebastian with a wounded car.
"I think we had a very fast race car again today. Our problem is we have got to do a better job on Saturdays, we have got to get further up the grid. Starting fifth and sixth, you are in the dirty air, you're in the mess at the start, and I think if we can just get a little higher up the grid then bigger results are going to come."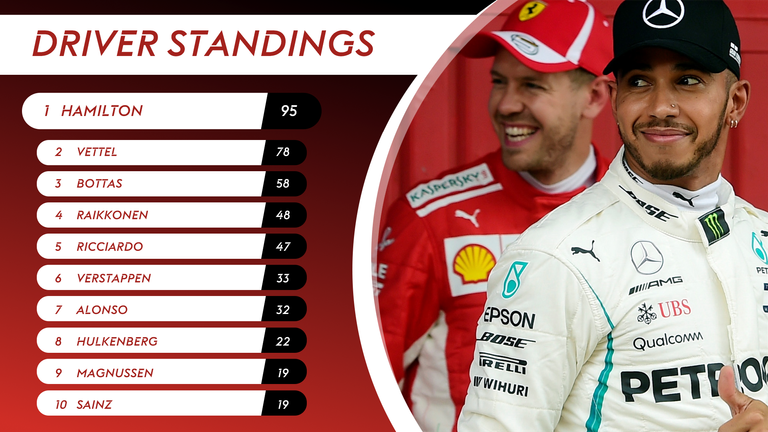 The concern for Red Bull is that, despite a sizeable upgrade of their RB14 chassis for this weekend, they were unable to qualify higher than the third row and, running behind Raikkonen in the opening stint, finished the race nearly half a minute behind Hamilton.
But the next race on the tight and twisty streets of Monaco, live on Sky Sports F1 from May 24-27, could yet provide another turning point in a 2018 season that has yet to provide a definitive narrative.
Spanish GP Race Result
| | | |
| --- | --- | --- |
| Driver | Team | Time |
| 1. Lewis Hamilton | Mercedes | 1:35:29.972 |
| 2. Valtteri Bottas | Mercedes | +20.593 |
| 3. Max Verstappen | Red Bull | +26.873 |
| 4. Sebastian Vettel | Ferrari | +27.584 |
| 5. Daniel Ricciardo | Red Bull | +50.058 |
| 6. Kevin Magnussen | Haas | +1 lap |
| 7. Carlos Sainz | Renault | +1 lap |
| 8. Fernando Alonso | McLaren | +1 lap |
| 9. Sergio Perez | Force India | +2 laps |
| 10. Charles Leclerc | Sauber | +2 laps |
| 11. Lance Stroll | Williams | +2 laps |
| 12. Brendon Hartley | Toro Rosso | +2 laps |
| 13. Marcus Ericsson | Sauber | +2 laps |
| 14. Sergey Sirotkin | Williams | +3 laps |
| Did Not Finish | | |
| Stoffel Vandoorne | McLaren | |
| Esteban Ocon | Force India | |
| Kimi Raikkonen | Ferrari | |
| Romain Grosjean | Haas | |
| Pierre Gasly | Toro Rosso | |
| Nico Hulkenberg | Renault | |