Martin Brundle: Lewis Hamilton's stars align for a star act in Spain
Sky F1's Martin Brundle reviews the Spanish GP, a race dominated by one driver in the mood and in unbeatable mode...
Last Updated: 11/12/18 12:41pm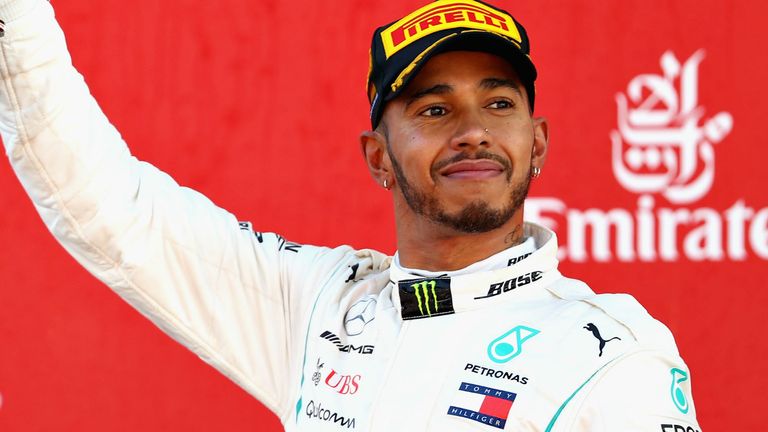 Lewis Hamilton is an enigma.
I find him relatively easy to read having known him since he was a teenager and having observed his incredible tally of 64 victories and four world championships. A man who wears his heart on his sleeve much of the time, seemingly quite heavily influenced by what's going on in his life; a good man who cares for those around him and a thoroughly professional and accomplished sportsman.
I find him much less easy to understand. I've spent some time with Lewis over the years but wouldn't begin to suggest I'm his friend. I'm just another person coming at him with a dreaded microphone and I don't blame him for that.
Hamilton wants perfect title
Are Mercedes back? Has F1 2018 turned?
It seemed inevitable that he was going to dominate on Sunday. He was smiling and appeared content and he absolutely thrashed the competition whilst deciding to turn it into a 66-lap test session during which he could study the car's performance in detail and make careful mental notes for his engineers post-race.
He won't have much information for them about vision in his rearview mirrors.
I watched with intrigue his Sky F1 post-race interview with Damon Hill and Simon Lazenby. His clarity and logic was spot on, delivered with intelligence and humility. His passion and desire for a fifth title was tangible.
We all have mood swings, without having to tolerate hundreds of millions of people watching, and there's no reason why Lewis should be any different. But when all the stars are aligned he really is unbeatable in a most impressive fashion, and he's added finesse to his speed these days.
Ferrari had a second consecutive race of relative misery. Their car was unusually punishing its tyres more than Mercedes, and much more than Red Bull. Vettel would be the first car to stop on lap 17 for new boots, and that put him back on track behind the rapid 'midfield' car of Kevin Magnussen's Haas - Haas-Ferrari that is - and onto a two-stop strategy which they felt was always the only sensible plan.
If they simply had to stop because of a grained front tyre then so be it, but if they didn't then it looked rather strange timing. And even at the end of the race with fresher tyres Vettel had no answer for Max Verstappen's Red Bull despite the Dutchman carrying significant front-wing damage after collecting a Williams on a Virtual Safety Car restart misunderstanding.
Vettel's 'cheap' Virtual Safety Car pit stop which put him behind the comfortably one-stopping Verstappen could be painted as a tactical error but I doubt they had any sensible alternatives, and nor did they have the right new tyres available either.
Vettel: Ferrari must address problems
Kimi Raikkonen had engine issues and so from a Ferrari four-point Constructors' Championship lead going into the race, Mercedes have now moved 27 ahead. Twenty Seven is an iconic number for Ferrari but on this occasion that will hurt. No pace, no podium, and nothing much to take home from a track which favours Mercedes.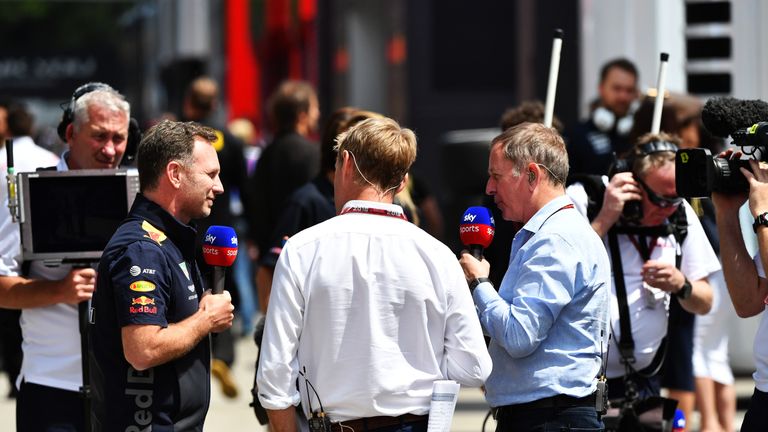 Red Bull were confusing to say the least. At one point Daniel Ricciardo was hunting down his team-mate. Then he had a spin behind the VSC, and the next thing is he's storming to yet another new lap record a full seven tenths faster than anything Hamilton delivered in his admittedly unhurried race.
Verstappen and Vettel were 27 seconds off the lead, Ricciardo was a full 50 seconds behind in a car which looked to be the race pace-setter on Friday.
Verstappen drove a fine race to score his first podium since his victory in Mexico seven races ago, but he's still made contact in all five races this year.
Romain Grosjean was lucky to get just a three-place grid drop in Monaco for his crazy full throttle tyre-shredding spin in the third corner of the race. He curiously claimed to the Stewards that he felt it better that he crossed the track to stay out of trouble which didn't wash with them, understandably.
It was a nasty shunt for him, Nico Hulkenberg and Pierre Gasly, and potentially others. There was very little grip at the start and he had to get out of the throttle when his team-mate Magnussen got out of shape in front of him, generating the spin.
Romain is having a miserable and pointless season, so cruelly robbed by an ill-fitting wheel in Melbourne. Then his unfortunate incident into the wall in Baku under Safety Car conditions, followed by this first-lap drama in Spain. His instinctive action was one of desperation and disbelief I suspect. The Haas team has 19 points, and they all belong to his team-mate.
Somebody I respect a lot in the paddock caught my attention post-race. He said 'there's no point in trying to analyse any race or upgrade, it's simply about who is generating the right tyre temperatures at any given point'. That rather spoiled my day.
McLaren's upgrade at least put them on the tail of the sole remaining Renault of Carlos Sainz, with Fernando Alonso guiding the impressive new nostrils on his orange car. Their target has to be the rear wing of the Red Bull though given they have the same motor, and so there's a lot of work to do.
A strong result in Monaco for both cars is now very important to Ferrari.
MB