Monaco GP: Sebastian Vettel and Lewis Hamilton heap praise on Charles Leclerc ahead of home race
Vettel insists Leclerc hype is "absolutely justified" and can see him at Ferrari while Hamilton says he's a "real talent"
By Matt Morlidge
Last Updated: 11/12/18 12:28pm
Sebastian Vettel insists Charles Leclerc has proved he has the potential to become his Ferrari team-mate in the future, while Lewis Hamilton has also hailed the highly-rated youngster as a "shining talent".
After a record-breaking Formula 2 championship win last season, Leclerc has slotted seamlessly into F1 with Sauber - scoring nine points with the lesser-fancied team and sealing a sensational sixth place in Azerbaijan.
And Leclerc, part of the Ferrari young driver programme, certainly has his admirers in two four-time world champions ahead of his home grand prix in Monaco, where he will become the first Monegasque driver to race since 1994.
"I think the hype is absolutely justified," said Vettel, looking for consecutive wins at F1's showpiece event. "If there is no hype around him then I don't understand who can be hyped.
"If you walk through all the categories like that then you belong here."
Leclerc's impressive and mature performances so far this year has seen speculation mount about him taking a Ferrari race seat, with Kimi Raikkonen out of contract at the end of the season.
And while Vettel claims he is enjoying his partnership with Raikkonen, 38, he also believes Leclerc has the talent to join him.
"I'm not signing who's sitting next to me, probably you should ask Maurizio [Arrivabene, team boss], but I don't see why not," added the German.
"Obviously he has more years. The races he had so far, he used his opportunities and scored points with a car that doesn't belong in the points so he's doing everything he can at the moment."
Championship leader Hamilton has been similarly impressed by the 20-year-old F1 rookie, whose back-to-back points-finishes were Sauber's first since 2015.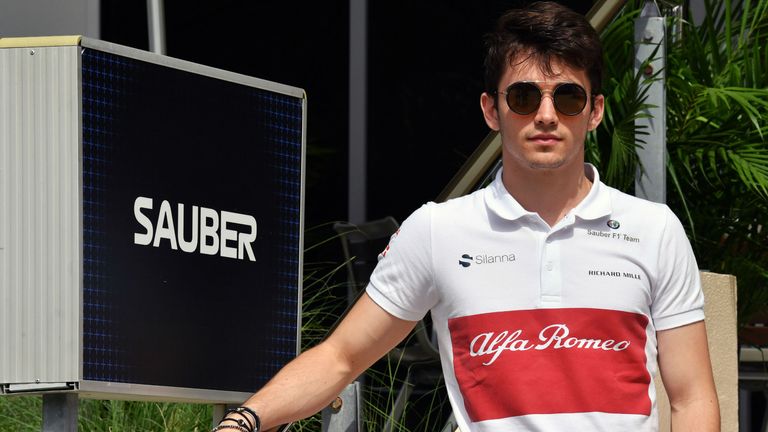 "I watched him coming through and what he's done in the last couple of years was great to see," said Hamilton.
"I sit with team bosses and engineers and we watch the lower categories and are always looking out for that shining talent to come through."
Hamilton also claimed Leclerc has "earned his way" to the sport, hinting that he has more talent than many other drivers on the grid.
"Formula 1 is supposed to be the pinnacle of the sport, which it is, but it's supposed to have the best drivers from around the world," he explained. "In all honesty you couldn't say there are the 100% best drivers from all the nations around the world here.
"It's just really great to see a really talented kid come through that's really just earned his way. He really has the potential to do great things here and you can't see that about every kid that's come through in the past few years.
"Ultimately it's very difficult because it's such an expensive sport. You don't always have the most talented that have money, but it's great to see a really talented kid come through.