Monaco GP: Daniel Ricciardo says rivals trying to pressurise Red Bull
"I think they are trying to take a little pressure off them and put it on us," says Ricciardo as Mercedes and Ferrari talk up Red Bull
By Pete Gill in Monaco
Last Updated: 11/12/18 12:27pm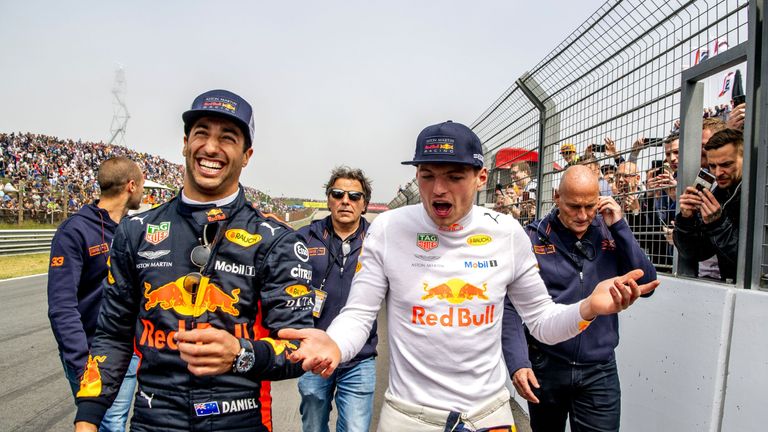 Red Bull believe their rivals are talking up their chances of victory this weekend in the Monaco GP in a bid to put them under increased pressure.
With the characteristics of the tight and twisty Monaco circuit suiting the Red Bull car, Mercedes boss Toto Wolff has branded Red Bull as "the favourites" along with Ferrari to triumph in F1's showpiece event.
Vettel denies Monaco 'must win' for Ferrari
"I think they are trying to take a little pressure off them and put it on us," Daniel Ricciardo responded. "It's no secret that we are always pretty good around here.
"I think it will be very close between us and particularly Ferrari, and we'll see where Mercedes is."
But if Red Bull are reluctant to accept the tag of favourites, Ricciardo, who won earlier this year in China, is relishing the prospect of fighting for victory on a weekend when their engine power deficiency to Mercedes and Ferrari will be neutered by the lay-out of motorsport's most renowned street circuit.
"I would love this feeling coming into every race that we genuinely have a chance to fight for the win," Ricciardo said. "I can't wait to get on the circuit and push the car to the limit. Hopefully that will be enough."
Team-mate Max Verstappen agreed, adding: "We have a good car and there aren't many straights here so that's good for us!"
Ricciardo, a Monaco resident, came close to victory in the Principality two years ago before a pit-stop blunder saw him lose out to Lewis Hamilton.
But the Australian does not believe Monaco 'owes' him a win.
"I have to go and earn it. It's not just going to happen because it should have already," he said.
The Red Bull driver added: "Confidence is a big thing here. This is probably the circuit on the calendar where if you are feeling it and you are in a good rhythm and a good flow you can find an extra tenth or two."
Although Red Bull were fastest in the Monaco-like final sector at the Circuit de Catalunya two weeks ago, Ricciardo remains wary of the changes the rest of the field will bring to adapt to Monaco's unique challenge.
"Even if we were quick there [in Barcelona's third sector], everyone will put everything on their car and that will minimise that advantage," he added. "That's why l say there are no guarantees we will be quickest. But the DNA of our car solid and this year's car is better than last year's."
Ricciardo's homework for the race has included studying on-board footage from Kimi Raikkonen's pole-position lap a year ago, although the highlight of his preparation for F1's iconic race has been the unusual luxury of waking up in his own Monaco apartment bed every morning. Not, however, that Ricciardo will be leaving the paddock early after the close of play every night this weekend.
"I will still have most of my meals here at the track," he admitted. "The chefs here are better chefs than l am. It's also free so l will probably come here!"