Max Verstappen urged to change F1 approach after Monaco GP woe
"It feels like he is trying a bit too hard at the moment," says Horner after another crash ruins Verstappen's Monaco weekend
By Pete Gill in Monaco and Matt Morlidge
Last Updated: 11/12/18 11:53am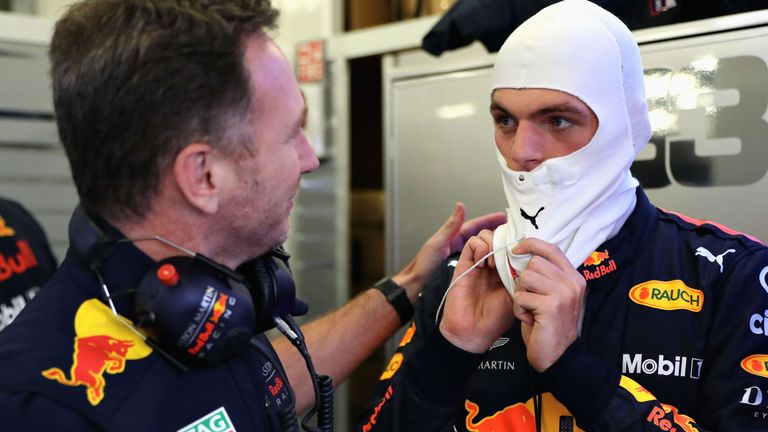 Red Bull's Max Verstappen has been urged to change his approach to F1 after enduring another disappointing race weekend due to a costly mistake.
Verstappen started the Monaco GP at the back of the grid after carelessly crashing into the barriers in Practice Three, only salvaging two points from the race as team-mate Daniel Ricciardo took victory in an impressive RB14.
Monaco GP driver ratings
'Ricciardo reaches new F1 peak'
Get Sky Sports F1 for 2018
Though Red Bull continue to back their highly-rated driver, Verstappen has now either had a collision or spun in all six grands prix this year and Christian Horner hopes the Dutchman's latest set-back will prompt him to alter his style.
"He has a very good teacher in the car next door to him," the Red Bull team principal told reporters in Monte Carlo. "Max has an abundance of talent but he has had some harsh lessons this year. A modified approach would benefit him."
And Horner added to Sky Sports F1: "I think he'll approach [the next race in] Montreal in a slightly different manner."
Verstappen's F1 2018 incidents
| Race | Session | Incident |
| --- | --- | --- |
| Australia | Race | Spun and lost places |
| Bahrain | Q1 | Crashed into barriers |
| Bahrain | Race | Collided with Lewis Hamilton |
| China | Race | Went off trying to overtake Hamilton |
| China | Race | Collided with Sebastian Vettel |
| Azerbaijan | Race | Collided with Daniel Ricciardo |
| Spain | Race | Made contact with Lance Stroll |
| Monaco | P3 | Crashed into barriers |
Verstappen took responsibility for his P3 shunt, which caused an irreparable gearbox problem and meant he couldn't take part in qualifying, and he had to watch on as his team-mate romped to pole.
Battling through the field while Ricciardo hung on for his second win of the season, Sunday may have been Verstappen's harshest lesson yet.
"You are going to get a thousand different opinions but the only person who can address it and deal with it is Max," added Horner.
"This weekend was very painful for him. He needs to go away and reflect on what could have been and should have been and apply that for the future."
But the Red Bull chief also admitted Verstappen is working too hard as he looks to overcome his toughest period in F1 since bursting into the sport as its youngest-ever driver three years ago.
"We talk weekly and what frustrates him is that he is working harder than ever and it feels like he is trying a bit too hard at the moment," explained Horner. "When you get into a spiral, you try harder.
"Max is doing his learning in a very public arena. Most guys would have gone through this in a lower formula which you wouldn't have seen. I'm sure he will emerge on the other side."
Sky F1 team on Verstappen's slide
Nico Rosberg: "They have to be running out of patience, that's clear.
"I just hope Max will start thinking about it. He needs to change his approach, it's too much and it's costing him so much.
"I hope that he'll learn and if he ever wants to win the world championship, he has to start learning."
Martin Brundle: "When Verstappen threw away victory back in China whilst running into Vettel, I mistakenly thought it would be the turning point for him to begin to play the percentages better and choose his battles more carefully.
"By hitting the barriers in free practice three on Saturday morning he threw away yet another glorious chance of victory, and for the first time his team bosses publicly demonstrated that even they are running out of patience with their golden boy.
"He mustn't waste his amazing talent by brazenly brushing off so many incidents as unimportant or not his fault.
"Watching Ricciardo on the podium and in the post race celebrations must have dented even his supreme self confidence. We need him on peak form and with all four wheels pointing in the same direction, he's F1's future along with some other fast boys.