Canadian GP: Sebastian Vettel retakes lead of title race from Lewis Hamilton
Hamilton fifth after engine fear; Bottas second ahead of Red Bulls; Race ends early after chequered flag waved prematurely
By Pete Gill
Last Updated: 14/01/19 10:35am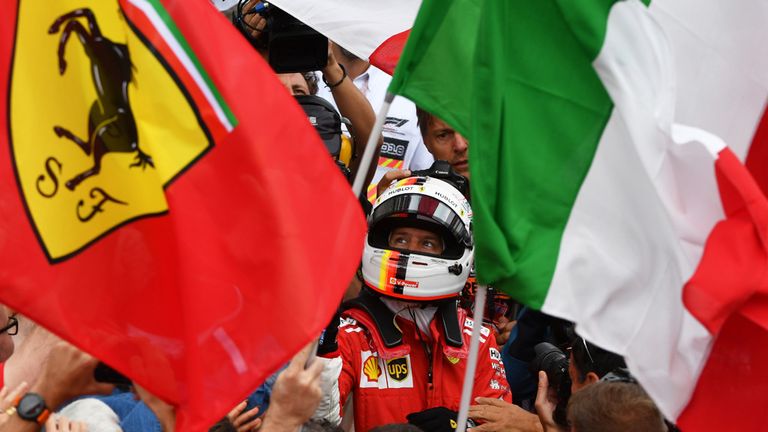 Sebastian Vettel has retaken the lead of the World Championship from Lewis Hamilton after a commanding but comfortable victory of the Canadian GP.
Lacking pace throughout, and handicapped early on by an engine scare, Hamilton was a distant fifth at the Circuit Gilles Villeneuve after failing to catch Red Bull's Daniel Ricciardo through the closing stages.
The flawless Vettel led from start to finish with his victory assured with a dozen laps remaining after Valtteri Bottas, who had briefly closed to within three seconds of the Ferrari, made a mistake rounding a backmarker and ran over the grass.
Bottas had to ease off on the final laps to save fuel but kept his composure to secure second place ahead of Max Verstappen.
Bizarrely, the race-ending chequered flag was unfurled prematurely but the sharp-eyed Vettel spotted the mistake on one of the TV screens dotted around the circuit and carried on to claim his win in full and move a point clear of Hamilton in the standings.
Although the early flag was waved by Winnie Harlow, a model and friend of Lewis Hamilton, Sky F1 understands she wasn't to blame for the mistake.
Final two laps erased after chequered flag unfurled early
The race itself was largely disappointing, delivering few overtaking moments and none of the fireworks anticipated after Red Bull rolled the dice on strategy to start on hypersoft tyres.
Perhaps tellingly, Brendon Hartley's first-lap crash, triggering an immediate deployment of the Safety Car, with Williams' Lance Stroll was arguably the race's most memorable moment.
But while the uneventful nature of proceedings will draw criticism, Canada marked the third race in a row in which a different driver had dominated proceedings with Vettel's victory this Sunday as imperious as those of Hamilton in Spain and Ricciardo in Monaco last month.
Hamilton was the first of the frontrunners to pit, a decision forced on the Mercedes team as they sought to cool down his overheating car. Ricciardo immediately seized on the opportunity to overcut Hamilton a lap later, a positional change which the Mercedes driver was unable to reverse even after belatedly finding his groove late on.
The world champion will dearly hope that Mercedes are able to introduce their upgraded new engine at the French GP in two weeks' time - the first stop in F1's first-ever triple header - after a glitch delayed its planned debut this weekend.
Vettel had no such alarms, churning out lap after lap of frontrunning masterclass to register his third win of the campaign but his first since April - and Ferrari's first in Canada since 2004.
What now for the championship fight?
Ferrari team principal Maurizio Arrivabene: ""It's a big fight this year. We are more or less all together. Red Bull are very strong, Mercedes very strong. It will be an interesting championship. We have to keep our feet on the ground, head down and work."
Mercedes' Lewis Hamilton: "We've got to keep working, which I know the guys are, and I think we just need to stay positive. There is no reason to lose control, we just keep doing what we're doing, keep our heads down, keep motivated and keep pushing because they will falter. We have to keep applying the pressure, we didn't this weekend, but I'm really going to make sure I come back stronger in the next race."
Sky F1 pundit Martin Brundle: "It is close and I think it's about who makes the fewest mistakes over the rest of the season. Who can keep their nose clean and deliver the full potential of their car on that day in history? It looks incredibly close."
Canadian GP Race Result
| | | |
| --- | --- | --- |
| Driver | Team | Time |
| Sebastian Vettel | Ferrari | |
| Valtteri Bottas | Mercedes | +7.376 |
| Max Verstappen | Red Bull | +8.360 |
| Daniel Ricciardo | Red Bull | +20.892 |
| Lewis Hamilton | Mercedes | +21.559 |
| Kimi Raikkonen | Ferrari | +27.184 |
| Nico Hulkenberg | Renault | +1 lap |
| Carlos Sainz | Renault | +1 lap |
| Esteban Ocon | Force India | +1 lap |
| Charles Leclerc | Sauber | +1 lap |
| Pierre Gasly | Toro Rosso | +1 lap |
| Romain Grosjean | Haas | +1 lap |
| Kevin Magnussen | Haas | +1 lap |
| Sergio Perez | Force India | +1 lap |
| Marcus Ericsson | Sauber | +2 laps |
| Stoffel Vandoorne | McLaren | +2 laps |
| Sergey Sirotkin | Williams | +2 laps |
| Fernando Alonso | McLaren | DNF |
| Brendon Hartley | Toro Rosso | DNF |
| Lance Stroll | Williams | DNF |